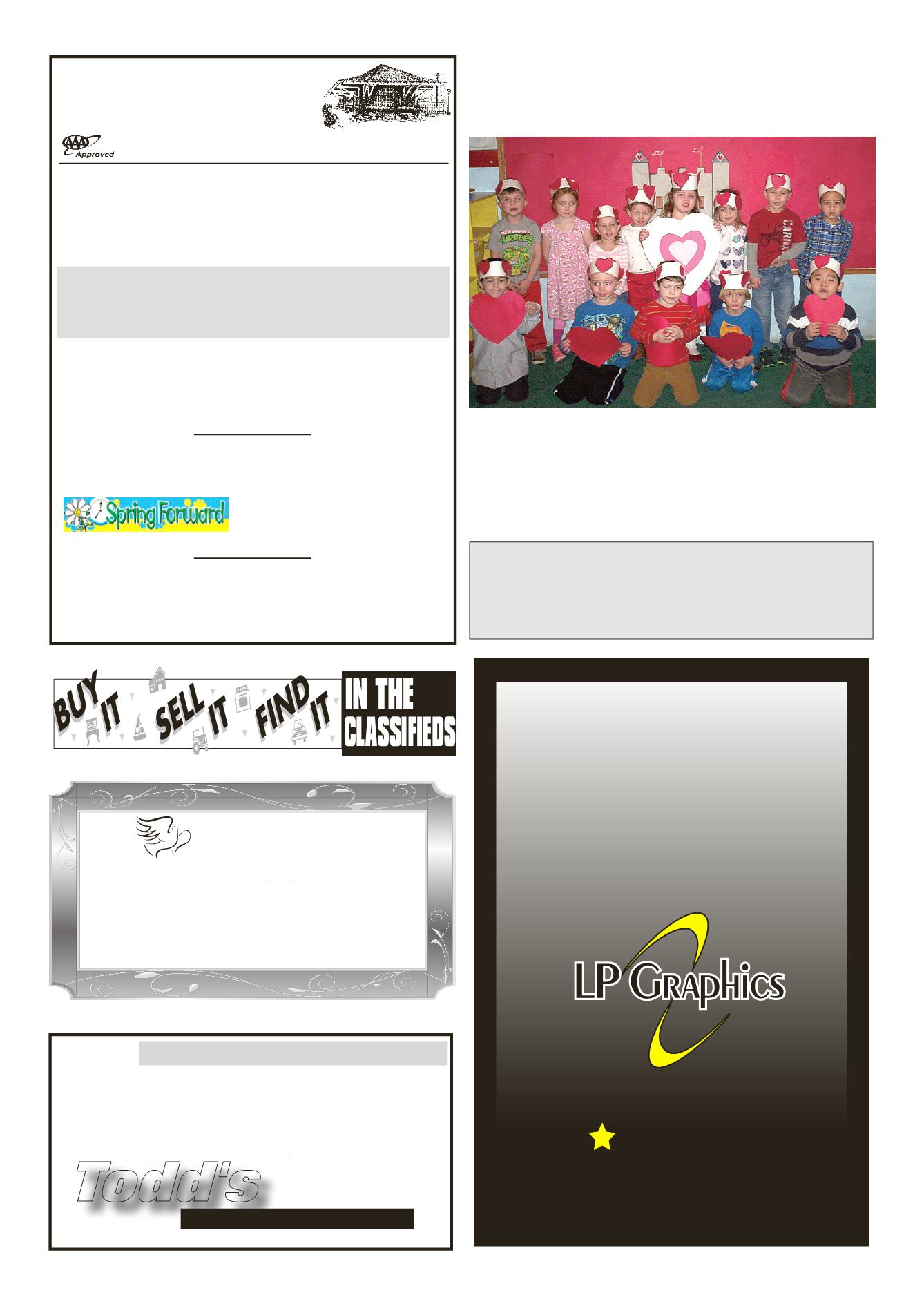 LE ROY PENNYSAVER & NEWS -FEBRUARY 23, 2014
D & R Depot
63 Lake St. (Rt. 19), LeRoy • 768-6270
Let's Meet At The ...
Open For Breakfast, Lunch & Dinner - 7 Days A Week 7 am-9 pm
The Depot's new sister company,
Double L Rental
heaters, bars, linens, dishes & catering supplies for your special occasions!
10% DISCOUNT when you use both the
D & R Catering Services and Double L Rental for your event.
Visit doublelrental.com, or call us at (585) 344-0023
F
ALCONE
F
AMILY
Funeral & Cremation Service, Inc.
Director/Owner
Director / Owner
Funeral Director
New Homes • Additions • Garages • Pole Barns
Todd Carli • Phone 703-0964
Todd's
Decks • Windows • Doors
Kitchens • Baths
Ceramic Tile
Basement Finishing
Custom Shelves/Built-Ins
Siding • Remodeling
Roofing • Snow Plowing
FULLY INSURED
SUNDAY, FEBRUARY 23rd DINNER SPECIAL
Homemade SHEPHERD'S PIE –
topped with real mashed potatoes
- $14.99
(includes soup or salad, beverage & raspberry Trifle for dessert)
5 pm - Dinner Show - by reservation only -
Special Appearance – Jerry Curry, Al Mastrolio,
and the Kelly Brothers
There is a $5.00 cover charge for the benefit of the musicians
SUNDAY, MARCH 2nd DINNER SPECIAL
SHRIMP LOVERS' DELIGHT
(includes soup or salad, shrimp scampi, coconut shrimp
and deep-fried shrimp,
potato or rice, beverage, and dessert)
SUNDAY, MARCH 9th DINNER SPECIAL
BARBECUED BEEF BRISKET - $14.99
(Served with soup or salad, potato, veggie, beverage, and dessert)
Turn your clocks ahead
one hour this morning –
lose an hour's sleep, but gain an evening hour of light!!
LeRoy Nursery School celebrated Valentine's Day. The children
made a lot of heart projects to coincide with the letters of the al-
phabet they were learning. On Friday, February 14th it was "H
Day" so they made heart hats. They played games, sang songs
and heard Valentine stories. A fun day at school! Pictured here
is the 3 Day class.
Celebrating
Valentine's Day
SUPPORT YOUR LOCAL ADVERTISERS!
They help sponsor the local news section of the Le Roy Pennysaver.
THANKS FOR YOUR SUPPORT!
1 CHURCH ST, • LE ROY, NY • lpgraphics.net
WE HANDLE ALL ASPECTS OF PRINTING...
PROGRAMS
LETTERHEADS
BILL HEADS
FLYERS
BROCHURES
POSTERS
CARBONLESS FORMS
ENVELOPES
RAFFLE TICKETS
NEWSLETTERS
RESUMES
TYPESETTING
RUBBER STAMPS
ENGRAVED SIGNS
NAME TAGS
COPIES
LAMINATION
COMMUNITY FAX
NEWS AND PICTURES
ADVERTISING
BUSINESS CARDS
HOURS: Monday thru Friday 8:00 to 5:00