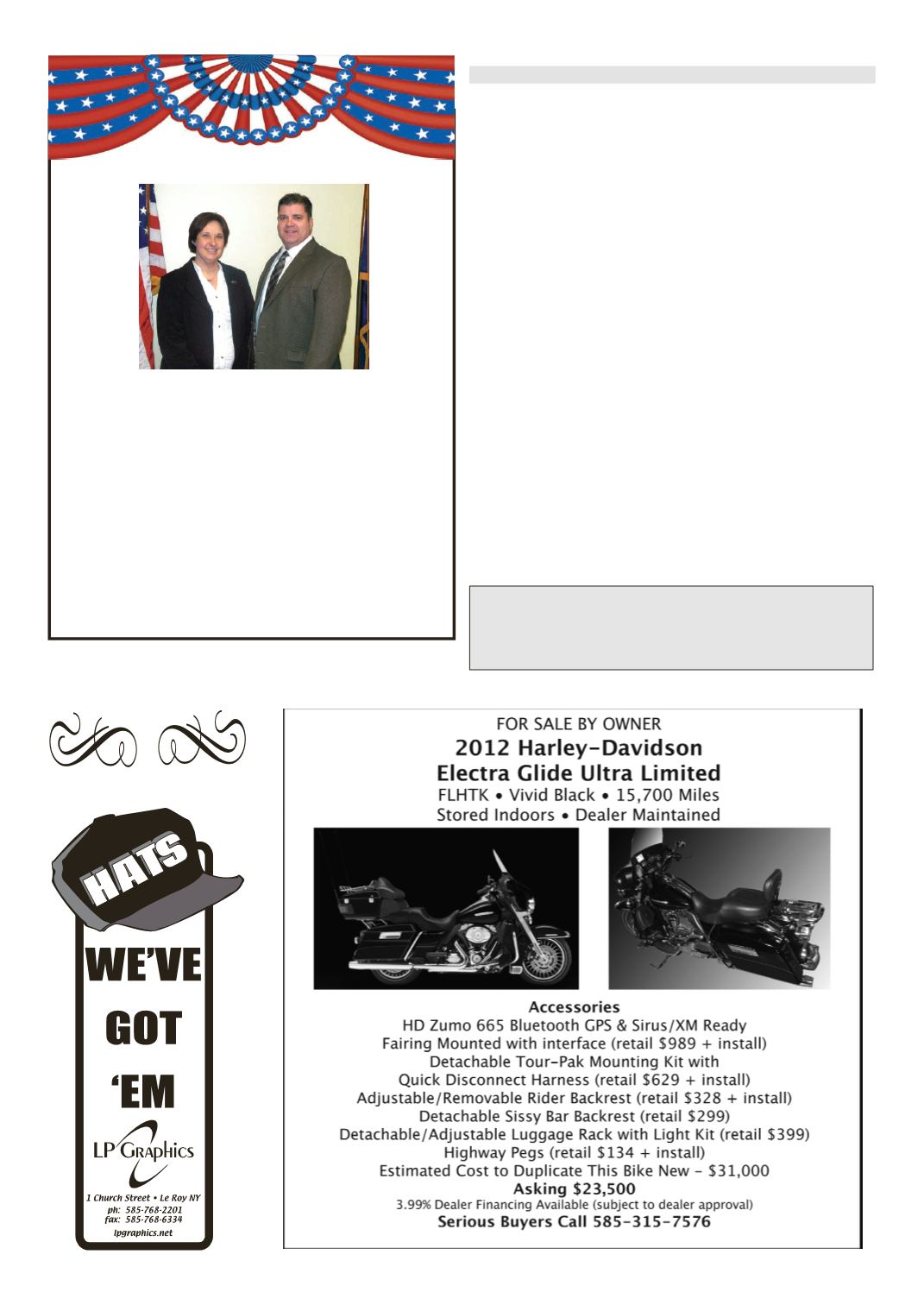 LE ROY PENNYSAVER & NEWS -FEBRUARY 23, 2014
Introducing Village Trustee Candidates
Jennifer Keys and Bill Kettle
An accomplished and results driven team of young profession-
als ready to work hard to make Le Roy a better place to live
and work. Both Jennifer and Bill hold leadership positions on
the LeRoy Business Council as well as the working group, Main
Street Revitalization. They are committed to finding solutions to
dilapidated and abandoned properties, as well as moving the Vil-
lage in a positive direction, taking advantage of our many assets
which set our community apart.
On March 18th Vote for Jennifer and Bill
Please like our Facebook page –
Re-Charge LeRoy for issues and updates.
Re-Charge Le Roy
by Greg "Porp" Rogers
Mayor
already heard, the DOT listen-
ed to the concerns of the
community. They have decided
not to go with the road diet
project for Rt. 5 through LeRoy.
I would like to thank all who
attended, all who spoke, and the
Business Council for hosting
the meeting. Also I would like
to thank Shelley Stein who was
responsible for pulling it all
together and our state politicians
for their support. A thank you
to the DOT for allowing us to
have the forum and being open
minded enough to make the
change, look for the project to
be done sometime this summer.
This long, extremely cold
winter has put a burden on us
all, no more than our DPW, who
has worked diligently to keep
our streets and sidewalks cleared
and have done an excellent job,
as always. With this in mind,
salt has become in very high
demand and availability limited,
throughout the country. It is
inevitable that communities will
have to cut back on some of the
salt on the roads. Please use
extreme caution driving the rest
of the winter wherever you go.
asked about our Christmas tree
coming down, with the weather
and the added burden of the snow
removal it has been impossible,
please be patient. Remember
Andrew Lathan donated the tree
and has to take it down, with his
crew on his time, so enjoy the
tree a little longer and be sure to
thank him when you see him, I
think we all enjoyed it. Spring is
"Success is getting what you
want, happiness is wanting what
Notes From The Mayor's Office
SUPPORT YOUR LOCAL ADVERTISERS!
They help sponsor the local news section of the Le Roy Pennysaver.
THANKS FOR YOUR SUPPORT!