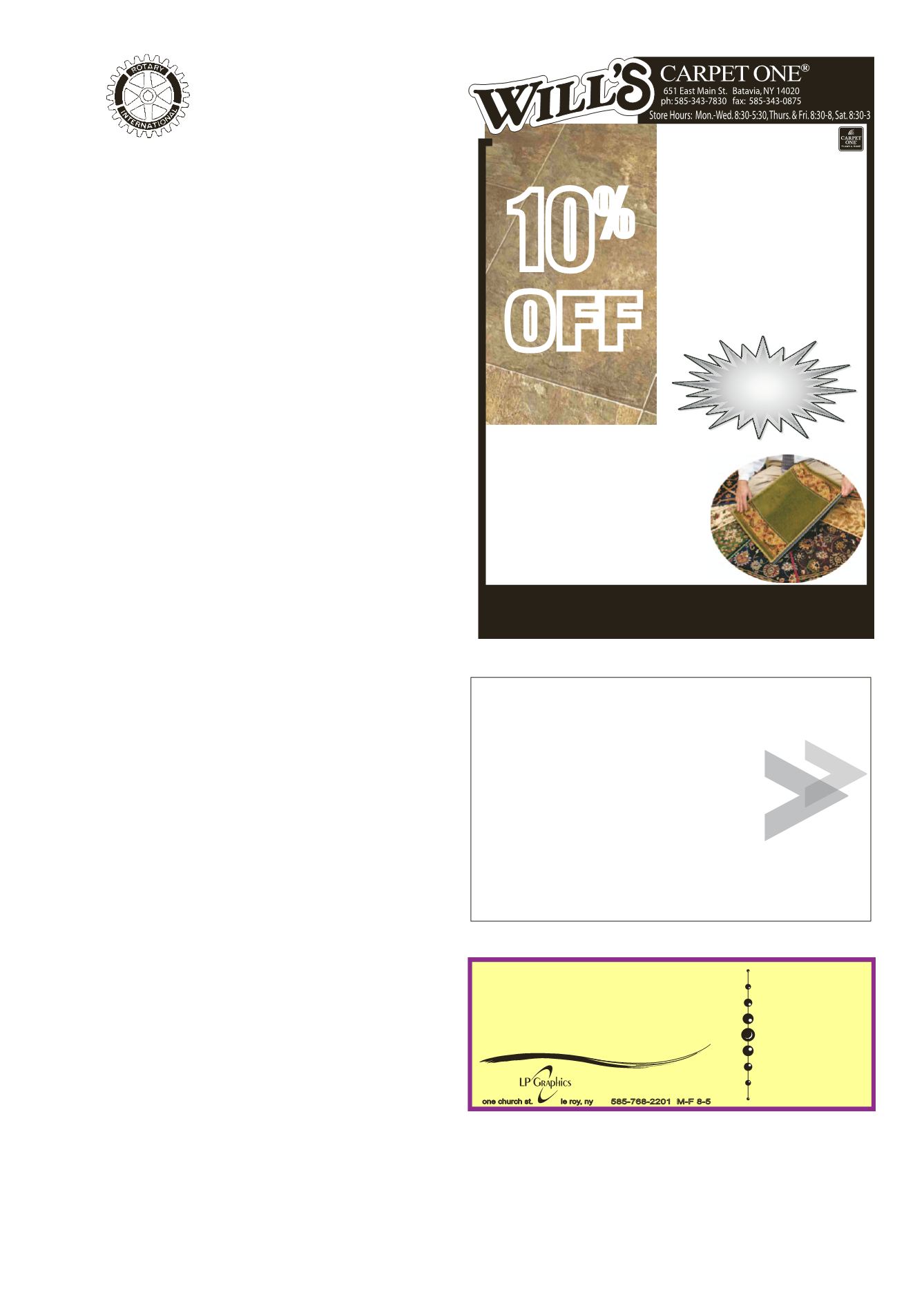 LE ROY PENNYSAVER & NEWS - JANUARY 26, 2014
LOWEST
PRICE
For In-Stock
VINYLS
(til February 15th)
OFF
We've got way too many
CARPET SAMPLES!
We're Giving Them Away
For FREE! (limit 6)
Great For Dog Beds, Boots
or Car Mats.
Move
Medical & orthopedic
Greetings toour loyal following
of LeRotary Note readers. The
past several weeks have been
busy for everyone. Santa visited
Rotary on December 18th and
gave presents to the children
in attendance. There were no
meetings on December 25th or
Our guests for January 8th
included Krista Barone and
Steve Zocco IV. Cindy Bishop
and Chris Biviano were served
Home
On the Range
their January birthdays. Anil
Sawhney updated the Club on a
Rotary literacy project in South
Asia and the rebuilding of 175
schools in the flood devastated
Sully's son gave the program
on P-Core. The company was
formed by Lapp Insulator in
2000 and sold to Hubble Inc. in
2007. They employ 70 people
and produce bushings for the
electrical industry. They were
the first company to manufacture
bushings able to withstand
seismic forces. The company
has a very "bright" future.
President Tracy rang the bell
and called the meeting to order
in front of a full house promptly
at 12:15. It seems each Rotarian
was eager to forget the Polar
Vortex from the previous week.
Our guests included three
LeRoy seniors, all planning to
attend college next year: Ciara
Harrington, Bailey Kennedy and
ments we were reminded of the
upcoming Super Bowl Raffle
on February 1st - be sure to
find your favorite Rotarian for
tickets to win a 50" LED or a
Tailgate Package. Our Calendar
of programs and events can be
found online at LeRoyRotary.
org. Sam Vagg updated us on
some upcoming Interact events
including a Roller Skating Party
at WSS on the 24th and to keep
an eye out for some fund raising
you letter from the LeRoy Food
Pantry for a $750 donation. The
money was raised at our Annual
Moving on to missed meetings,
Bob Bennett, Kim Cox, Tom
Cox, Christine Gephart, Jerry
McCullough, Sam Vagg, Scott
all had misses and all had valid
make-ups. Lynne Belluscio,
however, had four misses and no
make-ups and had to put up as
Our fining session started with
Bob Bennett. Bob was fined for
his Premier Sub Status at bowling
and for dropping his equipment.
Christine Gephart was presented
with a vintage 80's Banana Clip
from President Tracy's closet; it
was also accompanied by a fine.
Carol Wolfe had another spin
at the Rotary Fine Wheel for
missing her trivia question. Kim
Cox didn't fare much better at
the Trivia game and also took a
spin at the wheel as did Tom Cox.
Anil Sawhney was reminded
of how charming he is with a
fine and a picture with a former
Finally, President Tracy called
upon Lynne Belluscio who was
presented an article explaining
that Senator Mike Lee of Utah
has declared JELL -O as the
official state snack. She felt it
only fitting that he be invited
to LeRoy to visit the birthplace
of his favorite dessert and fined
Lynne for the correspondence.
With the fining session over,
President Tracy began our Club
Assembly reminding us that this
is Rotary Awareness Month. It's
the time of year when we remind
ourselves and the community of
the values and good deeds central
to the Rotary Club's values:
Service, Friendship, Diversity,
Integrity, and Leadership. Each
of these defines and shapes each
of our programs that serve to
benefit our local community
and international projects each
year. We took the time as a club
to review each project and fund
raiser we sponsor to make sure it
fits within each of these values
and where we can improve or
find new ways to engage with the
LeRotary
Notes
community. Programs including
The Annual Appliance Raffle,
All you Can Eat Breakfast, Super
Bowl Raffle, Rent a Rotarian,
Rotary Excited About Literature
all raise money and goods that
go back out our community for
programs supporting our youth,
elderly and those in need.
Like us on Facebook at "Rotary
one church st. le roy, ny
one church st. le roy, ny