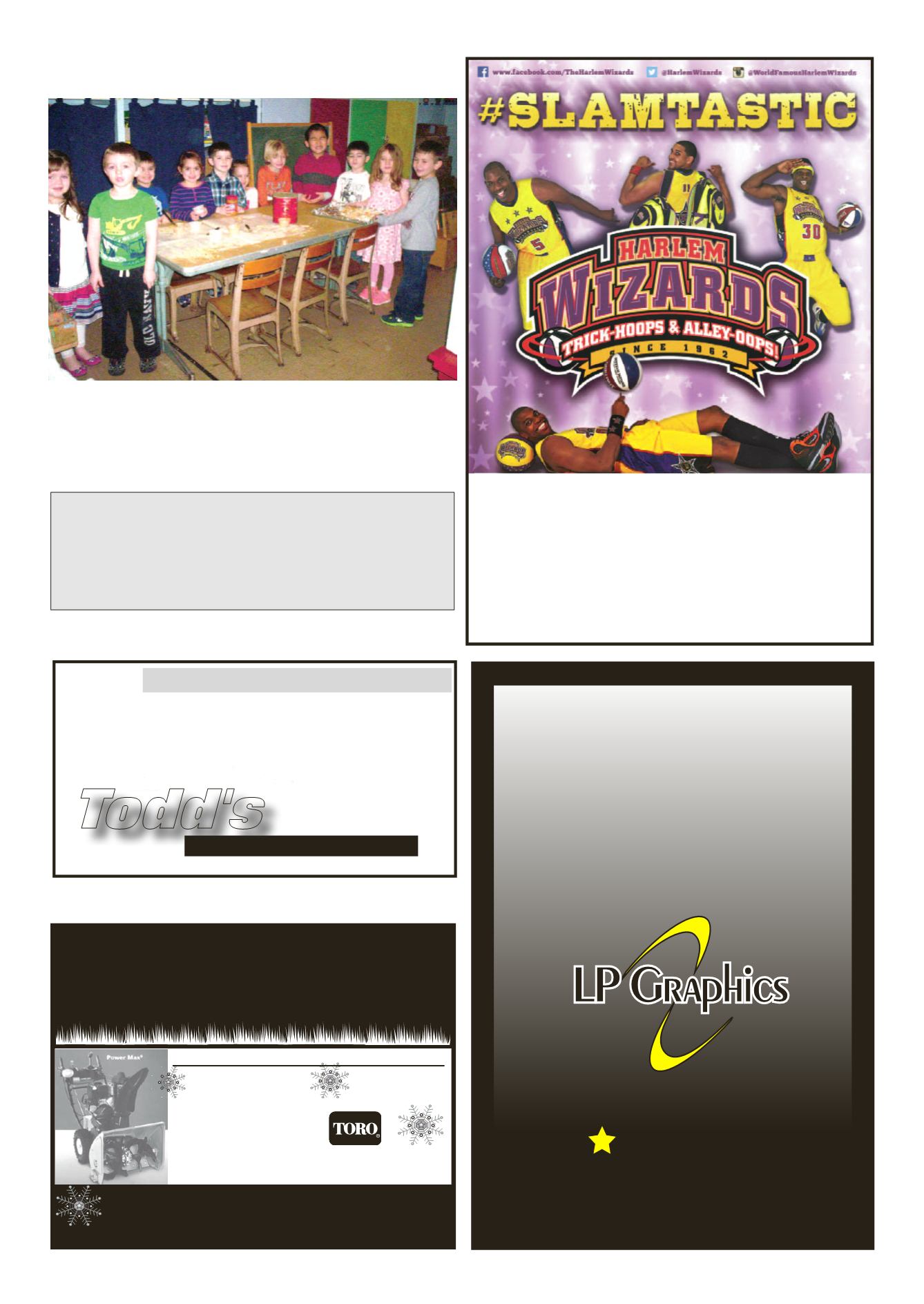 LE ROY PENNYSAVER & NEWS - JANUARY 26, 2014
New Homes • Additions • Garages • Pole Barns
Todd Carli • Phone 703-0964
Todd's
Decks • Windows • Doors
Kitchens • Baths
Ceramic Tile
Basement Finishing
Custom Shelves/Built-Ins
Siding • Remodeling
Roofing • Snow Plowing
FULLY INSURED
"Service Is Our Specialty"
1818 Linwood Rd., Linwood, NY
HOURS: Mon.-Fri. 8 am-5:00 pm, Sat. 8 am-12:00 noon
LINWOOD
0
%
For 18
Months!
Parts • Sales • Service - We Service ALL Brands!
Fall/Winter Service Specials Now in Progress!
vs.
LeRoy Faculty
LeRoy High School - Host: LeRoy PTSO
Thursday, January 30th
7:00 pm • Doors Open 6:00 pm
Advance Tickets - Students $9.00, General Admission $10.00
Tickets At The Door - Students $10.00 • General Admission $12.00
Tickets Available Online at
May be purchased at the High School & Elementary School Offices.
LeRoy Nursery School's class all made bird feeders for our winter
friends. The children learned about winter. They learned about
the different birds and animals who have a hard time finding food
with the cold and snow. Pictured here is the 3 Day class.
Making Bird Feeders
SUPPORT YOUR LOCAL ADVERTISERS!
They help sponsor the local news section of the Le Roy Pennysaver.
THANKS FOR YOUR SUPPORT!
1 CHURCH ST, • LE ROY, NY • lpgraphics.net
WE HANDLE ALL ASPECTS OF PRINTING...
PROGRAMS
LETTERHEADS
BILL HEADS
FLYERS
BROCHURES
POSTERS
CARBONLESS FORMS
ENVELOPES
RAFFLE TICKETS
NEWSLETTERS
RESUMES
TYPESETTING
RUBBER STAMPS
ENGRAVED SIGNS
NAME TAGS
COPIES
LAMINATION
COMMUNITY FAX
NEWS AND PICTURES
ADVERTISING
BUSINESS CARDS
HOURS: Monday thru Friday 8:00 to 5:00