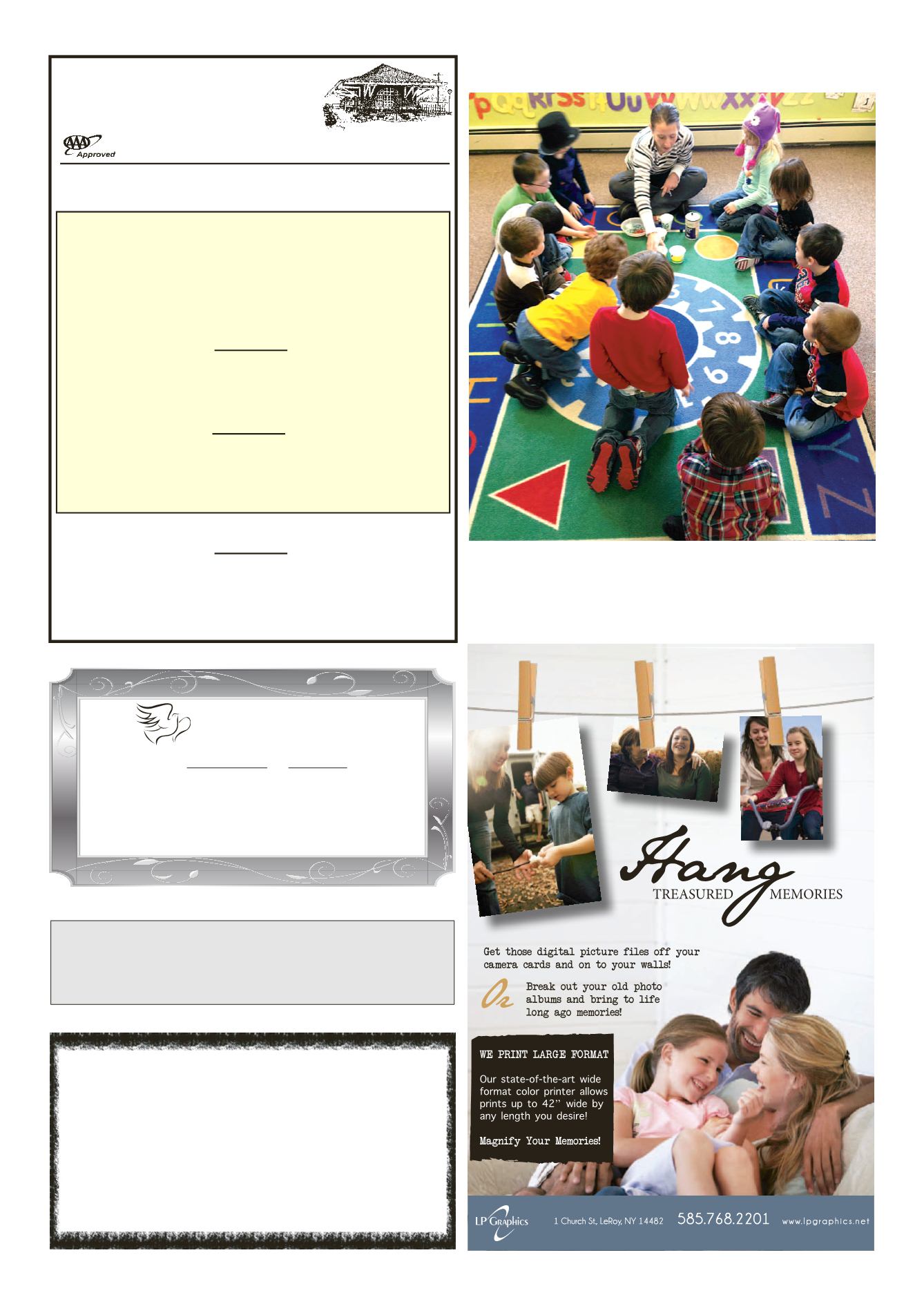 LE ROY PENNYSAVER & NEWS - JANUARY 26, 2014
D & R Depot
63 Lake St. (Rt. 19), LeRoy • 768-6270
Let's Meet At The ...
Open For Breakfast, Lunch & Dinner - 7 Days A Week 7 am-9 pm
SUPPORT YOUR LOCAL ADVERTISERS!
They help sponsor the local news section of the Le Roy Pennysaver.
THANKS FOR YOUR SUPPORT!
The Depot's new sister company,
Double L Rental
heaters, bars, linens, dishes & catering supplies for holiday parties!
10% discount when you use both the
D & R Catering Services and Double L Rental for your event.
Visit doublelrental.com, or call us at (585) 344-0023
F
ALCONE
F
AMILY
Funeral & Cremation Service, Inc.
Director/Owner
Director / Owner
Funeral Director
If in November you won a $10.00 Gift Certificate playing
Scrabble ... be sure to use it before the end of the month.
SUNDAY, JANUARY 26th dinner special
ROAST TURKEY Dinner w/homemade dressing - $14.99
(includes soup or salad, beverage and dessert)
LIVE MUSIC SUNDAY - Fiddler' Fest - 5 pm
Featuring Jerry Curry and Al Mastrolio
Reservations Strongly Suggested, but no coupons.
($5.00 cover charge for the benefit of the musicians)
SUNDAY, FEBRUARY 2nd dinner special
Old Fashioned GROUND HOG DAY Dinner - $14.99
(actually we'll be offering pot roast)
(includes soup or salad, beverage and dessert)
SUNDAY, FEBRUARY 9th dinner special
ROAST PORK Dinner - $14.99
(includes soup or salad, real mashed potatoes, beverage,
apple pie)
Have You Already Made Your Depot Valentine's Weekend
Dinner Reservations?
Sunshine Nursery School
REGISTRATION
& OPEN HOUSE
Fall Classes 2014-2015 • February 22nd, 2014
Playgroup - Nursery - Pre-K
Call Renee Johnson - 585-704-8472
Sunshine's Pre-K children were scientists for the day. They
experimented with hot and cold using ice, salt, rock salt, and
heating pads. They made predictions, observations and recorded
results. Watch out scientists of America … here they come!
Sunshine Scientist