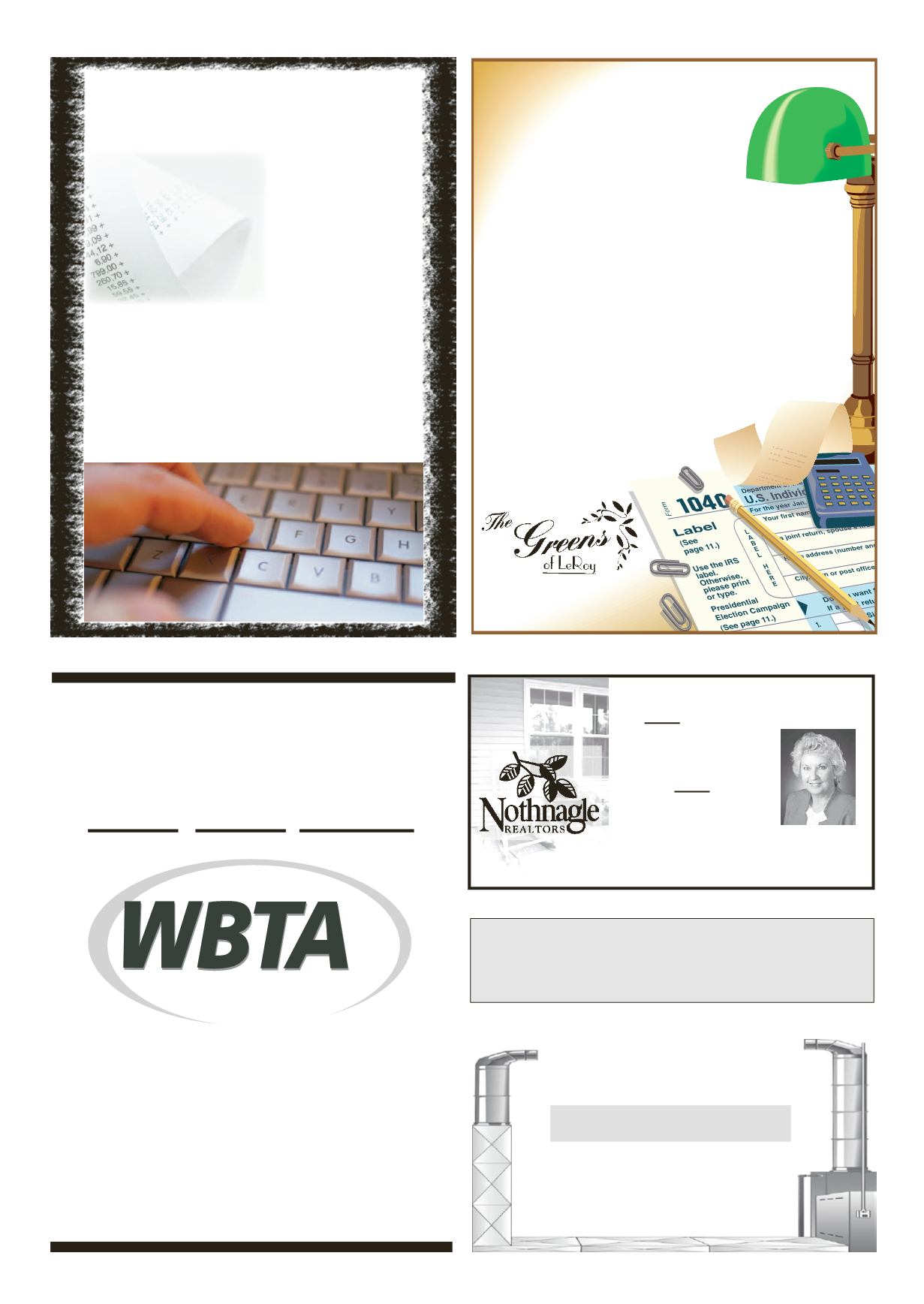 LE ROY PENNYSAVER & NEWS - JANUARY 19, 2014
i
WBTA Radio - 113 Main St., Batavia, NY - (585) 344-1490
SUPPORT YOUR LOCAL ADVERTISERS!
They help sponsor the local news section of the Le Roy Pennysaver.
THANKS FOR YOUR SUPPORT!
JOB OPENING
Clerical Bookkeeping
Accounts Payable & Accounts Receivable
Data Entry, Record Keeping, Filing,
Answer Phones, etc.
Must have computer skills.
PC, Quickbooks & Microsoft Office
No Walk-Ins Please.
LP Graphics/LeRoy Pennysaver
J.M. HEATING
Heating & Air Conditioning
585
.409.6509
Forced Air & Hot Water Systems
Gas & Fuel Oil
Furnace Cleaning • Service • Repairs • New Installations
Residential & Mobile Homes
Free Estimates • 24 Hour Service
Batavia
585-343-6750
NOW is the BEST time
to BUY with the interest rates
at their lowest!
Don't wait
to BUY -
call
Linda Beaumont
for all your real
estate needs.
Linda Beaumont
(585) 768-6315
Licensed Real Estate
Salesperson
Tax counseling for the elderly provides
individuals in the community and those
with a lower income regardless of age.
Trained volunteers will help prepare your income tax return.
You may call The Greens of LeRoy at 768-2740 to set up
Taxes will be done only on Tuesdays from 9:00 am
to 3:00 pm, February 4th thru April 8th with a scheduled
appointment. Please arrive 15 minutes before your
scheduled time to fill out some papers. If you are unable
to keep your appointment, then please call as soon as
possible. Other people are often on a waiting list.
This year's tax package and/or label.
All forms, W-2 and 1099's. Information for other income.
Information for all deductions/credits. Property
and school tax receipts. College tuition and
expenses. A copy of last year's tax
return. Your Social Security Card and