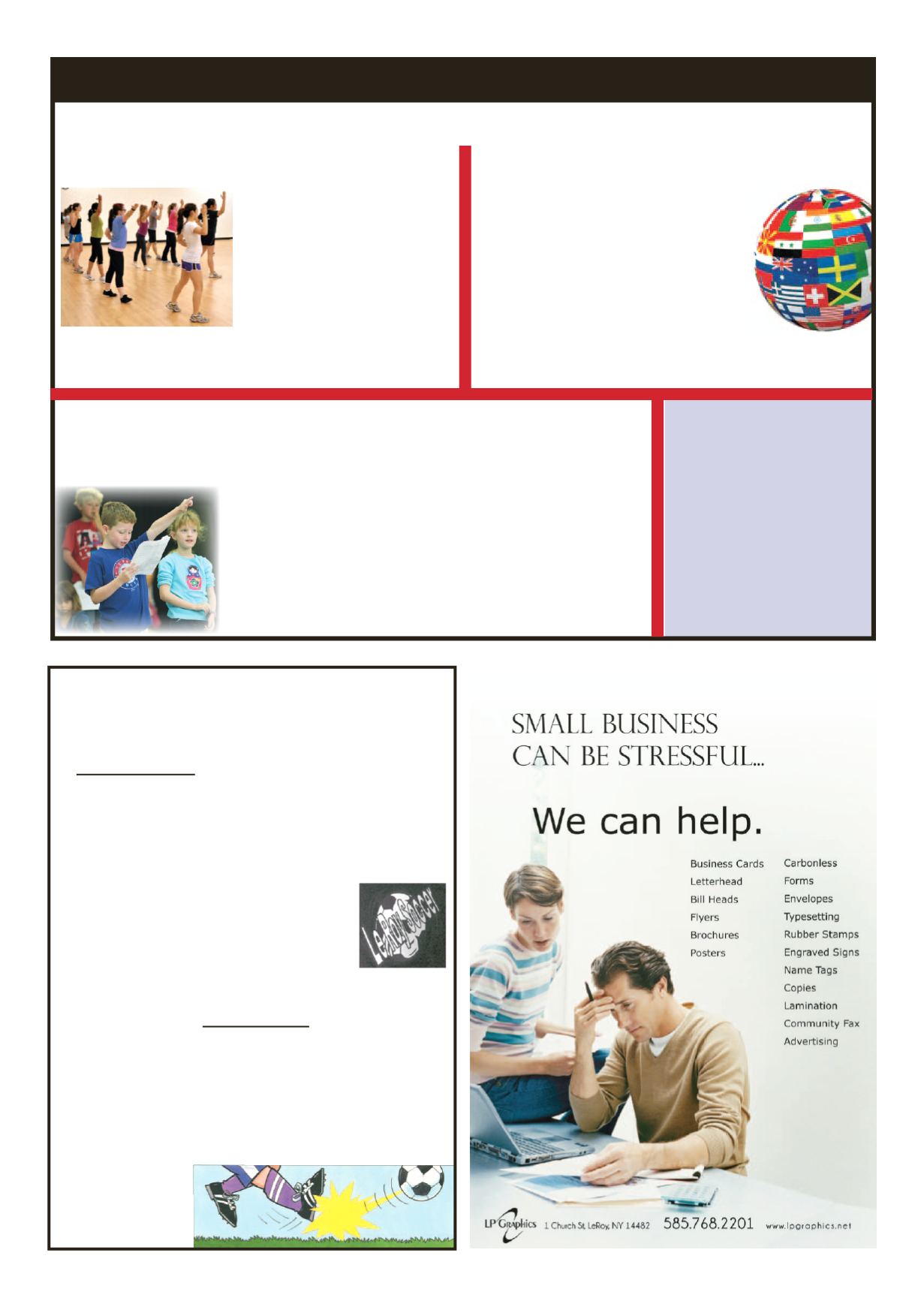 LE ROY PENNYSAVER & NEWS - JANUARY 12, 2014
Drama Kids
- Offers exciting programs for students grades K-6 to develop important
confidence building skills that will help them personally and academically. Activities include:
improvisations, mini-scripts, speaking skills, character analysis, theater games, creative
movement and performances.
Classes will meet in Room 306 at Wolcott Street School
Grade K-3 will meet on Tuesdays 3:15-4:15 from
January 14 until March 25
Grades 4-6 will meet on Fridays 3:15-4:15 from
Tuition $120 per student.
To register call 585-586-3830 or at dramakids.com/ny4
Adult
Student
Zumba
Come Join the Zumba Party!! Zumba Fitness the easiest way
to lose weight and have fun!! Instructor, Laura Beatty will have
you dancing the pounds away!
Classes will run on Mondays
and Wednesdays
Trigon Park, Rm. 109
use entrance for district office
First class is Free!!
6 classes for $30, 9 classes for $45 or 12 classes for $60.
If interested attend the first class (free)
for registration information.
Russian or Italian Classes
To develop beginning conversational skills through speaking,
listening, reading, and writing with emphasis on speaking
and understanding. Social, cultural and
geographic information also included.
Russian classes
from January 15-March 26 from 7-8:30 pm
in Room 316 at the high school.
Italian classes
will run on Thursdays from
January 16-March 27 from 7-8:30 pm in
Room 316 at the high school.
Instructor-Tatyana Qadiri - Cost $50 for ten sessions
To register, call Lynda Lowe @ 768-8131
Questions
visit our website
or call
Lynda Lowe,
Community
Education
Coordinator
768-8131
Community Education Classes at LeRoy Central School
Calling All Le Roy Students!!
Get out your pencils, crayons or
computer and help us create a
LYSA is looking to redesign their logo
Do you think you can do this?
You'll not only get bragging rights,
but you'll get $100 or your 2014 year of summer
soccer FREE, whichever is more
The logo should have the colors
black, white and/or red in it
along with a soccer ball, at least.
"LYSA" or "Le Roy Youth Soccer"
will be made part of any logo.
Submit designs by February 1 to:
LYSA, P.O. Box 144, Le Roy, NY 14482
Submit your Name, Age and Contact Info