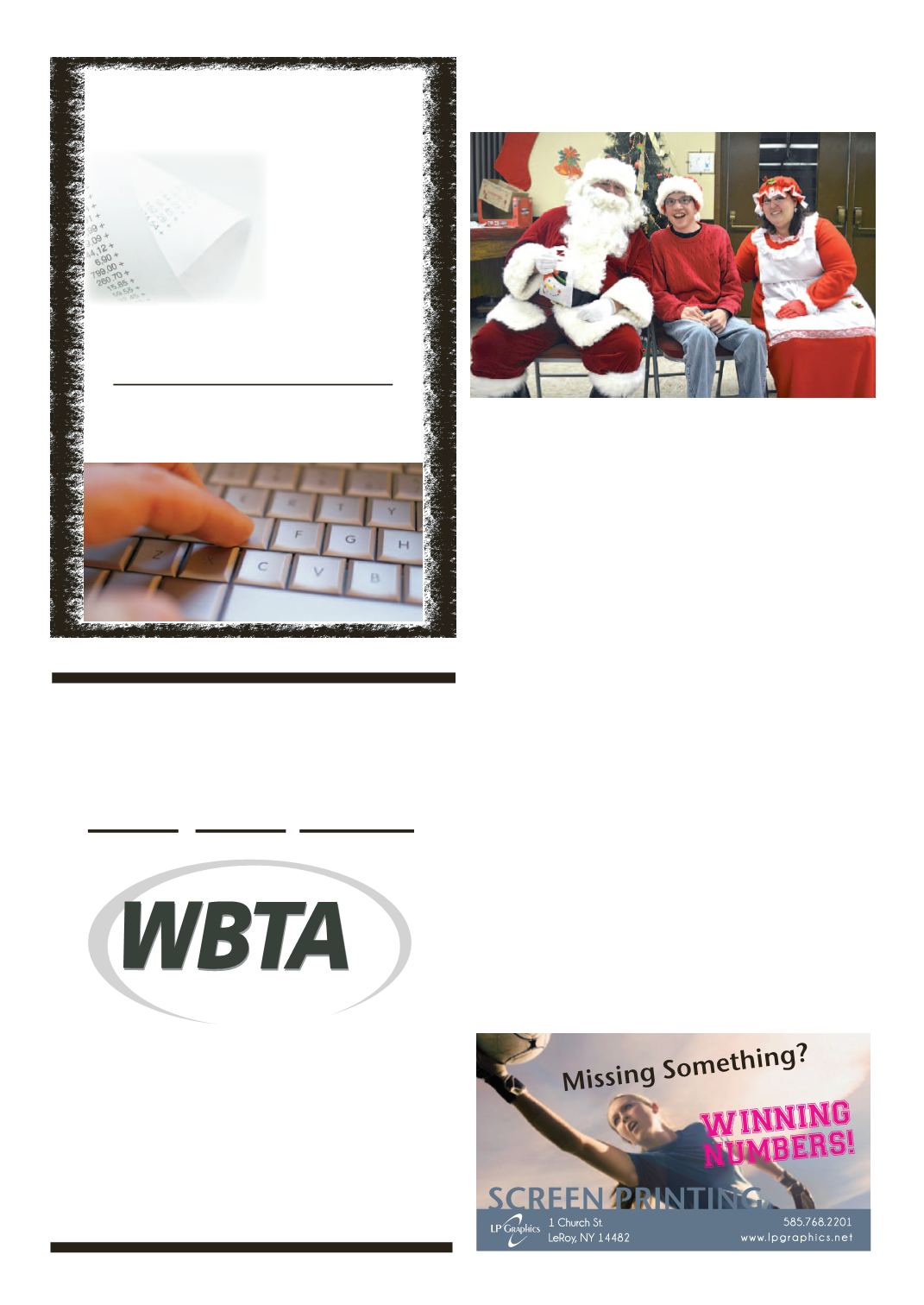 LE ROY PENNYSAVER & NEWS - JANUARY 12, 2014
i
WBTA Radio - 113 Main St., Batavia, NY - (585) 344-1490
JOB OPENING
Resumes are being accepted for a
Clerical Bookkeeping
Accounts Payable & Accounts Receivable
Data Entry, Record Keeping, Filing,
Answer Phones, etc.
Must have computer skills.
PC, Quickbooks & Microsoft Office
Part Time or Full Time Considered.
No Walk-Ins Please.
Over 100 dancers most clad
in their holiday best were in
attendance at Genesee County's
Christmas dance for adults with
developmental disabilities held
on Thursday, December 19th at
the Byron Fire Hall. The NYS
School for the Blind sent 32
individuals and the other 70 came
from agency group homes, family
care and independent living
apartments around Genesee
T h e h a l l b u z z e d w i t h
excitement in anticipation of
an appearance by Santa Claus.
About an hour into the dance an
announcement was made that
Santa was spotted in the parking
lot. The jolly old fellow and his
wife entered the hall and were
greeted by applause, cheers and
It took Mr. &Mrs. Santa some
time to make their way through
the crowd and up to the front
of the hall. Uncle Joe cued up
familiar Christmas carols prior
to setting up his camera and
tripod. Pat called every good girl
and boy by name to the front and
enjoy their fewmoments with the
couple; then Santa handed them
Record-Breaking Crowd
Attended Christmas Dance
Collin visited with Mr. & Mrs. Santa.
each a Christmas gift bag. Some
gave Santa a hug or a handshake;
some even sat on his knee. All
posed for photos and were happy
to have their special time with
Spe c i a l t hank s t o Top s
Supermarkets of LeRoy and
Batavia, McDonald's of LeRoy
and Batavia, Walmart, Oliver's
Candies, TimHorton's, Wendy's,
Arby's, Taco Bell and Burger
King of Batavia for their
donations toward this dance.
Also many thanks to our loyal
volunteers and to Jerry and Tracy
Birge for their part in making the
The next dance, on Thursday,
January 16th, will be a "New
Year's Eve" dance. For this
dance we are having a traditional
New Year's Eve party complete
with hats and noisemakers,
we will also be toasting with
bubbly. As always the dances
are open to all individuals with
developmental disabilities ages
13 and up in Genesee County.
Anyone wanting to volunteer or
would like more information on
the dances can call Pat Iamon