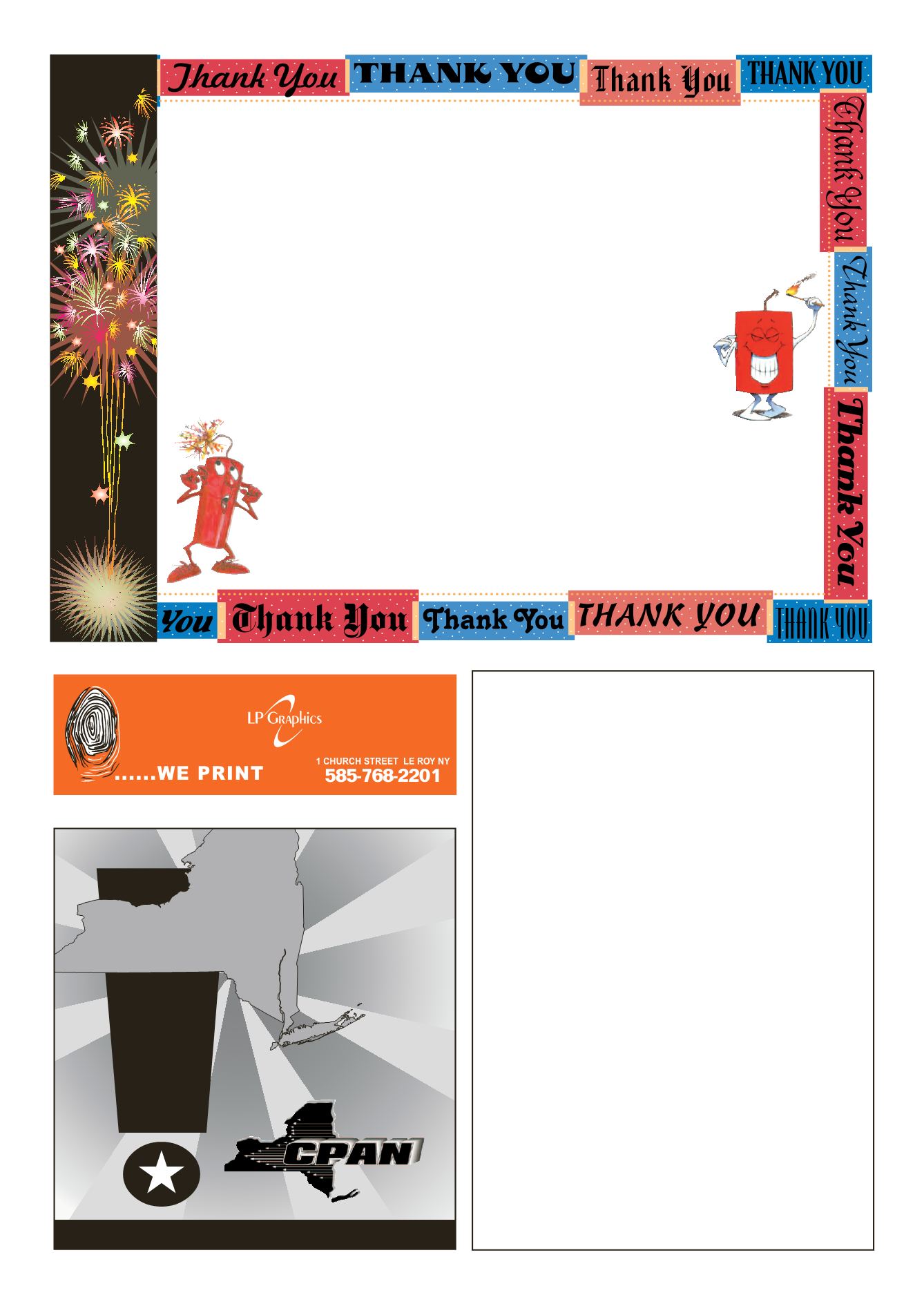 LE ROY PENNYSAVER & NEWS - JANUARY 12, 2014
SUBMIT
YOUR AD
HERE
ONE
ONE
*$490 for 15 words. $15 for each additional word.
A Great Deal to Reach the Whole State!
SPONSORS
Nexgen Ventures, LLC (McDonalds)
Robert F. Humphrey, Attorney
Bob Shepard & Family Plumbing & Heating, LLC
Brian Yauchzee Custom Carpentry, LLC
Botts Fiorito Post #576 American Legion
Select Healthcare Services, LLC
Falcon Family Funeral & Cremation Service, Inc.
Anthony J. Gugino DDS, P.C.
Northwoods Sportsmens Association, Inc.
CEC Carolina Eastern Crocker, LLC
LeRoy Federal Credit Union
To everyone who helped make First Night LeRoy 2013 a great success!
President Bob Bennett, called the December 9, 2013 meeting of the LeRoy Business Council
to order at 5:38 pm with the
Pledge of Allegiance
. Randy Vink and Jerry McCullough made a
motion to accept the minutes from the November 4, 2013 meeting. Randy Vink and Jennifer Keys
made a motion to approve the Treasurer's Report. Both motions carried.
The meeting was held at the LeRoy Moose Lodge with our host speaker as Stu Erbelding. Stu
told us that the Moose is celebrating its 100th Year Anniversary. The Moose will begin many
remodeling projects at their location at 21 Bank Street, LeRoy. The LeRoy Moose gives back to
the community by hosting free community service events along with the many donations they
make every year. The LeRoy Marching Band, LeRoy Rotary, LeRoy Little League and the LeRoy
United Methodist Church are a few of the local donations made. Many thanks to the Moose for
their generosity in giving to so many worthy groups.
Announcements: a reminder was made of the December 16, 2013 meeting to be held at the
Town of LeRoy regarding the Route 5 Resurfacing Project with the DOT and many local officials.
Mayor Rogers encouraged the community to attend and to come as one voice. Santa will be at
Adam Miller's on Saturday, December 14th. The winners of the "First Night" Raffle will be
announced at LB Grand on Monday, December 23, 2013. Fireworks will be over the Oatka Creek
bank on Wolcott St. at 9 pm on December 31, 2013.
Trustee Jennifer Keys informed us that the railroad tressel has been nominated for an award.
Members of the Main Street Revitalization Committee and LBC Leadership Group Fund donated
money for this purpose. Jen also mentioned that there are Healthy Community meetings at 8:15
am the third Friday of each month. Jen stated that the Planning Board Code Book was located in
Boylan's Law office and the process of updating will continue.
Winterfest activities were very well attended. The tree lighting ceremony was a huge success
and there were 225 participants in the 5K/10K race. Thank you to all who helped make this a
The Steering Committee is working with Laura Brodie in setting up a LBC web page on the
Town of LeRoy site. LBC would like to create a listing of all commercial, industrial and retail
properties available in LeRoy.
Officer Tim Hayes wished everyone a happy and safe holiday.
Town Supervisor, Steve Barbeau, said there was a purchase offer going to Reid Whiting, Atty.
for the purchase of the Neid Road property. The Town is continuing to look into grant options
for the repair of the Marian Steam Shovel. No tax payer's monies will be used for this project.
Legislator, Shelley Stein said the DOT are "road dieting' in their proposal for Route 5. The
December 16th meeting will explain the DOT's position. Members of LBC who work in the
Batavia area have noticed quit a difference in travel time with the one lane. The Genesee County
Budget passed. Shelley will be serving on different boards within the County for her next two year
term. Town Supervisor, Steve Barbeau made the suggestion to Shelley that it would be helpful
if she could serve on the EDC for future development in LeRoy. At this time Shelley is unsure
of her assignments for her next term. The County is also working with the Police Department
on a E911 radio upgrade. There are local businesses and colleges that are eligible for the "Start
Lynn Freeman introduced Tom Turnbull who is the new president of the Genesee County
Chamber of Commerce. We welcome Tom and look forward to a continued working relationship
with the Chamber. The Chamber has revitalized their "Home Show" and it will be held on March
Our meeting adjourned at 6:30 pm, with a motion made by Jennifer Keys and Randy Vink,
motion carried. Our next meeting will be January 6, 2014 at 5:30 pm with location TBA.
Timothy W. Whiting (E-Tech Resources)
Ryan Plumbing Heating Air Conditioning
Linwood Turf Equipment, LLC
LeRoy Family Medical Care
Christine Gephart, LCSW-R
Ann Walters/The Hobby Horse
Northwood's Sportsman's Club
WINNERS
LBC Minutes
GRAND PRIZE
Renee Kibler
Provided by LB Grand and S&S Limo
(dinner for 6 plus limo ride)
2nd Prize - Larry Boylan
3rd Prize - Chipper Smith
4th Prize - Jaime Davis
5th Prize - The Moose
6th Prize - Barb Martin
7th Prize - Chuck Bishop
8th Prize - Randy Vink
lpgraphics.net