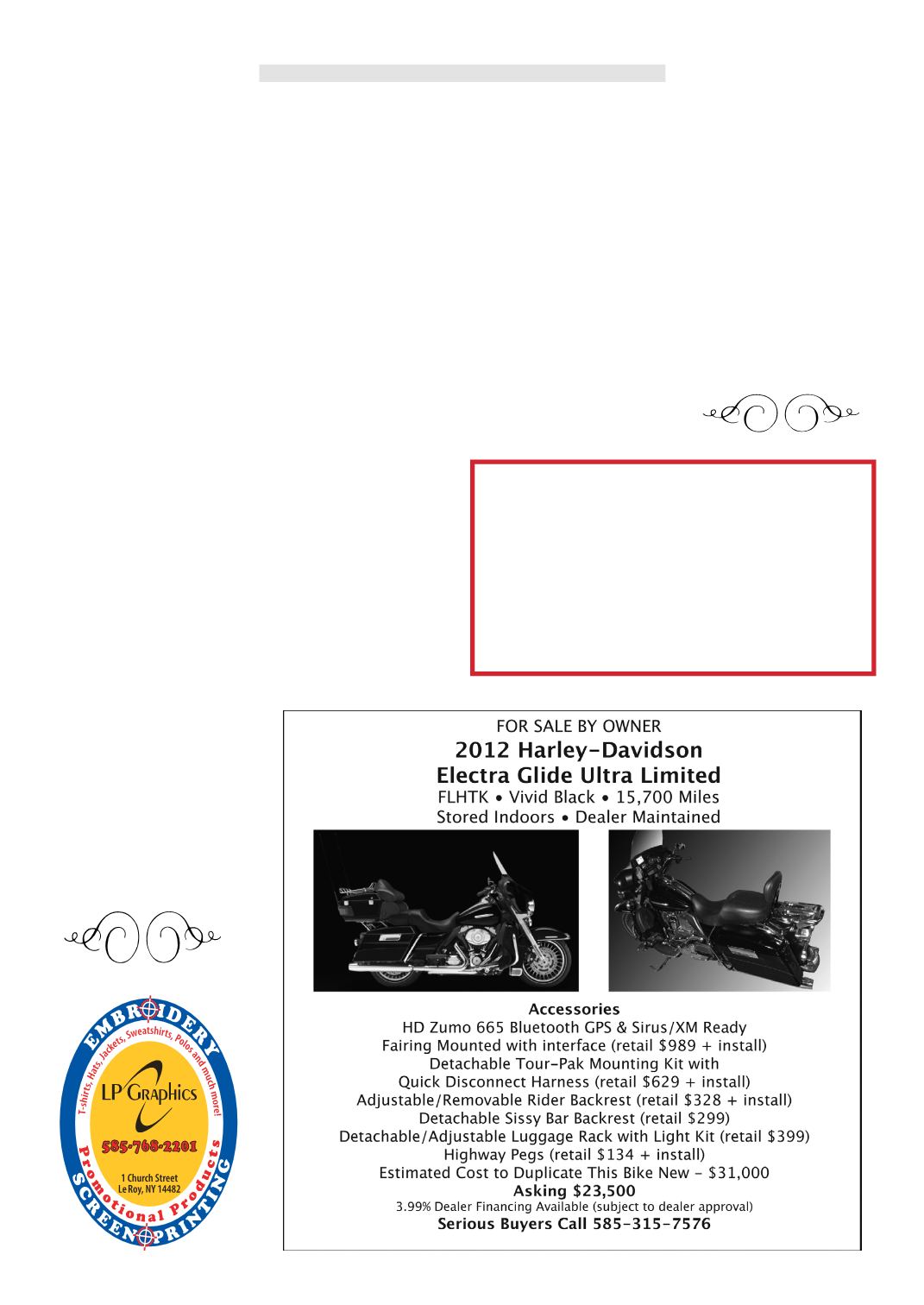 LE ROY PENNYSAVER & NEWS - JANUARY 12, 2014
CDL B Drivers needed in Wyoming & LeRoy
with Tanker and Hazmat!
Our Tankwagon Driver is responsible for the safe
and timely delivery of product to our customers.
They will deliver, load and unload petroleum into the
bulk truck and end use containers while providing
exceptional customer service and maintaining
the highest safety standards.
If interested, please e-mail a resume to
by Kim Cox
Superintendent of Schools
A HERO…or NOT…
If you had asked any student
worst superintendent ever. On
Thursday, January 2nd, I was
the best; however, by Friday,
January 3rd, not so much again.
Making the decision to close
school is always controversial.
All superintendents will tell you
it is a "no win" situation that
usually leaves half the people
happy and the other half not.
The past two winters have been
extremely mild, so it has been
awhile since the elements that
go into this decision have been
reviewed. I thought it was timely
to remind people about the many
aspects that go into the decision
First and foremost, we begin
with the forecast. We try to look,
not only at the morning commute,
but what is expected by the end
of the day. We have to consider
what our students will be doing
beyond the school day, as well as
getting to and from school. While
the forecast is helpful, we all
know that it can often be fickle,
especially in our region where
the weather can be significantly
different in a twenty mile radius.
While it is ultimately the
superintendent's decision to close
or not, many players are involved.
Once the forecast is considered,
I confer with our transportation
director between 4:30-5:30 in
the morning. He has generally
already had conversations with
the Highway Department, the
sheriff or local police, and
several of the other transportation
directors from other area schools.
He has also been out and driven
the roads. I also speak with
other school superintendents.
The tradition of walkers in our
district also plays a role in our
decision. While not as prevalent
as in the past, we still have
about 30%-40% of our students
walking to school any given day.
I take all this information into
consideration before rendering
These are some of the elements
taken into consideration.
•Snow: If copious amounts of
snow is falling, is expected to
continue throughout the day and
is difficult to remove, we would
•Cold and wind chill: The
Health Department has always
recommended that if the wind
chill is -20 to -25, consistently,
close. I tend to think that with our
walkers, -15 to -20 is cold enough
to consider closing, especially in
conjunction with strong winds.
Cold temperatures, with little
to no wind, is not necessarily a
•Visibility: Limited visibility
will almost always close school.
•Travel advisory or "states"
of emergency: If the county
closes the roads, we are closed.
Travel advisories almost always
close us as well. Some times
travel advisories are called in
neighboring counties and people
think that we should adhere to
that. It is important to remember
in our region, the weather can
present quite differently. We rely
on the Sheriff's department and
or Village Police to help us with
•Heat, water and electrical
issues: These can cause one or
more buildings to be closed.
Some days are easy to make the
call, but others are much trickier.
In the end, parents should always
know that the choice whether to
send their child to school is theirs.
Students will not be penalized if
they do not attend school due to
I have a feeling that winter is far
from over and that this decision
will need to be made again! Such
is the weather in Western New
York. Keep the shovel handy!
lpgraphics.net