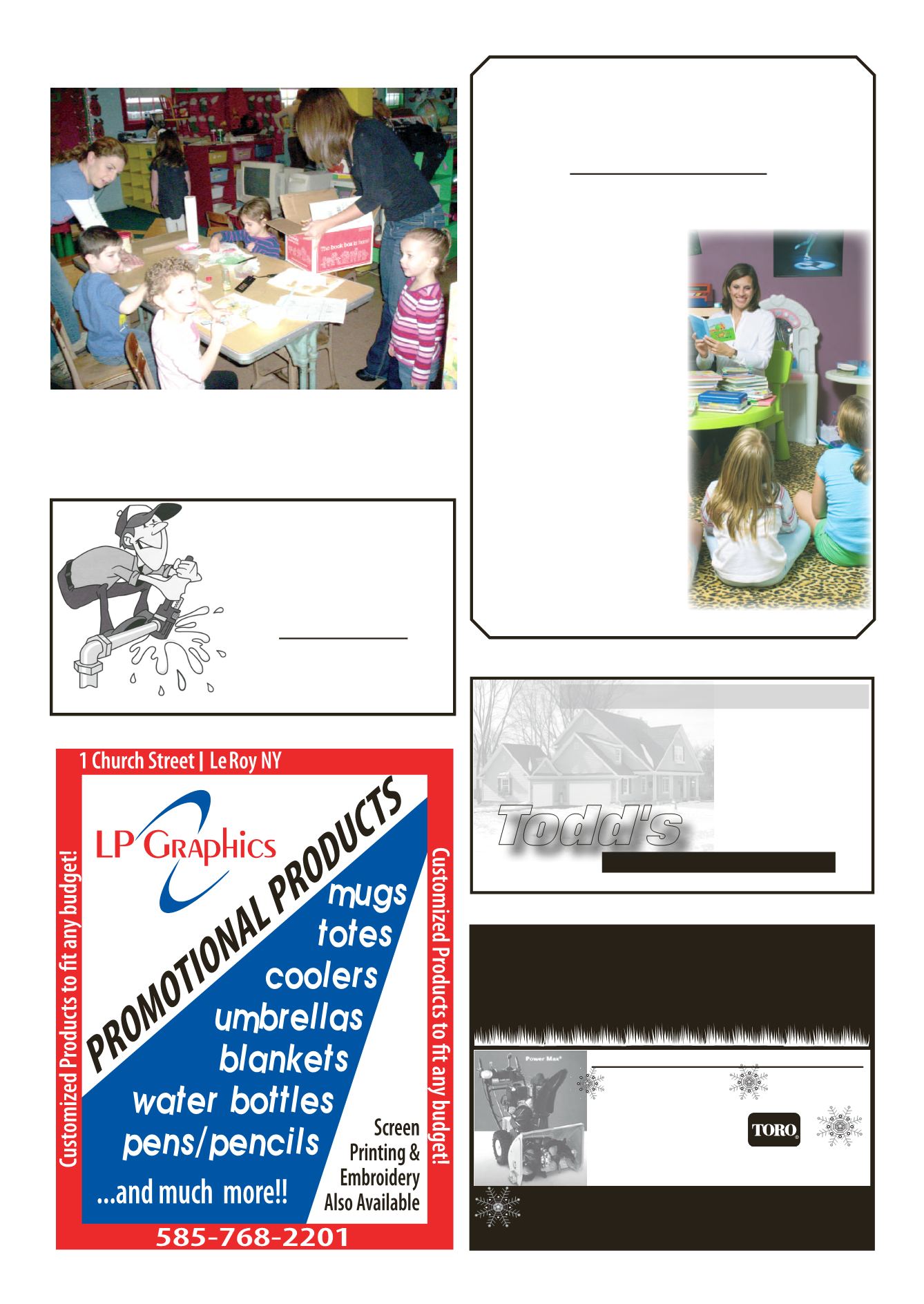 LE ROY PENNYSAVER & NEWS - JANUARY 12, 2014
New Homes • Additions • Garages • Pole Barns
Todd Carli • Phone 703-0964
Todd's
Decks • Windows • Doors
Kitchens • Baths
Ceramic Tile
Basement Finishing
Custom Shelves/Built-Ins
Siding • Remodeling
Roofing • Snow Plowing
FULLY INSURED
"Service Is Our Specialty"
1818 Linwood Rd., Linwood, NY
HOURS: Mon.-Fri. 8 am-5:00 pm, Sat. 8 am-12:00 noon
LINWOOD
0
%
For 18
Months!
Parts • Sales • Service - We Service ALL Brands!
Fall/Winter Service Specials Now in Progress!
Dave Salway
Plumbing LLC
7100 Quinlan Road
Le Roy, NY 14482
Cell Phone: 585-721-8446
Home Phone: 585-768-8446
When you call Dave, you get Dave!
Woodward Memorial Library
January 13 & Ending The Week Of March 10
Mondays from 10:30-10:50 a.m. for two year olds.
Child must be accompanied
for 3, 4, and 5 year olds.
Registration is required.
Call 768-8300 or register
LeRoy Nursery School made cookies for their holiday parties. The
children all got to cut out the cookies and frost them. Each step
was so tempting. They couldn't wait to finally eat them on their
party day. Pictured here are some of the children and a couple
of moms that helped out.
Making Cookies