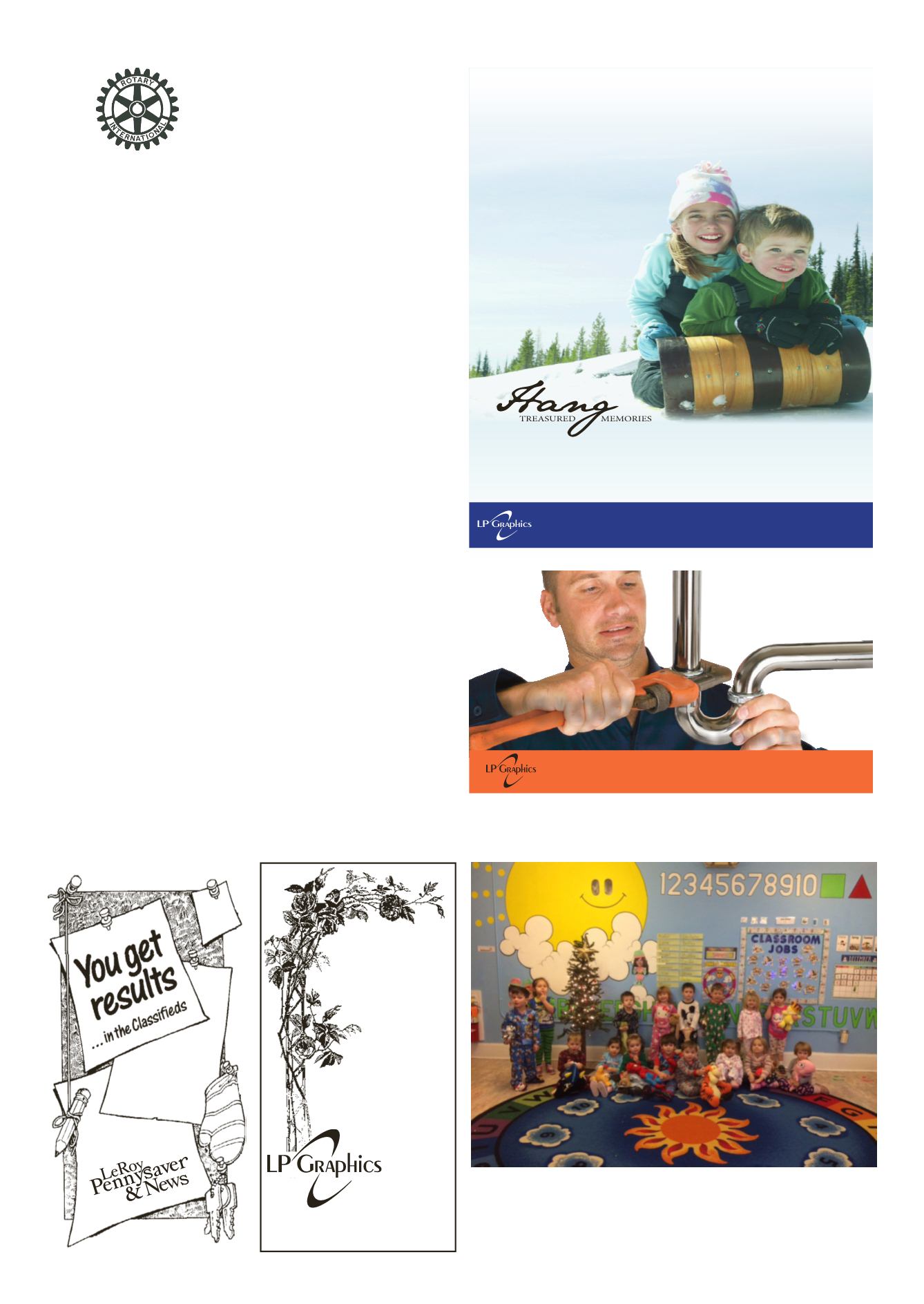 LE ROY PENNYSAVER & NEWS - JANUARY 15, 2017
It was a beautiful sunny day for
our Wednesday lunch meeting
at the Greens of LeRoy as Pres-
ident David Grayson, brought
the meeting to order.
Guests today included: David
Privatera, Dominic Filio, and
Devyn Kelly all LeRoy High
School Seniors and the program
speaker for our meeting Dick
Thomas.
The Pledge of Allegiance,
Prayer and Four-Way Test were
given.
An announcement was made
about our February 4th Big
Game Raffle. Tickets are now
on sale from any Rotary mem-
ber.
Missed meetings were abun-
dant today because many of us
were traveling for the holidays.
Carol Wolfe, Randy Vink, Jake
Whiting, Lauren Humphrey,
Jim Ellison, Erik Fix, Christine
Gephart, Samantha Vagg all had
make-ups but Nanette Chiulli,
Martha Bailey, Ben Deragon
and Tim Moag all paid for their
missed meetings with a green
card (cash).
The fining session started with
Martha Bailey being fined for
leaving her name tag at the East-
ern Cities Dinner. Bob Bennett,
Kim Cox, Erik Fix, Tony Gugi-
no and Lauren Humphrey were
all fined for minor infractions.
Nanette Chiulli played catch-up
on the totem for her fine. Tim
Moag was fined for being able
to spend time with all of his
children and grandchildren at
some point during the holidays.
Bob Boyce was fined for his
new vehicle which he didn't like
the first day he drove it but the
second day driving it was much
better. The most exciting fine
of the day was on Jake Whit-
ing who was fined for his fiancé
Lauren's appearance on Wheel
of Fortune. Lauren came in sec-
ond but just being on the show
fulfilled a long-time dream of
hers. Congratulations Lauren!
Our program today was present-
ed by Dick Thomas, a retired
DEC Officer and hobby pho-
tographer. Mr. Thomas edu-
cated us on exactly what kinds
of environmental crimes the
DEC handles through the legal
system. Many crimes such as
unsafe dumping of hazardous
materials can bring stiff penal-
ties and if serious enough can
bring jail time. Thank you Mr.
Thomas for a very interesting
discussion!
Then the bell rang and our meet-
ing was over until next week.
Don't forget to "Like" us on
Facebook at "Rotary Club of
LeRoy"!
LeRotary
Notes
Sunshine Nursery School's nursery class enjoyed a day of pajama
party fun! They wrapped presents, watched a movie and snacked on
popcorn. A relaxing day was had by all.
PJ's and Popcorn at SNS!
Memories...
As crisp as the day they were made.
WE PRINT LARGE FORMAT
Our state-of-the-art wide format color printer allows
prints up to 42" wide by any length you desire!
Get those digital
picture files off your
camera cards and
on to your walls!
1 Church St., LeRoy, NY 14482
585.768.2201
www.lpgraphics.net
Classified
readers make
great customers, be-
cause they're alert,
informed and eager
to do business.
Make a
call to place
your ad where the
serious customers look.
1 Church St., Le Roy, 768-2201
Choose from our superior
collection of Traditional
and Contemporary
Wedding
Invitations
and
Accessories.
Hours: Mon.-Fri. 8-5 p.m.
Beautiful
Beginnings
start with
Beautiful
Invitations!
1 Church St., Le Roy • 768-2201
Connect
withYourCustomers!
EMBROIDERY
Dress Shirts, Polos, Vests, Hats, Jackets, Etc.
1 Church St.
LeRoy, NY 14482
585.768.2201
www.lpgraphics.net