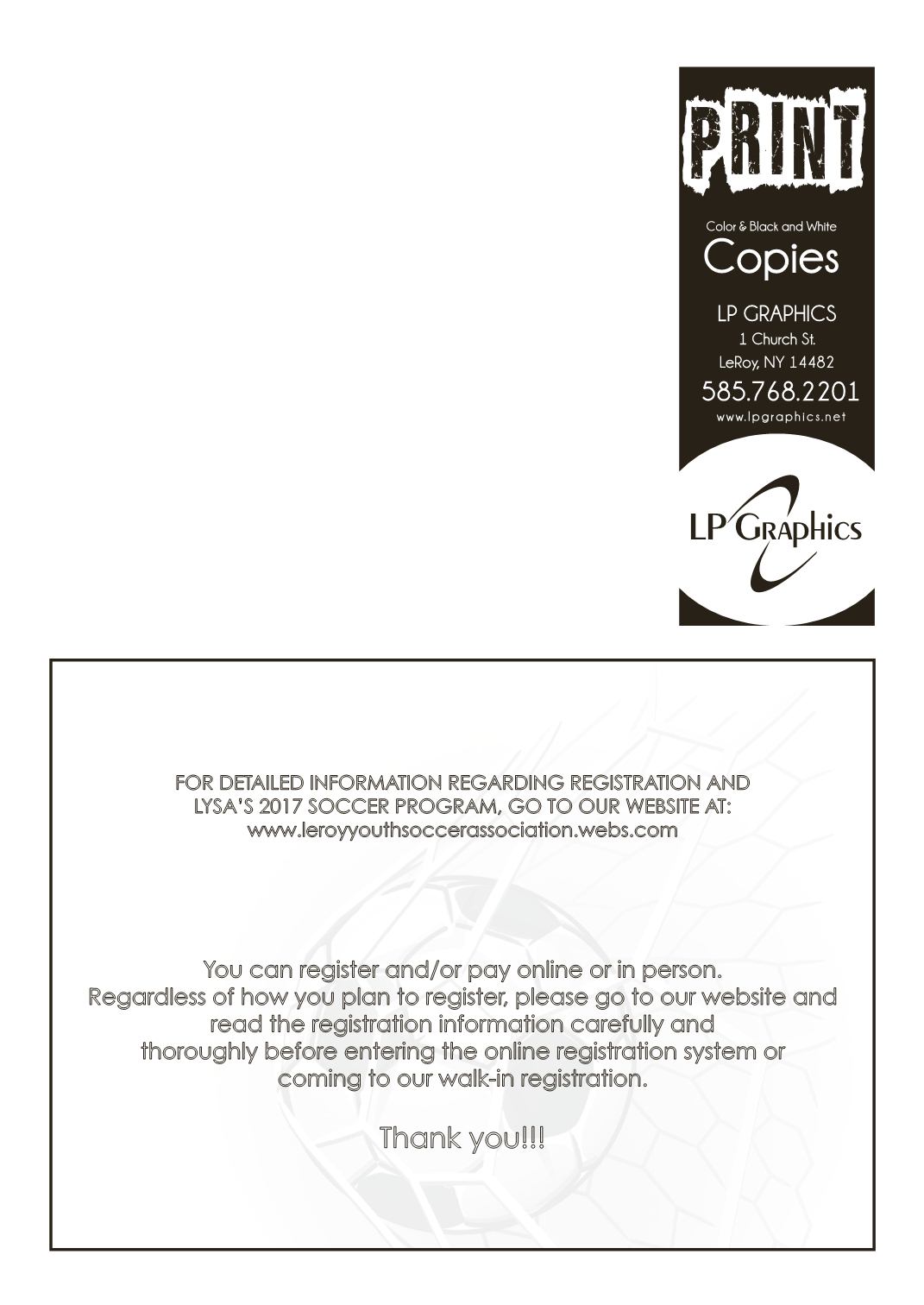 LE ROY PENNYSAVER & NEWS - JANUARY 15, 2017
Achievements
Amanda Rumble
CANTON, NY (01/06/2017)--
Amanda M. Rumble of Stafford,
NY, 14143, made the SUNY
Canton President's List during
the Fall 2016 semester.
"Congratulations Amanda," said
SUNY Canton President Zvi
Szafran. "You have demonstrat-
ed a great commitment to your
academic studies and should be
proud of your accomplishments.
In recognition of your success,
I am pleased to include your
name on the SUNY Canton
President's List. Best wishes for
continued success in all of your
future endeavors."
John M. Woodworth
John M. Woodworth has been
named to the spring 2016 Dean's
List at St. John Fisher College
in Rochester, New York.
To be eligible for the Dean's List
at St. John Fisher College, a stu-
dent must have attained at least
a 3.5 grade-point average for the
semester.
Daniel Weaver
BETHLEHEM, PA- Daniel
Weaver, of Le Roy, NY, was
named to the Dean's List at
Lehigh University in the Fall
2016 semester. Dean's List
status is awarded to students
who earned a scholastic av-
erage of 3.6 or better while
carrying at least 12 hours
of regularly graded courses.
Eric T. Witkowski
ALFRED, NY - Eric T. Wit-
kowski, a resident of Le Roy,
NY, was named to the Dean's
List for the fall 2016 semester
at Alfred University (AU). He is
a senior in the Inamori School
of Engineering. Students must
earn at least a 3.5 grade point
average to qualify for Dean's
List.
Witkowski is a Mechanical
Engineering major at AU.
A graduate of Le Roy Jr-Sr High
School, Witkowski is the son of
Robert andMarianneWitkowski
of Le Roy, NY
Steven Farnholz
ELMIRA, NY (01/09/2017)--
Steven Farnholz of LeRoy, NY
(14482) has been named to the
Elmira College Dean's List for
the Fall 2016 Term. Full-time
students who achieve a grade
point average of 3.600 or higher
at the end of any Term I or Term
II are placed on the Dean's List
at the college.
Anthony Misisco
Congratulations to Anthony
Misisco from Pavilion, NYwas
named to Fall 2016 Dean's List
at the University at Albany!
ALBANY, NY (01/11/2017)-
- The University at Albany
congratulates more that 3,500
students who were named
to the Fall 2016 Dean's List.
Anthony Misisco from Pavil-
ion is included on the Dean's
List for this semester. Stu-
dents named to the Dean's
List earned at least a 3.5 GPA.
Le Roy Youth Soccer Association "LYSA"
Summer 2017
Registration Information
FOR DETAILED INFORMATION REGARDING REGISTRATION AND
LYSA'S 2017 SOCCER PROGRAM, GO TO OUR WEBSITE AT:
www.leroyyouthsoccerassociation.webs.com
ONLINE REGISTRATION IS OPEN AND PREFERRED
The direct link is:
https://lysa.demosphere-secure.com/_registration
You can register and/or pay online or in person.
Regardless of how you plan to register, please go to our website and
read the registration information carefully and
thoroughly before entering the online registration system or
coming to our walk-in registration.
Thank you!!!
QUESTIONS? CONTACT KEN ELLINGHAM:
leroyyouthsoccer@hotmail.com