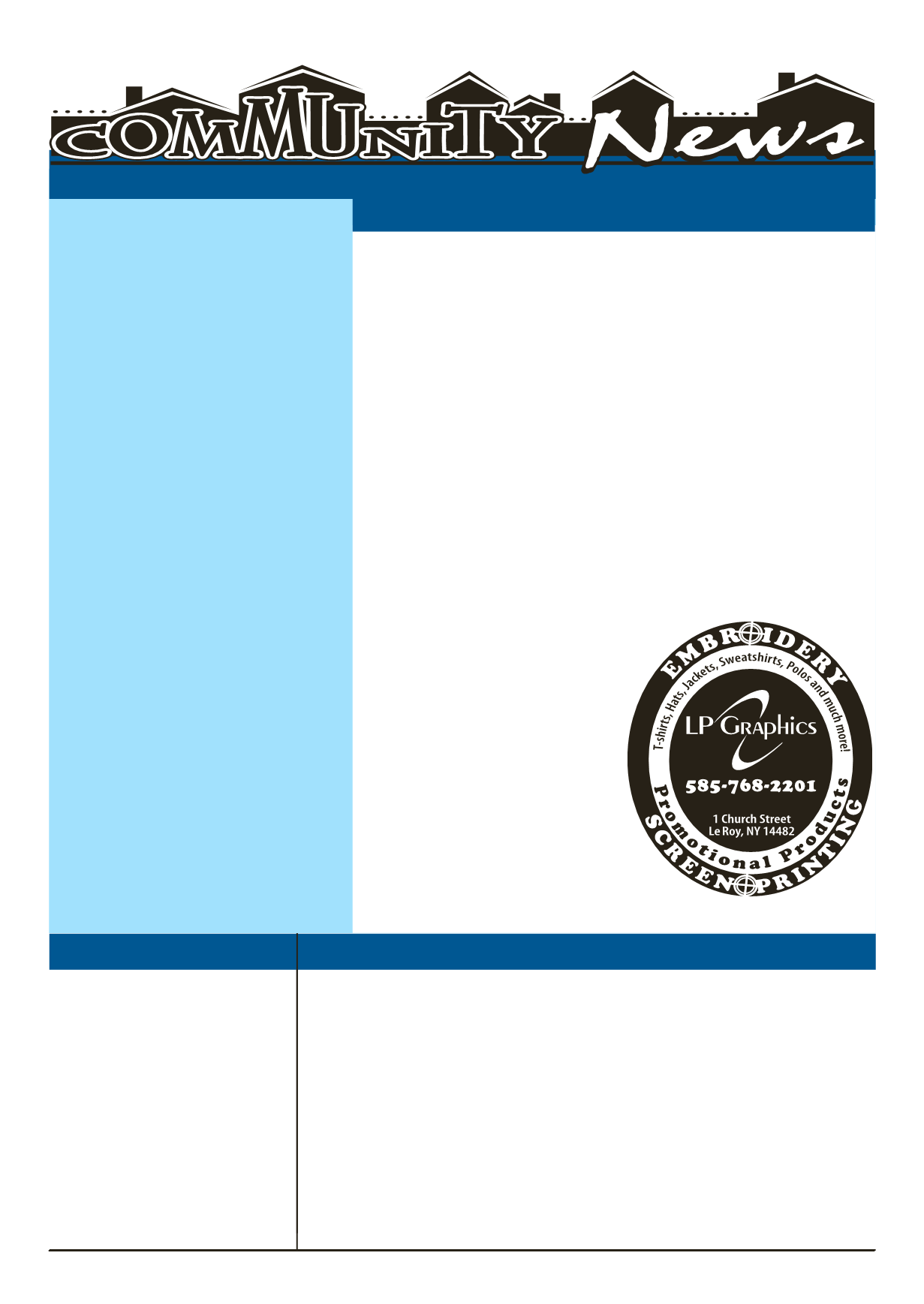 LE ROY PENNYSAVER & NEWS - JANUARY 15, 2017
THURSDAY, JANUARY 12
GRACE'S CLOSET: A clothing giveaway program
sponsored by Le Roy United Methodist Church,
10 Trigon Park, LeRoy, 9:30 to 11:30AM every
Thursday. We have clothing for all ages. Donations
can be dropped off at the house next to the church.
Please put all bags INSIDE on the back porch. NO
ELECTRONICS, COMPUTERS,DISHES, etc. Open
Tuesdays 5-6:30 pm. Any questions call the office
at: 768-8980.
FRIDAY, JANUARY 13
Penuel Christian Fellowship, One Step to Freedom
addictions ministry, a Christ Centered Addictions
program, a weekly meeting every Friday at 7 pm.
Call the Church for more information at: 768-6901
or 594-9575.
Penuel Christian Fellowship is organizing a young
adult fellowship and Bible study. Ages: 12 and
up, Time: Fridays from 7-9 pm, Study: the book
of Romans (a 16 week course), taught by Josiah
Gariboldi. Place: 7115West Main Street.
Community Calendar Submissions should
be sent to:
c a l enda r@l e r oyny. c om
WEEKLY EVENTS
All Genesee County
residents, 60 and older,
can take part in this
week's activities at the
Batavia Senior Center,
2 Bank St.
,
Batavia
.
For more information,
call
343-1611
SENIOR CITIZENS ACTIVITIES JANUARY 16
–
20
Monday: Martin Luther King Holiday
– Senior Center Closed
Tuesday: Tax Training
is scheduled to begin at 8:30 a.m.
Newsletter Assembly
is
scheduled to begin at 8:45 a.m.
Cribbage
is scheduled to begin at
1:00 p.m.
Wednesday: Tax Training
is scheduled to begin at 8:30 a.m.
Euchre
is scheduled to
begin at 1:00 p.m.
Thursday: Tax Training
is scheduled to begin at 8:30 a.m.
Cribbage
is scheduled to
begin at 1:00 p.m.
Bridge
is scheduled to begin at 1:00 p.m.
Friday: Art Class
is scheduled to begin at 10:00 a.m.
Line Dancing
is scheduled to
begin at 10:00 a.m.
Euchre
is scheduled to begin at 12:00 p.m.
OBITUARIES
LEROY, OREGON-
David Fiorito,
formally of LeRoy, passed away on January
3, 2017. He was the son of John and Minnie
Fiorito of LeRoy. He was predeceased by
his brother Edward. A mass for John will
be February 26, 2017 at our Lady of Mercy
Church at 8:30 am.
LEROY -
Timothy JohnWickson known as
(Bear) age 66, of Zephyrhills, FL, formally
of LeRoy, NY passed away suddenly at
his home on December 14, 2016. He was
born August 31, 1950 in Buffalo, NY,
son of Kathryn Dill Wickson and the late
Robert M. Wickson. Tim was laid to rest
on December 20, 2016 in the National
Cemetery with full military honors in
Sarasota FL. The family will receive friends
at a celebration of life for Tim late Spring
2017 in LeRoy, NY.
STAFFORD -
Richard A. "Dick" Cone,
age 69, of E. Bethany - LeRoy Road, passed
away Saturday evening (January 7, 2017) at
Strong Memorial Hospital. Contributions
in memory of Dick are suggested to either
the NYS Veterans Home at Batavia, 220
Richmond Ave., Batavia, NY 14020 or
Wilmot Cancer Institute, 262 Bank Street,
Batavia, NY 14020.
PAVILION -
Lorraine A. Curry, age 86,
of Dillon Road, passed away on Monday
afternoon (January 9, 2017) at the LeRoy
Village Green Nursing Home surrounded
by many of her family members. Family
and friends may call on Saturday, January
21 from 12 ~ 4 P.M. at the Falcone Family
Funeral & Cremation Service Inc., 8700
Lake Rd. (Rt. 19), LeRoy, where services
will be held at 4:00 PM. Interment will be
private. Memorials are suggested to either
the Humphrey Nature Center at Letchworth,
1 Letchworth State Park, Castile, NY
14427 or Pavilion Fire Dept., P.O. Box 156,
Pavilion, N.Y. 14525.
BERGEN -
Albert Lopez, 87, of Bergen,
passed away on Friday (January 6, 2017)
at the LeRoy Village Green Nursing Home.
There are no prior calling hours and services
will be private. Albert will be laid to rest in
St. Brigid's Cemetery, Bergen. Memorials
may be made to Alzheimers Association,
Western New York Chapter, 2805 Wehrle
Dr. Ste. 6, Williamsville, NY 14221-7380.
Please leave a condolence, share a story or
light a candle at www.bataviafuneralhomes.
com.
lpgraphics.net