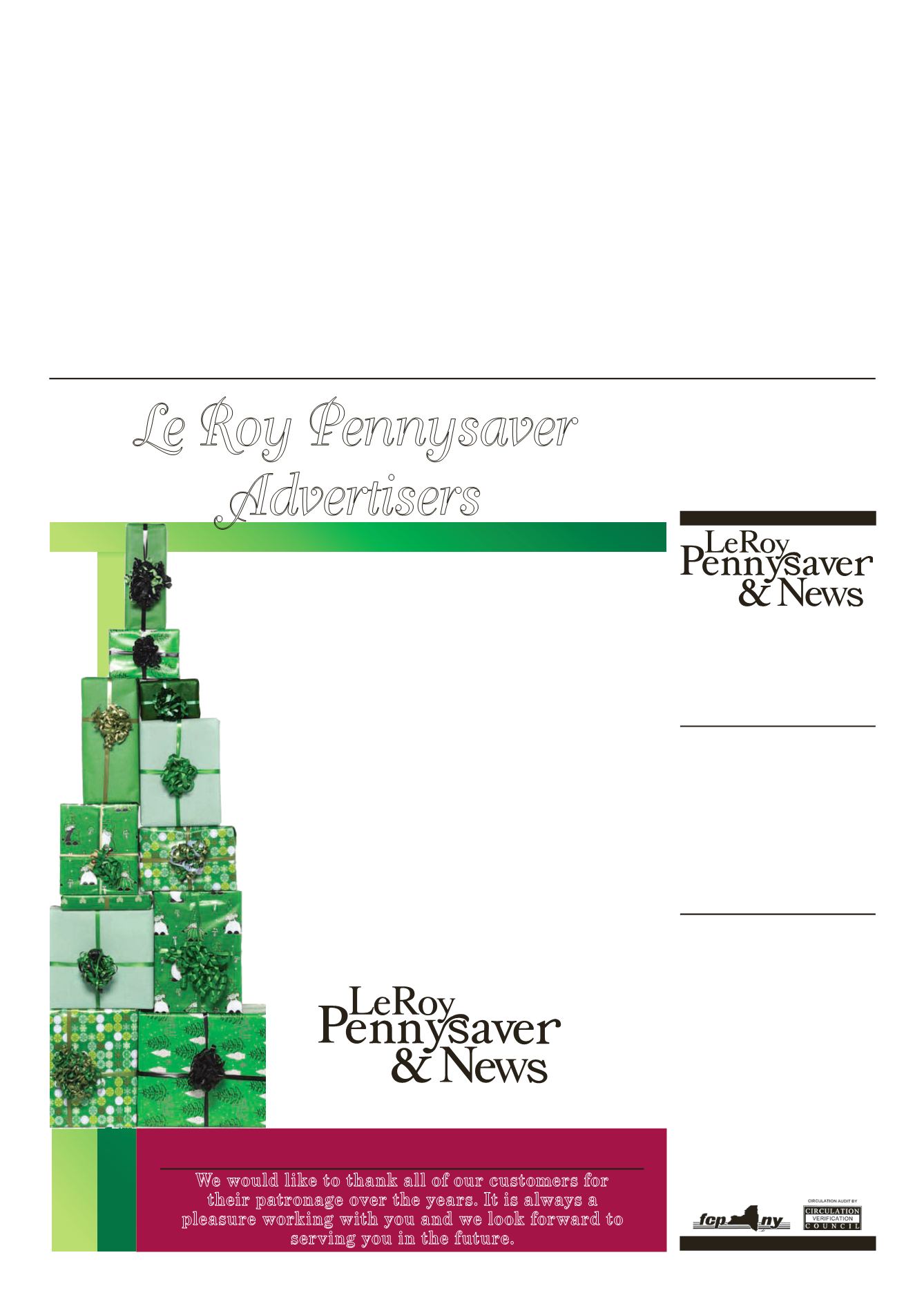 LE ROY PENNYSAVER & NEWS - NOVEMBER 27, 2016
We would like to thank all of our customers for
their patronage over the years. It is always a
pleasure working with you and we look forward to
serving you in the future.
Le Roy Pennysaver
Advertisers
This is the height of your sales year, and of course, the time when your advertising dollars
really pay off. It is more important than ever to get your ads in as early as possible. The
earlier we have your ads, the more time we can spend on them.
To aid us in planning your advertising campaign, please consult the following schedule:
Printers & Publishers
PO BOX 190 • LE ROY, NEWYORK 14482
Please call our office at 768-2201 or drop off your advertising
1 Church Street, Monday thru Friday 8 a.m. to 5 p.m.
ISSUE
COMMENT
November
27th
These next three issues are filled with advertising
for your Christmas
December
4th & 11th
Sales & Gift Giving Ideas! Last chance for those
last minute shoppers. Help out those people who
are still undecided about what to buy.
Include
your holiday hours!
December
18th
Christmas Issue - 'Tis the season to thank your
patrons.
Deadline for the Christmas issue
is Tuesday, December 13th.
December
25th
This issue is great for After Christmas and
Clearance Sales.
Deadline for the NewYear's
issue is Tuesday, December 27th.
Don't
forget your Happy New Year's Ads!
Two persons were arrested by
the LeRoy Police Department on
11/16/2016 based on a complaint
that they unlawfully possessed
and used an ATM card to steal
money from an acquaintance.
55 year old Jonathan E. Seiger
and 52 yr old Scott H. Spencer
both of 6129 West Main Rd.,
Stafford were charged with one
count each of Grand Larceny in
the 4th Degree, a Class E-Felony
and Identity Theft in the 2nd
Degree, a class E-Felony. They
were further charged with 11
Police Report
counts of Criminal Possession
of Stolen Property in the 4th
Degree a Class E-Felony and one
count of the A-Misdemeanor of
Conspiracy in the 5th Degree.
It is alleged that between
the 5
th
day of August, 2016 and
the 15
th
day of November 2016,
the pair conspired to and did
on 11 occasions unlawfully
possess the ATM bank card of
an acquaintance and each time
used the card at an ATMmachine
in the Village of LeRoy using
the victims PIN number which
they also allegedly unlawfully
possessed. The total dollar
amount the pair allegedly stole
was $1660.
Both were arraigned before the
Hon. Michael Welsh of the LeRoy
Town Court and committed to
the Genesee County Jail in lieu
of $2500 cash bail.
LE ROY —
A town man has
been charged after allegedly
selling Oxycodone to a Genesee
County Local Drug Task Force
agent.
Robert C. Kingsbury, 39, of
EastMainRoadwas chargedwith
third-degree criminal possession
of a controlled substance, and two
counts of third-degree criminal
sale of a controlled substance.
Kingsbury was taken into
custody Thursday at the Le
Roy Police Department. He was
committed to Genesee County
Jail without bail.
The t a sk for ce i nclude s
Gene see Cou nt y she r i f f 's
deputies, City of Batavia NET
Police officers, and LeRoy police.
Le Roy's Best Advertising Medium
EDITOR/PUBLISHER
David J. Grayson
editor@leroyny.com
CIRCULATION
editor@leroyny.com
HOW TO CONTACT US
STREET ADDRESS
1 Church St.
Le Roy, NY 14482
TELEPHONE
(585) 768-2201
FAX
(585) 768-6334
WEBSITE
www.leroyny.com
CLASSIFIEDS
office@leroyny.com
COMMUNITY CALENDAR
SUBMISSIONS
calendar@leroyny.com
EDITORIAL SUBMISSIONS
editor@leroyny.com
DISPLAY AD SUBMISSIONS
pennysaver@leroyny.com
The
Le Roy Pennysaver
will not knowingly accept or
publish advertising which is fraudulent or misleading
in nature. The publisher reserves the right to reject or
cancel any advertising.The
Le Roy Pennysaver
assumes
no financial responsibility for typographical errors in
advertisements, but if at fault, will reprint the portion of
the ad in which the error appears. Style, size of type and
location of advertisement are left to the discretion of the
publisher. The opinions expressed in this publication
are not necessarily those of the publisher. We cannot
guarantee the return of photographs.
© 2010
Le Roy Pennysaver