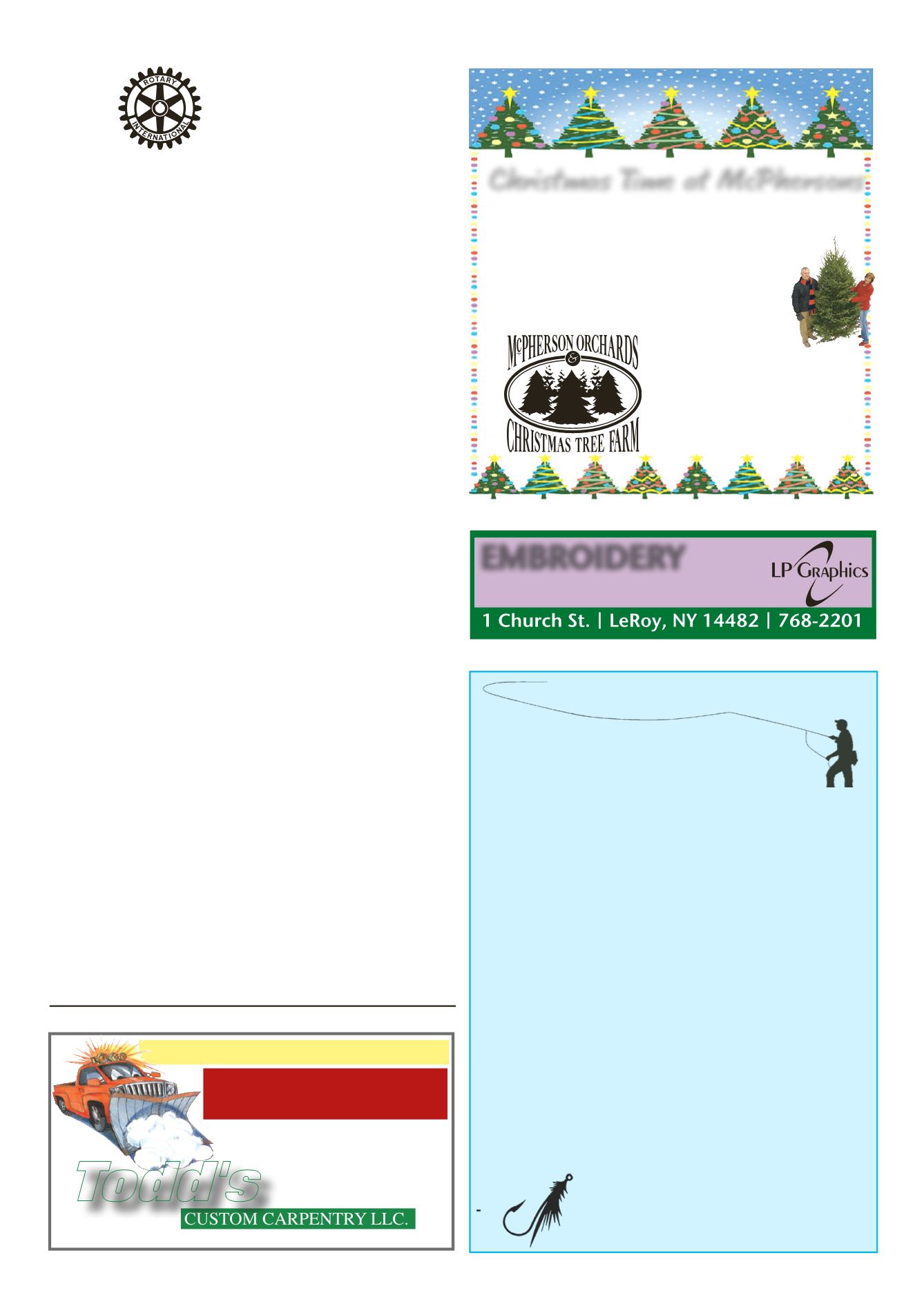 LE ROY PENNYSAVER & NEWS - NOVEMBER 27, 2016
Wednesday, November 26th,
Rotary luncheon brought a low
attendance. Members are prob-
ably trying to finish yard work
and raking all those leaves.
Our guests today were Kuc
Majak, founder of the African
Family Services Foundation,
Tom Weise, a Board member of
the Foundation (Phil's Dad) and
Deb Davis from the Hollwedel
Memorial Library in Pavilion.
Some dates for Rotarians
to remember: Dec. 14th is the
Cookie Auction with proceeds
going to a non-profit organiza-
tion. Dec. 21st Santa will ar-
rive, so Rotarians bring your
children or grandchildren for a
visit with Santa. Rotarians will
be ringing the Salvation Army
Bell at Tops on Dec. 9. Area 14
Christmas Party is January 7th
at Terry Hills.
There was no fining session
today due to needing time for
two informative programs.
However, various makeups
were given by Kim Cox, Tony
Gugino, Jerry McCullough,
Marcia McKenzie, Phil Weise,
and Jake Whiting, Many used
the Appliance Raffle as a make-
up.
A plaque and picture were
presented to Rotary from the
LeRoy Soccer Board for sup-
porting their season this year.
LeRoy Rotary is happy to spon-
sor youth sports.
Our first program today, was
presented by Kuc Majak. Af-
ter being with us last May, he
brought Rotarians up to date on
the progress of the school be-
LeRotary
Notes
ing built in South Sudan. This
is a Vocational Institute for the
Children of South Sudan. The
School opened in Aug. of 2015
with 30 students. These children
and teens had been living on the
streets of South Sudan. They
learned math and English, then
would learn a carpentry trade
and finally hopefully find a job.
Funding is being raised to fin-
ish the class rooms and to build
dormitories. Rotary presented
Kuc with a check to help with
the fundraising for this project.
Visit
vocicss.org
to learn more
about this great endeavor.
Deb Davis gave an overview
of the Hollwedel Memorial Li-
brary. At the beginning this
Library had only 1500 square
feet. With State funding and a
generous donation by the Holl-
wedel's, it now has a beautiful
Children Room and many other
extras. Deb commented that li-
braries are a valuable resource
to their communities and offer
many program for young peo-
ple and Senior Citizens. Deb
thanked Rotary for their dona-
tion to the library. With LeRoy
Rotary having members from
the Pavilion area, it was our
pleasure to donate. Also, Rota-
ry, thru the United Way Day of
Caring worked on the landscap-
ing at the library.
Thank you to Kuc and Deb
for great programs.
For more information about
Rotary, please visit our website
at
www.leroyrotary.org
. LeRoy
Rotary on Facebook, or email
us at
leroyrotary@yahoo.com
.
Christmas Time at McPhersons
Oatka Trail
Le Roy, NY
Phone 768-7094
Open 9 am-6 pm
HONEY • MAPLE SYRUP
Trees &Wreaths From Here On The Farm!
Douglas Fir • Fraser • Balsam • Concolor • Canaan
FREE Bailing & Drilling
Fresh Cut or Cut Your Own
FLY FISHING
Here's your chance
to learn how to FLY FISH.
The Oatka Fish And Game Club is offering its
FLY TYING and FLY FISHING program for
the
5th Consecutive year.
Enrollment is limited so make your call ASAP.
The Program will cover fly tying, casting,
knots, rigging your line, reading the stream
and stocking. This year we're offering the
opportunity to spend an afternoon fishing
with one of our experienced instructors.
The entire program covers about 8 weeks
and is free to the participants.
The Oatka Fish and Game covers any costs
and supplies, all materials.
Here's the number to call:
(585) 768-7262
EMBROIDERY
www.lpgraphics.net
New Homes • Additions • Garages • Pole Barns
Todd Carli • Phone 703-0964
Decks • Windows • Doors
Kitchens • Baths • Ceramic Tile
Basement Finishing
Custom Shelves/Built-Ins
Siding • Remodeling • Roofing
FULLY INSURED
Todd's
Now Accepting New
Snow Plow Contracts
Residential • Commercial
Salting • Shoveling