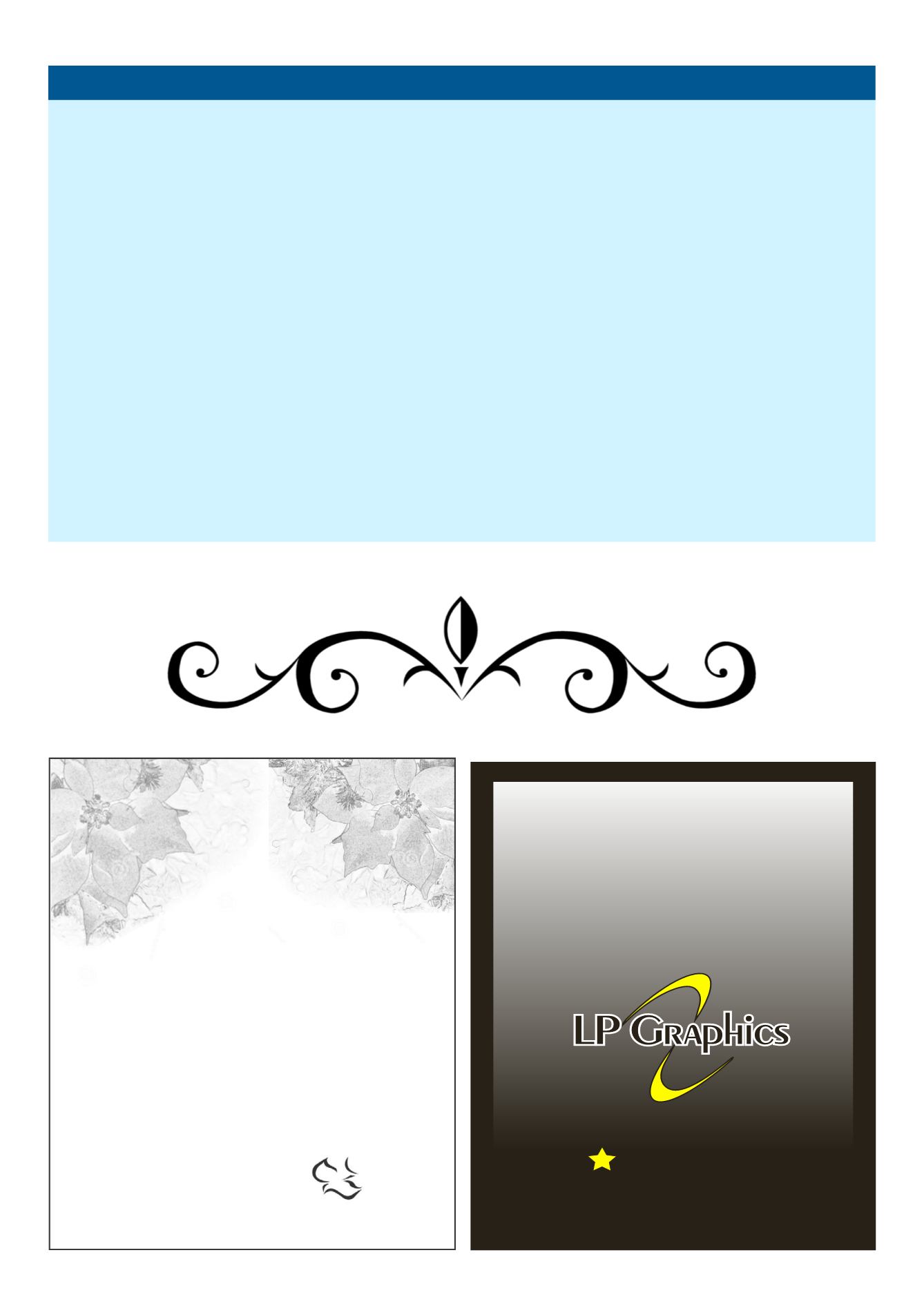 LE ROY PENNYSAVER & NEWS - NOVEMBER 27, 2016
NTING
PRINTING
ING
768-2201
1 CHURCH ST, • LE ROY, NY •
lpgraphics.net
PRI
PRINT
RINTINGPR
WE HANDLE ALL ASPECTS OF PRINTING...
PROGRAMS
LETTERHEADS
BILL HEADS
FLYERS
BROCHURES
POSTERS
CARBONLESS FORMS
ENVELOPES
RAFFLE TICKETS
NEWSLETTERS
RESUMES
TYPESETTING
RUBBER STAMPS
ENGRAVED SIGNS
NAME TAGS
COPIES
LAMINATION
COMMUNITY FAX
NEWS AND PICTURES
ADVERTISING
BUSINESS CARDS
HOURS: Monday thru Friday 8:00 to 5:00
BERGEN -
Karen E. Biegas, 55, passed
away while in Orlando, FL.
on November 8, 2016. She was
born on December 23, 1960 in
Rochester to the late Edward
Murtagh and Myrtle (Bowling)
Murtagh of Bergen. Family
and friends are invited to call
on Friday November 25, 2016
from 3:00-7:00PM at Gilmartin
Funeral Home & Cremation
Company, Inc. 329-333 West
Main Street Batavia, New York
14020.
BYRON -
Norine R. Leaton, 86, of Byron,
a former Town Clerk for the
Town of Byron, died Thursday,
November 17, 2016 at Gene-
see County Nursing Home, in
Batavia. Friends may call on
Wednesday from 3 to 6 p.m.
at H.E. Turner & Co. Funeral
Home, 403 E. Main St., Bat-
avia. Graveside services will
be at 2 p.m. Sunday, November
27, 2016 at Byron Cemetery,
Townline Road, Byron, NY. In
lieu of flowers, memorials may
be made to Byron Presbyterian
Church, P.O. Box 206, Byron,
NY 14422 or to South Byron
Fire Department, P.O. Box 22,
South Byron, NY 14557.
WYOMING -
Lucille M. Carlson, Age 87,
of Wyoming, NY passed away
peacefully on November 18,
2016 at the East Side Nursing
OBITUARIES
Nursing & Rehabilitation Cen-
ter in Warsaw. Friends may call
Tuesday, November 22 from
3 – 7 PM at the Robinson &
Hackemer Funeral Home, 246
N. Main St., Warsaw. Memori-
als may be made to the East Side
Activities Fund, 62 Prospect St.,
Warsaw, NY 14569.
PAVILION -
A Memorial Celebration for
Dana Leroy Weaver will be held
Saturday, December 3rd, 2016
at 10:00 a.m. at the Pavilion
Methodist Church. Immediately
following the ceremony there
will be a burial at the Pavil-
ion Cemetery. There will be a
reception afterwards at BW's
Restaurant, 11070 Perry Rd,
Pavilion at Noon. Mr. Weaver
passed away November 11th,
2016.
LEROY -
Chrystal Lynn Provost passed
away unexpectedly on Novem-
ber 15, 2016 at age 44. Friends
may call Sunday, November 20,
2016 from 4-7 PM at the Cam-
eron Brady & Steuber Funeral
Home, 111 Wolcott Street (
Rt.19), LeRoy. The family asks
that in lieu of flowers memorials
may be made to the Genesee
County Animal Shelter, 3841
W. Main Street Rd., Batavia,
NY 14020.
FREE
Saturday, December 10
9:30 a.m.
"At His Feet"
Mark 14:8
Ladies
C
hristmas
Breakfast
Mumford Hall Community Center
1013 Main St., Mumford
Sponsored by
Calvary Genesee
R.S.V.P. by December 3 at 768-2452