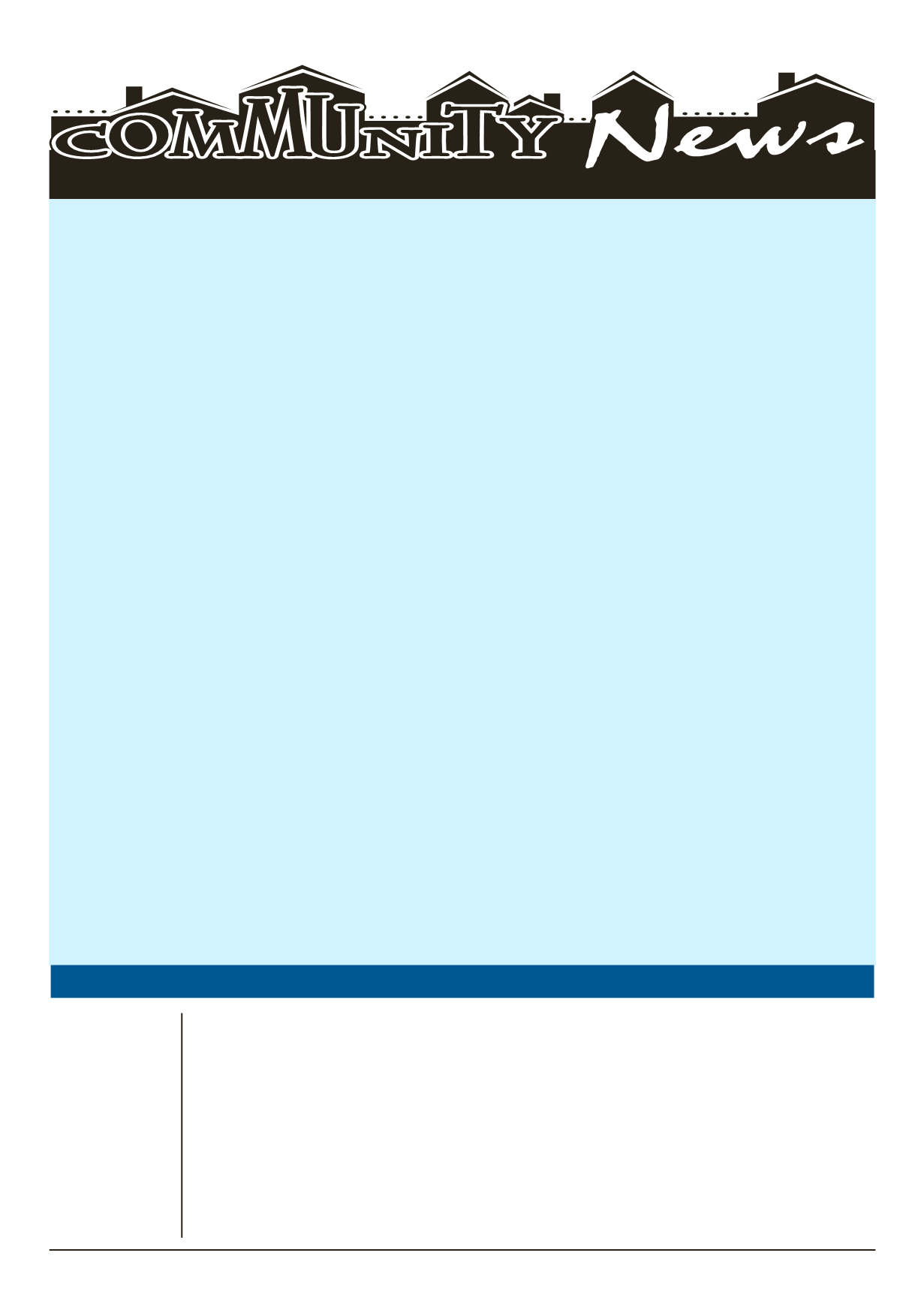 LE ROY PENNYSAVER & NEWS - NOVEMBER 27, 2016
MONDAY, NOVEMBER 28
TOPS (Take Off Pounds Sensibly) meets Monday
evenings at the LeRoy Presbyterian Church,
corner of Clay & Main Streets. Doors open at
6:00 PM and meeting is from 6:30-7:15PM.
Visitors are always welcome. Call 585-768-
7103 for more information.
TUESDAY, NOVEMBER 29
Preschool Storytime : Every Tuesday at 11 am
featuring stories, craft and songs at Pavilion
Public Library, 5 Woodrow Dr., Pavilion. For info
call: 584-8843.
Kubo & the Two Strings - Movie Showing at
the Woodward Memorial Library for children
in grades K-6 on Tuesday, Nov. 29 at 3:15 p.m.
Registration is required! Call 768-8300or register
online at
www.woodwardmemoriallibrary.org
.
WEDNESDAY, NOVEMBER 30
LeRoy Moose Family Center. 21 Bank Street
LeRoy. November 30th, 2016 5:30 pm- 7 pm .
Blueprint for Financial Success. Free workbooks
provided. All are welcome and invited. For more
information call (585) 356-1540
GRACE'S CLOSET: A clothing giveaway program
sponsored by Le Roy United Methodist Church,
10 Trigon Park, LeRoy, 9:30 to 11:30AM every
Thursday. We have clothing for all ages. We are
in need of boy's clothing sizes 0-3T. Donations
can be dropped off at the house next to the
church. Please put all bags INSIDE on the back
porch. NO ELECTRONICS, COMPUTERS,DISHES,
etc. Open Tuesdays 5-6:30 pm. Any questions
call the office at: 768-8980.
THURSDAY, DECEMBER 1
Stafford Tree Lighting Ceremony- The Stafford
Garden Club together with the Town of Stafford
will present the First Annual Christmas Tree
Lighting Ceremony on Thursday, December 1,
2016 at 6:27 PM, at the Gazebo, Ilette Park,
corner of Rts 5 and 237.
The Senior Citizens of Le Roy and Stafford meet
the third Wednesday of the month from March
through December for dinner and a planned
program. We meet in the Knights of Columbus
Hall behind Save-A-Lot on West Main Street.
Each person attending brings a generous dish
to pass or pays $4.00 each for a nice buffet
meal and social. Bring your own place setting
and beverage. Coffee, tea and dessert are
provided. Dinner is served at 6:00 pm followed
by a program. Please join us for an enjoyable
evening. Any questions, please contact Judy
Ridley, Director @ 768-2001, or Sharon Frost
at: 768-6846.
FRIDAY, DECEMBER 2
Penuel Christian Fellowship, One Step to
Freedom addictions ministry, a Christ Centered
Addictions program, a weekly meeting every
Friday at 7 pm. Call the Church for more
information at: 768-6901 or 594-9575.
Penuel Christian Fellowship is organizing a
young adult fellowship and Bible study. Ages:
12 and up,Time: Fridays from7-9 pm, Study: the
book of Romans (a 16 week course), taught by
Josiah Gariboldi. Place: 7115West Main Street.
SATURDAY, DECEMBER 3
Winterfest Activities at theWoodwardMemorial
Library on Saturday, December 3 from11 a.m. to
4 p.m. for thewhole family. Pinecone ornament
or melted snowman crafts to make all day.
Decorate a sugar cookie. Take your picture at
our photo board. Registration is NOT required.
UPCOMING EVENTS
The Byron Kiwanis will be hosting a fundraiser
Pancake Breakfast & Chinese Auction on Sunday
December, 11th
from 8:30am – noon at the
Byron Fire Hall on Rt. 262. Santa will be on-site
from 10:00am – noon, this is sponsored by
Byron Ladies Auxiliary. Fun for kids of all ages!!
For more information, call Laura Platt 548-2245.
Community Calendar Submissions should be sent to:
c a l enda r@l e r oyny. c om
WEEKLY EVENTS
All Genesee
County residents,
60 and older, can
take part in this
week's activities
at the
Batavia
Senior Center,
2 Bank St.
Batavia. For more
information, call
343-1611
SENIOR CITIZENS ACTIVITIES November 28 – December 2
Monday:
Arthritis Exercise
is scheduled to begin at 9:30 a.m.;
Bridge
is scheduled to begin 11:30 a.m.;
Office for the Aging Advisory Meeting
is scheduled to begin at 1:00 p.m.;
Tai Chi
is scheduled to begin at 1:30 p.m.
Tuesday:
Cribbage
is scheduled to begin at 1:00 p.m.
Wednesday:
Quilter's Group
is scheduled to begin at 9:00 a.m.;
Home Delivered Meal Meeting
is
scheduled to begin at 9:00 a.m.;
Euchre
is scheduled to begin at 1:00 p.m.
Thursday:
Tai Chi
is scheduled to begin at 9:30 a.m. ;
Gentle Fitness
is scheduled to begin at 10:30 a.m.;
Cribbage
is scheduled to begin at 1:00 p.m.;
Bridge
is scheduled to begin at 1:00 p.m.
Friday:
Art Class
is scheduled to begin at 10:00 a.m.;
Line Dancing
is scheduled to begin at
10:00 a.m.;
Euchre
is scheduled to begin at 12:00 p.m.