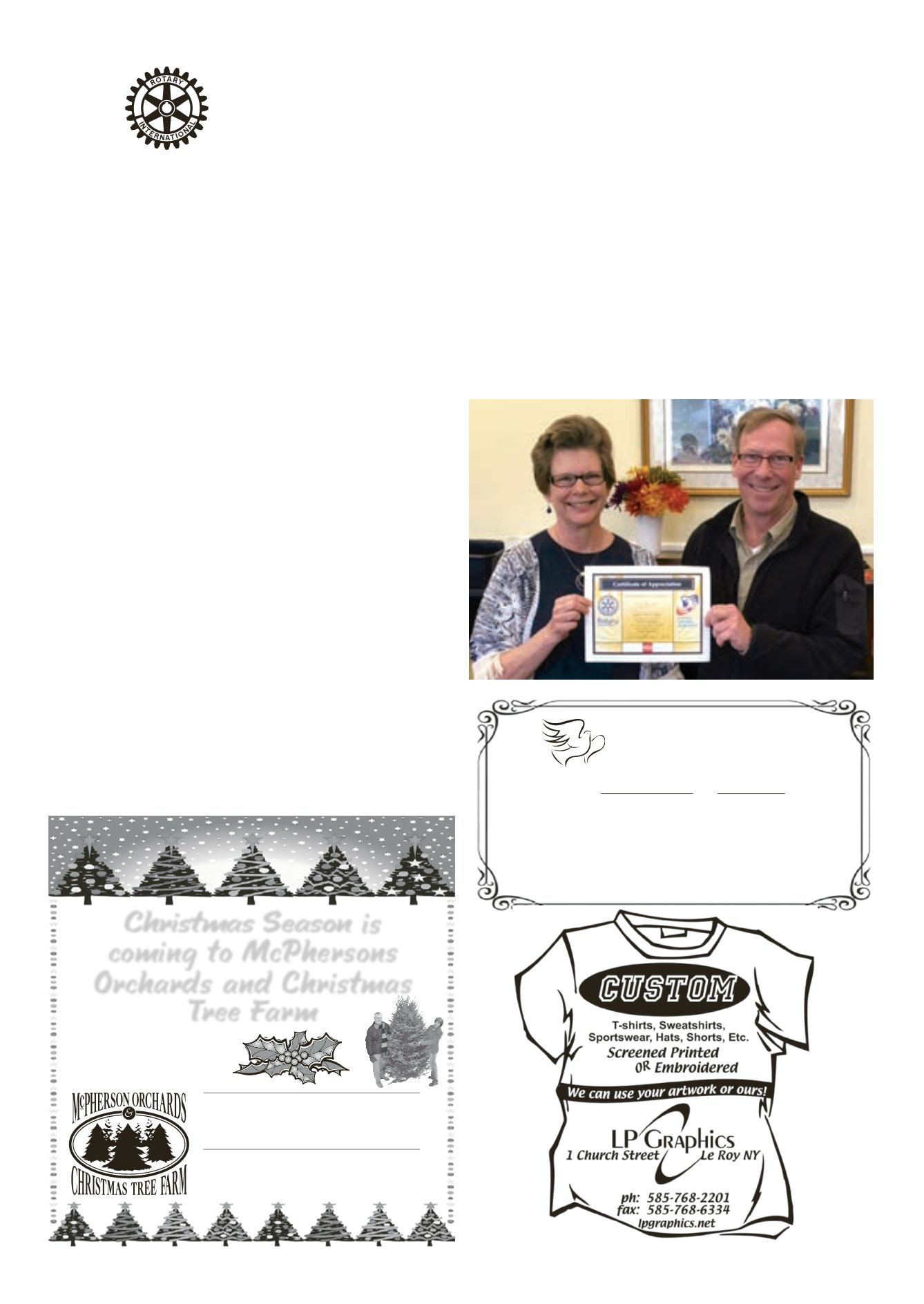 LE ROY PENNYSAVER & NEWS - NOVEMBER 20, 2016
Christmas Season
i s
coming to McPhersons
Orchards and Chr i stmas
Tree Farm
Oatka Trail, Le Roy, NY
768-7094
Fresh Wreaths and Trees
From Here On The Farm!
PRE-CUT AND CUT-YOUR-OWN
OPEN EVERY
DAY STARTING
November 22
nd
Open 9 am-6 pm
Rotary Notes for the meeting
on 11/9/16
The sun was out for our reg-
ular meeting following a very
seccussful Appliance Raffle.
We were joined by Le Roy Se-
niors Kearyn Sczudlo and Ol-
ivia Taney a visiting Rotarian
Sam Ledly. After the Pledge
and 4 way test, we honored Bob
Boyce with a birthday song and
recognized Lynne Belluscio for
celebrating her birthday with us.
Moving on to our an-
nouncements, Rotarians are
marking their calendars for the
Eastern Cities Dinner, featur-
ing Rotary International Pres-
ident John Germ to celebrate
the 100th Anniversary of the
Rotary Foundation.
Bob Bennett announced the
results of our Appliance raffle
and his thanks for all Rotari-
ans and community members
that made it one of our most
successful years to date. The
event funds our budget for the
year and allows the Rotary Club
of Le Roy to do good within
our community. This year, we
raised over $11,000 after ex-
penses. Several Rotarians were
recognized for their outstanding
ticket sales including Lauren
Humphrey, Randy Vink, Carol
Wolfe, Tom McGinnis, Marhta
Bailey, and of course Bob Ben-
nett.
President David caught sev-
eral Rotarians up on missed
meetings and fines. Martha Bai-
ley, Ben Deragon, Jim Ellison
and Bob Boyce all had one miss.
Bob Bennett had three and Chris
Biviano had the high score with
four misses.
Our fining session kicked
off with Martha being fined
as she's going to be the proud
grandmother to twins (She's al-
ready a proud grandmother to
two beautiful children). Lynne
Belluscio was fined for her re-
cent article on Women's Suf-
frage. Chris Biviano was fined
for sharing his daughter's recent
accomplishment of winning 2nd
place in the Genesee Country
Stop DWI Poster Contest. Ben
Dergon paid for his always hap-
py demeanor. Erix Fix was fined
for his appliance raffle win. Tra-
cy Ford hate an interesting date
to the Perry Rotary Show and
paid the price and finally Anil
Sawhney was fined for still not
winning anything in the appli-
ance raffle.
President David then proud-
ly presented a check to Lynne
Belluscio to benefit the Le Roy
Historical Society, an organiza-
tion we proudly support.
Our program featured Su-
san Border, Director of the
Woodward Memorial Library
with news on exciting updates
and programs available to the
community and its members.
The library is looing forward to
starting renovations on the chil-
dren's room in January. The
goal is to create a space that
stimulates reading, learning and
family interactions. The plans
include improved space for
programs, interactive areas that
will entice families to visit of-
ten and stay longer. The project
is being funded through dona-
tions and State grants, so there
will be no tax burden to the
community. The Library will
soon become exclusively a pub-
lic library once the elementary
school completes it's renovation
in the Spring. The Library will
be offering a Used Book Sale
on Black Friday. Sue reminded
us of a few online services that
are all free with your member-
ship including TV streaming
with Hoopla and Freegle for
music downloads. We encour-
age you to visit and support the
Woodward Memorial Library to
explore these exciting updates
throughout the year!
LeRotary
Notes
8700 Lake Rd.
LeRoy, NY 14482
(585) 768-2400
www.falconefuneralhome.com
Vern C. Falcone
Jenna M. Falcone
Director / Owner
Funeral Director
F
ALCONE
F
AMILY
Funeral & Cremation Service, Inc.
Vern C. Falcone
Director/Owner
PO Box 187
8700 Lake Road
LeRoy, NY 14482
(585) 768-2400
vern.fffcs@yahoo.com
"A LOCAL FAMILY
CARING FOR LOCAL FAMILIES"