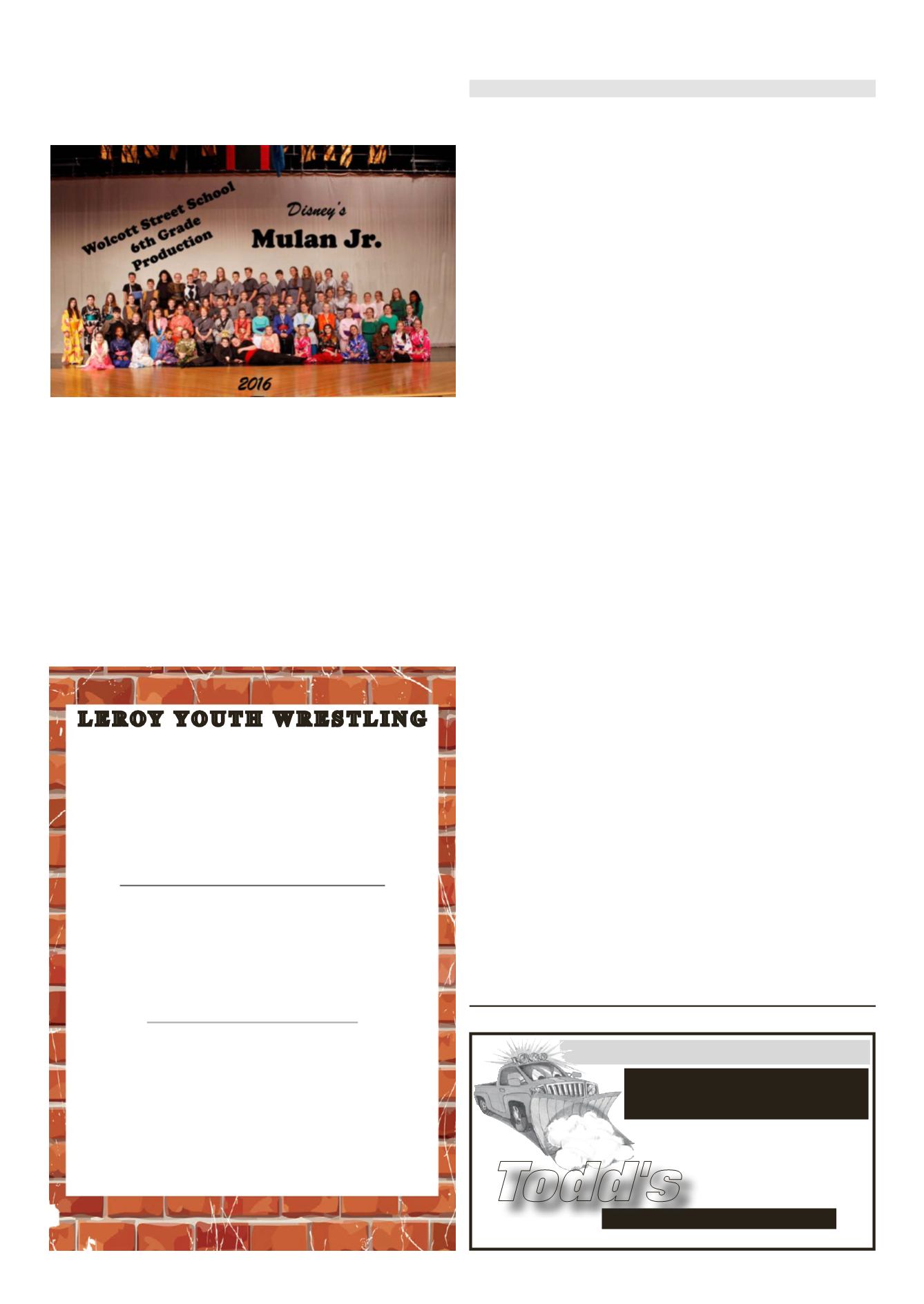 LE ROY PENNYSAVER & NEWS - NOVEMBER 20, 2016
On Thursday, November
10th, students from the Wolcott
Street School 6th grade class
performed Disney Mulan JR in
the Jr/Sr High Auditorium. Di-
rector Ms. Jessa Dechant and
Assistant Director Mrs. Lindsay
Buckel auditioned interested 6th
grade students in September,
and the ensemble rehearsed ev-
ery week up to the performance.
The show was a terrific success
due to the students' hard work
and preparation of lines, memo-
rizing songs and learning dance
moves as well as creating many
of the props and stage decora-
tions from scratch!
As in previous years, the cast
also collected non-perishable
goods at the performances as a
way to aid the community. The
cast would like to thank every-
one for their generous donations
and for the continuous support
of arts in our school district.
WSS Disney Mulan JR
Aid Community
Happy November! It's hard to
believe that we are approaching
the holiday season. It has been an
exciting fall with extraordinary
sports seasons and academic
programs. Thanks to all of you
who have celebrated our students
by attending contests, meetings,
and conferences. Your ongoing
support is critical to the continued
success in all aspects of our
students' educational journey.
Our staff is also continuing
their
educational
journey.
This year we are focusing on
honing our skills in Professional
Learning
Committees
or
"PLCs." We also refer to these
as Data Meetings. This new
structure facilitates a rich
dialogue between staff regarding
curriculum, instruction, and
instructional practices. Guiding
questions focus on "what's
working," "what are immediate
concerns," "what are possible
solutions," and "what actions
will we take as a group?"
Teachers are also engaged in
several action research projects
that focus on how to best meet
our students' ever-changing
needs. This practice is the basis
of continuous improvement and
models lifelong learning, one
of the Le Roy Central School
District graduation outcomes.
It is a powerful way of working
together to impact the practice of
schooling for all!
Our Wolcott Street School
Fitness Center is up and running.
It has been great to see many
community members using
the facilities. Just a reminder,
the hours are: Monday and
Wednesday from 6:00 a.m.-8:00
a.m., and Tuesday and Thursday
from 5:00 p.m.-8:00 p.m. For
more information contact us at
wssfitness@leroycsd.org o
r call
768-7115,
x-1109
.
Work continues on
The
R.I.T.E Project.
We are pleased
that our Wolcott Street School
Memorial Auditorium updates
are completed and it looks
beautiful. We are especially
excited about the new lighting
and sound systems that have
been installed. You will be able
to experience this firsthand
when you attend one of the
many upcoming concerts and
programs. Our kitchen updates
are also 95% complete. We are
operational, but are still adjusting
some electrical and equipment
needs within the kitchen itself.
At the Jr.-Sr High School, the
tennis courts are completed
and have already been used for
physical education classes. As
the weather changes, however,
the nets will come down until
spring. The student common
areas are nearing completion, as
is the lighting in the cafeteria.
The next big piece of the project
includes the completion of the
new Library/Media Center in
the Wolcott Street School and
the new Special Education
Office. Both should be nearing
completion by late January/early
February.
In closing, on November
11th, honor all veterans on
Veterans' Day. We thank you
for your service and sacrifices
that have allowed us to enjoy
the many freedoms of this great
country. We are forever grateful!
by Kim Cox
Superintendent of Schools
Superintendent ' Column
s
Pictured here is the entire 6th grade cast of Disney Mulan JR.
L E ROY YO U T H WR E S T L I N G
is looking for
Volunteers and Parent
Helpers
for the 2016 and 2017 season
Sign Ups and first practice
November 29 at 6:30 pm
at The LeRoy Central High School
Wrestling Room
• Cost is $30 per wrestler ages 5-12 years old
• Bring current insurance card and
• Birth Certificate for all first year wrestlers
Any questions feel free to contact Kate Flint
at
kateflint007@yahoo.com.
New Homes • Additions • Garages • Pole Barns
CUSTOM CARPENTRY LLC.
Todd Carli • Phone 703-0964
Decks • Windows • Doors
Kitchens • Baths • Ceramic Tile
Basement Finishing
Custom Shelves/Built-Ins
Siding • Remodeling • Roofing
FULLY INSURED
tfn
Todd's
Now Accepting New
Snow Plow Contracts
Residential • Commercial
Salting • Shoveling