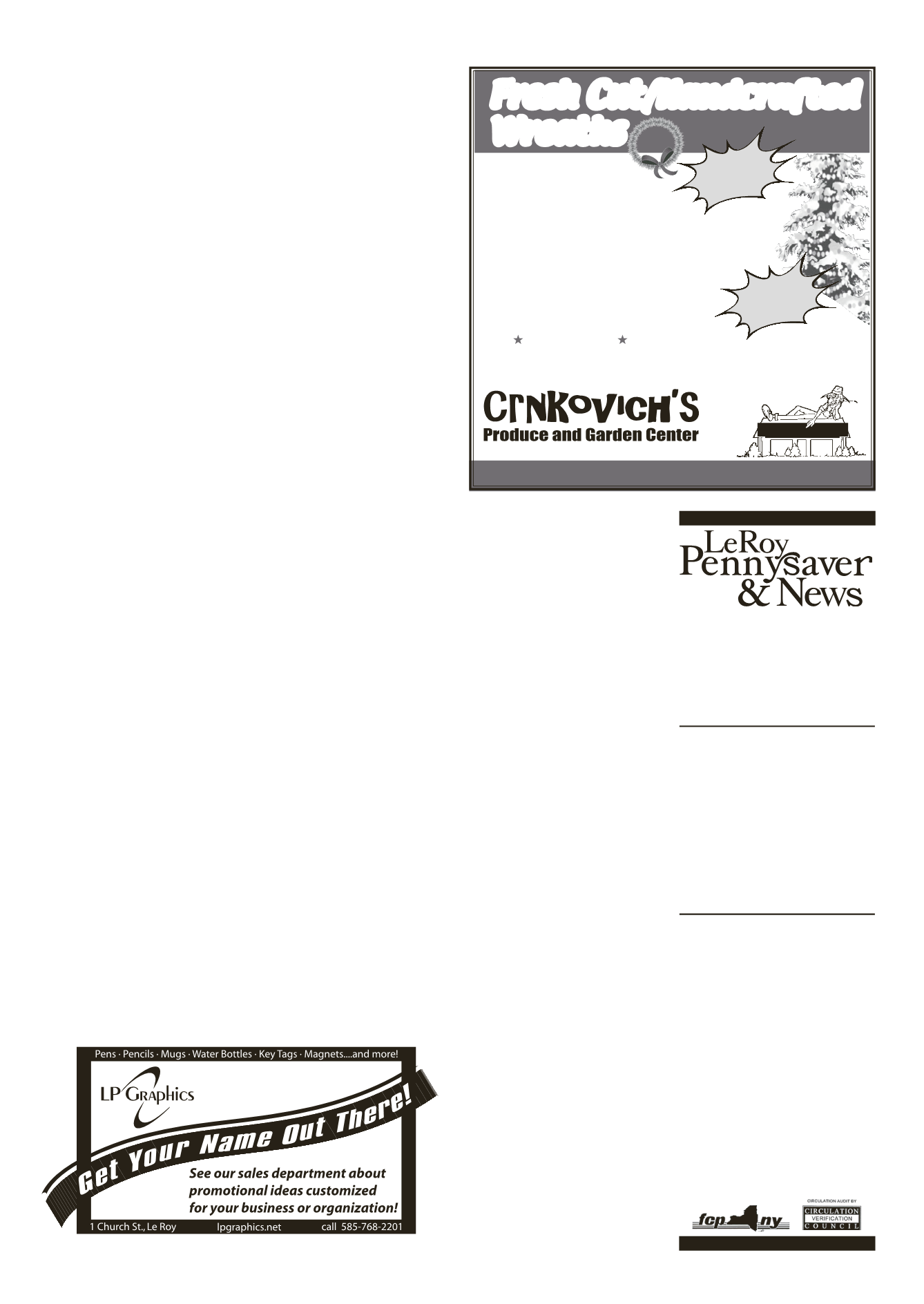 LE ROY PENNYSAVER & NEWS - NOVEMBER 20, 2016
OBITUARIES
PAVILION -
Warren "Buddy"
Oderkirk, Jr., age 20, of Pavil-
ion, passed away surrounded by
his loving family on Tuesday,
November 15, 2016 at his home.
Friends may call on Thursday
and Friday from 4 to 8 p.m. at the
H.E. Turner &Co. Funeral Home,
403 East Main Street, Batavia. A
celebration of Buddy's life will be
held on Saturday at 1 PM at BW's
Restaurant and Banquet Facility,
11070 Perry Road, Pavilion. To
honor Buddy's wishes, please
make memorials to his family.
LEROY
- Edward H. "Bud"
McDermott, age 86, passed away
Saturday morning, November 12,
2016, at the Batavia Health Care
Center after a short stay. There
will be a gathering of friends for
coffee and pastries at the No Fin-
er Diner, 15 Main Street, LeRoy.
Memorials may be made to Our
Lady of Mercy Parish.
LEROY -
God summoned Hank
Barbeau Jr. on November 12,
2016, at the age of 81. Hank's
family will receive friends on
Tuesday, Nov. 15 from 2-4 and
7-9 at the Falcone Family Funeral
& Cremation Service Inc., 8700
Lake Road (Rt. 19), LeRoy. In
lieu of flowers, memorials are
suggested to either LeRoy Am-
bulance Service or the LeRoy
Food Pantry.
by Senator Ranzenhofer
November, 2016
As a nation, it is important
for us to express our gratitude
and appreciation on Veterans
Day to our service men and
women. We must always
remember that our freedoms
have been fought for and
defended by current and former
members of the United States
Armed Forces, many of whom
made the ultimate sacrifice.
I have always worked to
support New York's courageous
veterans, and I am proud to
share a legislative update on
my recent efforts.
A new law, effective at
the start of this year, will help
to reduce the local tax burden
for veterans by authorizing an
increase in limits to the real
property tax exemption. The
new law will provide additional
savings and help veterans
afford owning a home.
I supported major funding,
as part of this year's State
Budget, for veterans initiatives,
including:
• $2.8 million for the Joseph P.
Dwyer Veteran Peer-to-Peer
Program;
• $450,000 for the Veterans
Mental
Health
Training
Initiative;
• $500,000 for the NYS De-
fenders Association Veteran's
Defense Program; and
• $40,000 for the Vietnam
Veterans of America New
York State Council.
In May, two twin brothers
from LeRoy, Thomas R. Wood
Sr. and William Charles Wood
III, joined me at a special
State Capitol ceremony to be
inducted into the State Senate
Veterans' Hall of Fame.
The Wood brothers entered
the United States Marine Corps.
in 1988, attending boot camp
together at Paris Island, South
Carolina. Two years later, they
would be called upon to serve
their country in the First Gulf
War. Today, they continue
to serve our community as
firefighters and active coaches
in youth sports.
Lastly, after passing the
State Legislature three times
and being vetoed twice, I am
pleased to finally report that the
Veterans Buyback Bill has been
signed into law. This new law
allows all honorably discharged
service members, with five
years of existing public pension
credits, to purchase three years
of credit for their military
service.
Previously, state law only
allowed certain war veterans
to purchase pension credits.
Expanding the law will help
to encourage more veterans to
return to New York and continue
their public service.
As a co-sponsor of the bill,
I worked hard to enact it into
law. It is long overdue, and I
am elated that all of our veterans
will finally receive the benefits
that they have earned.
Supporting these initiatives
is the least we can do for
our veterans. These heroic
individuals have sacrificed so
much to serve our nation, and we
owe them a debt of gratitude that
can never truly be repaid.
Please accept my profound
thanks to all our service men and
women, as well as their families.
I am humbled to serve as your
voice in state government.
Legislative Efforts Thank Veterans
For Serving Our Country
Le Roy's Best Advertising Medium
EDITOR/PUBLISHER
David J. Grayson
editor@leroyny.com
CIRCULATION
editor@leroyny.com
HOW TO CONTACT US
STREET ADDRESS
1 Church St.
Le Roy, NY 14482
TELEPHONE
(585) 768-2201
FAX
(585) 768-6334
WEBSITE
www.leroyny.com
CLASSIFIEDS
office@leroyny.com
COMMUNITY CALENDAR
SUBMISSIONS
calendar@leroyny.com
EDITORIAL SUBMISSIONS
editor@leroyny.com
DISPLAY AD SUBMISSIONS
pennysaver@leroyny.com
The
Le Roy Pennysaver
will not knowingly accept or
publish advertising which is fraudulent or misleading
in nature. The publisher reserves the right to reject or
cancel any advertising.The
Le Roy Pennysaver
assumes
no financial responsibility for typographical errors in
advertisements, but if at fault, will reprint the portion of
the ad in which the error appears. Style, size of type and
location of advertisement are left to the discretion of the
publisher. The opinions expressed in this publication
are not necessarily those of the publisher. We cannot
guarantee the return of photographs.
© 2010
Le Roy Pennysaver
Crnkovich's FarmMarket
Open Daily 9 am–9 pm
Cemetery Wreaths
& Stands
Grave Blankets
Window & Door Swags
Kissing Balls
Specialty Shapes & Sizes
Stars Candy Canes Crosses
Unique Christmas Decorations
768-7259
768-7813
8041 E. Main Rd. (Rt. 5) 1 Mile East of Le Roy
ORDER
NOW
Please call ahead
for large orders and
specialty items
Fresh Cut/Handcrafted
Wreaths
CALL
o r
STOP I N
Phone: