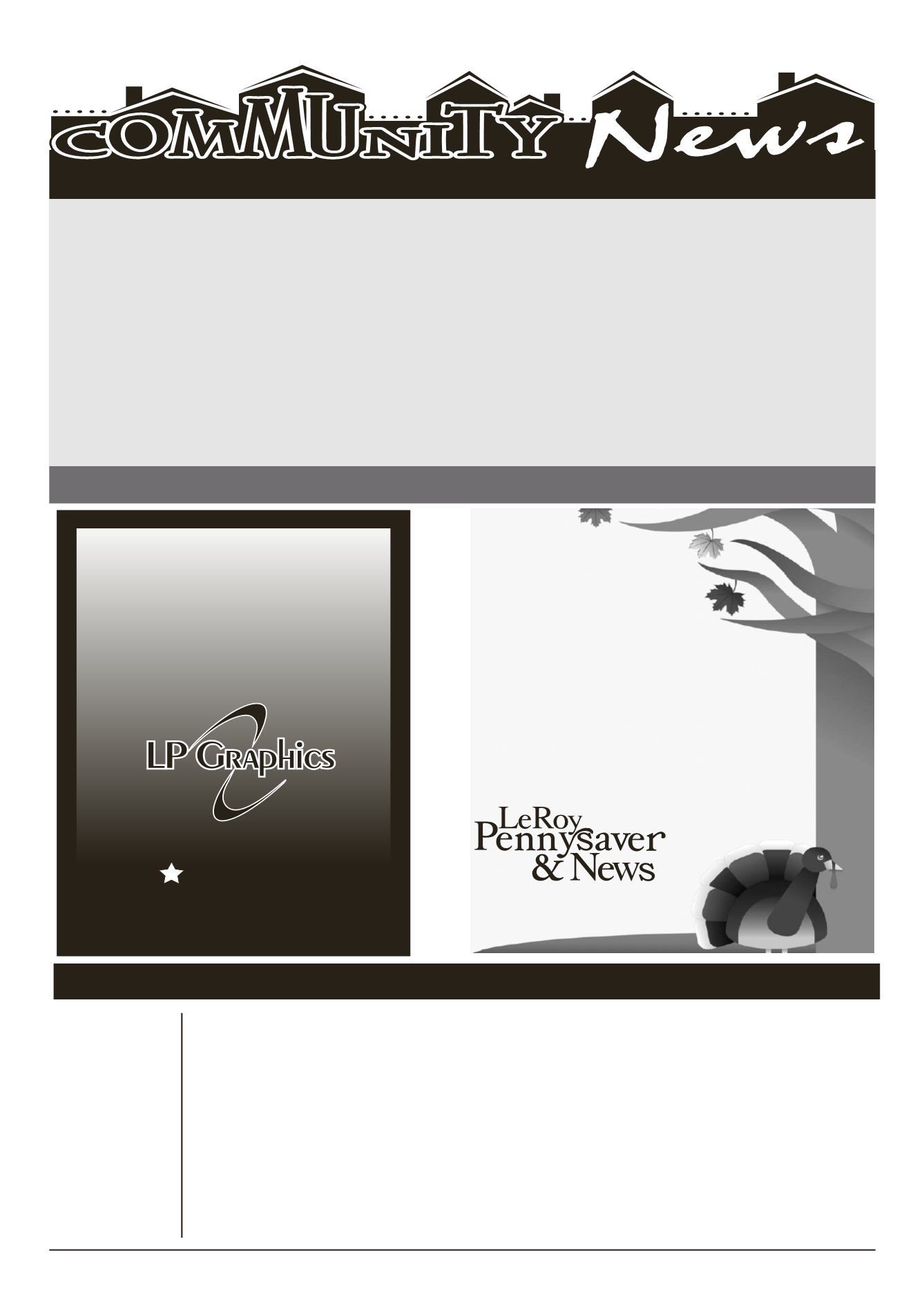 LE ROY PENNYSAVER & NEWS - NOVEMBER 20, 2016
MONDAY, NOVEMBER 21
TOPS (Take Off Pounds Sensibly) meets Monday
evenings at the LeRoy Presbyterian Church, corner
of Clay & Main Streets. Doors open at 6:00 PM and
meeting is from 6:30-7:15PM. Visitors are always
welcome. Call 585-768-7103 for more information.
TUESDAY, NOVEMBER 22
Preschool Storytime : Every Tuesday at 11 am
featuring stories, craft and songs at Pavilion Public
Library, 5 Woodrow Dr., Pavilion. For info call:
584-8843.
LeRoy Zoning Board of Appeals Meeting (as
necessary) November 15, 7:30PM at the Town Hall,
48MainStreet.Forfurther infocall768-6910ext.223
Community Calendar Submissions should be sent to:
c a l enda r@l e r oyny. c om
WEEKLY EVENTS
TUESDAY, NOVEMBER 22
GRACE'S CLOSET: A clothing giveaway program
sponsored by Le Roy United Methodist Church, 10
Trigon Park, LeRoy, 9:30 to 11:30AM everyThursday.
We have clothing for all ages. We are in need of
boy's clothing sizes 0-3T. Donations can be dropped
off at the house next to the church. Please put all
bags INSIDE on the back porch. NO ELECTRONICS,
COMPUTERS,DISHES, etc. OpenTuesdays 5-6:30 pm.
Any questions call the office at: 768-8980.
WEDNESDAY, NOVEMBER 23
The Senior Citizens of Le Roy and Stafford meet the
thirdWednesday of the month from March through
December for dinner and a planned program. We
meet in the Knights of Columbus Hall behind Save-
A-Lot on West Main Street. Each person attending
bringsagenerousdishtopassorpays$4.00each for
a nice buffet meal and social. Bring your own place
setting and beverage. Coffee, tea and dessert are
provided. Dinner is served at 6:00 pm followed by
a program. Please join us for an enjoyable evening.
Any questions, please contact Judy Ridley, Director
@ 768-2001, or Sharon Frost at: 768-6846.
FRIDAY, NOVEMBER 25
UsedbooksaleattheWoodwardMemorialLibraryon
Friday, November 25 from 9 a.m. to 5 p.m.
Penuel Christian Fellowship, One Step to Freedom
addictions ministry, a Christ Centered Addictions
program, a weekly meeting every Friday at 7 pm.
All Genesee
County residents,
60 and older, can
take part in this
week's activities
at the
Batavia
Senior Center,
2 Bank St.
Batavia. For more
information, call
343-1611
SENIOR CITIZENS ACTIVITIES November 21 – 25
Monday:
Arthritis Exercise
is scheduled to begin at 9:30 a.m.;
Bridge
is scheduled to begin 11:30 a.m.;
Tai Chi
is scheduled to begin at 1:30 p.m.
Tuesday:
Enrollment Insurance Fair
is scheduled to begin at 10:00 a.m.;
Cribbage
is scheduled
to begin at 1:00 p.m.
Wednesday:
Quilter's Group
is scheduled to begin at 9:00 a.m.;
Euchre
is scheduled to begin at 1:00
p.m.
Thursday:
Thanksgiving Holiday – Senior Center Closed
Friday:
Art Class
is scheduled to begin at 10:00 a.m.;
Line Dancing
is scheduled to begin at
10:00 a.m.;
Euchre
is scheduled to begin at 12:00 p.m.
Call the Church for more information at: 768-6901
or 594-9575.
Penuel Christian Fellowship is organizing a young
adult fellowship and Bible study. Ages: 12 and
up, Time: Fridays from 7-9 pm, Study: the book
of Romans (a 16 week course), taught by Josiah
Gariboldi. Place: 7115West Main Street.
UPCOMING EVENTS
The Byron Kiwanis will be hosting a fundraiser
Pancake Breakfast & Chinese Auction on Sunday
December, 11th
from 8:30am – noon at the
Byron Fire Hall on Rt. 262. Santa will be on-site
from 10:00am – noon, this is sponsored by Byron
Ladies Auxiliary. Fun for kids of all ages!! For more
information, call Laura Platt 548-2245.
1 Church St.
Le Roy, NY 14482
(585) 768-2201
To our valued
Customers ...
So that our employees may
share this special holiday
with their families and friends,
we will be
Thurs. & Fri., Nov. 24
th
& 25
th
CLOSED
We will resume regular business hours on
Monday, November 28
th
Happy Thanksgiving &
Have a Safe Holiday!
NTING
PRINTING
ING
768-2201
1 CHURCH ST, • LE ROY, NY •
lpgraphics.net
PRI
PRINT
RINTINGPR
WE HANDLE ALL ASPECTS OF PRINTING...
PROGRAMS
LETTERHEADS
BILL HEADS
FLYERS
BROCHURES
POSTERS
CARBONLESS FORMS
ENVELOPES
RAFFLE TICKETS
NEWSLETTERS
RESUMES
TYPESETTING
RUBBER STAMPS
ENGRAVED SIGNS
NAME TAGS
COPIES
LAMINATION
COMMUNITY FAX
NEWS AND PICTURES
ADVERTISING
BUSINESS CARDS
HOURS: Monday thru Friday 8:00 to 5:00