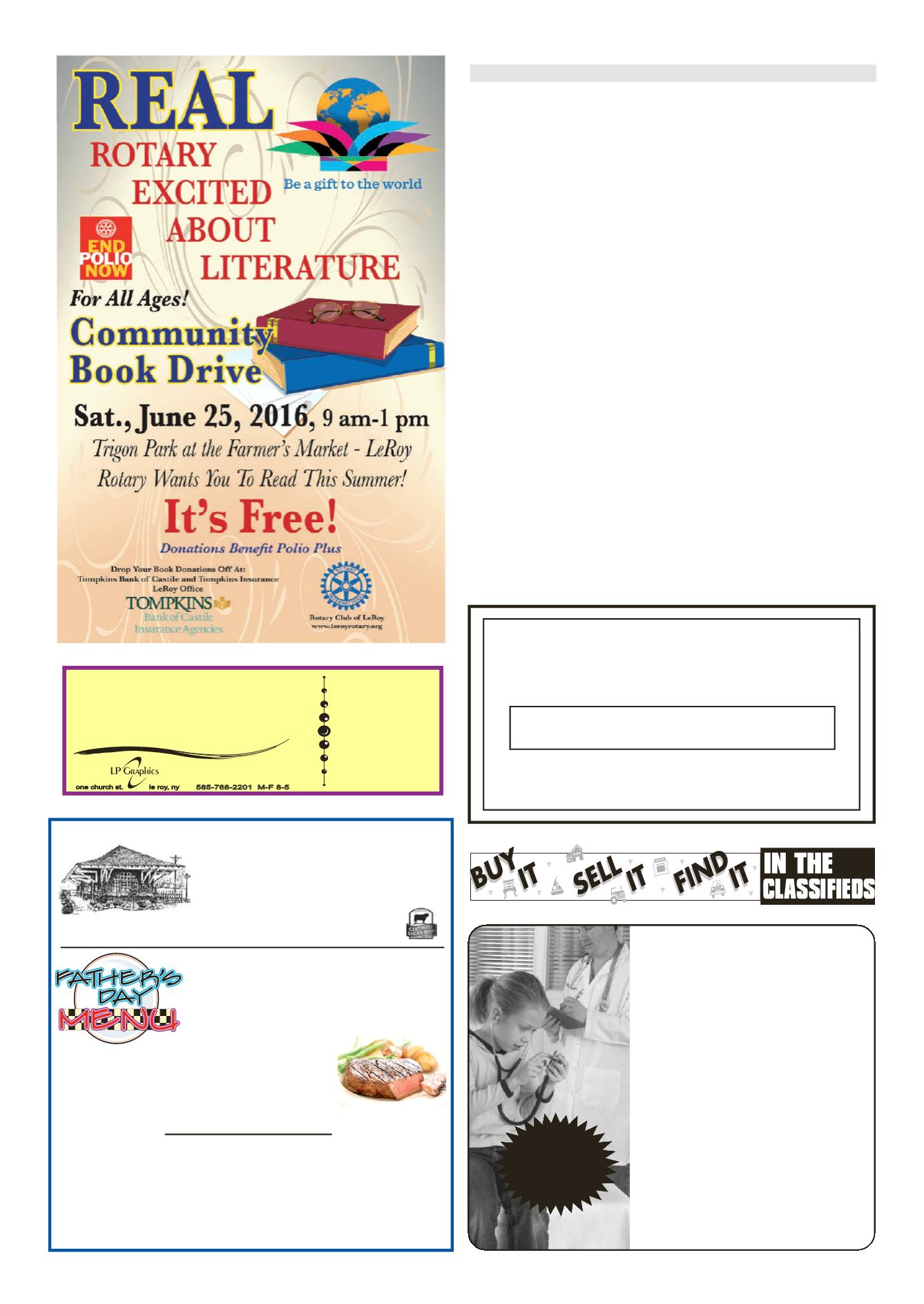 LEROYPENNYSAVER&NEWS - JUNE 19, 2016
LakeSt. (Rt. 19), LeRoy• 768-6270
... AGreatAmericanBrasserie
OpenForBreakfast, Lunch&Dinner
Sun.-Thurs. 7-7, Fri. &Sat. 7-9
&
SUNDAY, JUNE 19th
FATHER'SDAY
Serving breakfast from 7 am - 11 am -
reservations are strongly suggested.
Serving our regular
lunch and dinnermenu from 11 am - 9 pm
TreatDad to one of our
certifiedAngusBeef steaks
for dinner - freshly cut to order, tender and juicy.
SUNDAY, JUNE 26th
SHOREDINNER
Includes homemade SeafoodBisque, lobster tail,
crab cakes, broccoli salad
and fresh strawberry pie - $23.99
LeRoyFamily
MedicalCare,PLLC
Officeof:
ThomasH.Ball,MD
-BoardCertified InternalMedicine
&Pediatrics
RobinShaw,ANP
PeterCoggiola ,FNP
We are now scheduling school/
sports physicals&well-child visits
Pleasecall
768-4400
to scheduleanappointment.
(We acceptmostmajor insurances.)
Accepting
New
Patients!
Plumbing • Heating
Installation&Repair Service
For All Residential &Commercial Work
byGreg "Porp"Rogers,
Mayor
Update on Main Street - Pro
Construction is making great
progress on the sidewalks on
MainSt.Theprojectwasa tough
one, asmany of thesewere over
former coal chutes and had to
be filled first. The project was
made possible by a grant from
Senator Ranzenhofer's office.
ShellySteinandJayGrassowere
instrumental ingetting the sena-
tor'sattention for thisproject. We
willcontinue todootherareas,as
well as the ramps fromMainSt.
that need repair. Thank you to
On to the corner of Route 5
and 19we built a retainingwall
out of the railroad ties andfilled
the lot with soil. This will level
it out and slope it away from the
building. Grant Hertzler, a Boy
ScoutworkingonhisEagleScout
status has chosen to dowork on
theparcel as his community ser-
vice requirement. He has raised
funds for his project through
variousdonations andwill begin
planting shrubs and plants. We
are anxious to see the results.
Abig thankyougoesout to the
GardenClub, who again planted
flowers on Main Street. They
lookgreat andwillbeenjoyedall
EastAve.wasoiledandstoned
last week. Youmay say, but we
just built that street. It is part of
our preventative maintenance
program, to invest in theupkeep
of new good streets, to increase
their overall life. This will go
alongwitha5and10year street
plan for maintenance and re-
builds, to get the most out of
The Farmers' Market is back
up and running, please try to
support our local vendors.
"Forgive your enemies, but
never forget their names" John
Notes From TheMayor's Office
one church st. le roy, ny
one church st. le roy, ny