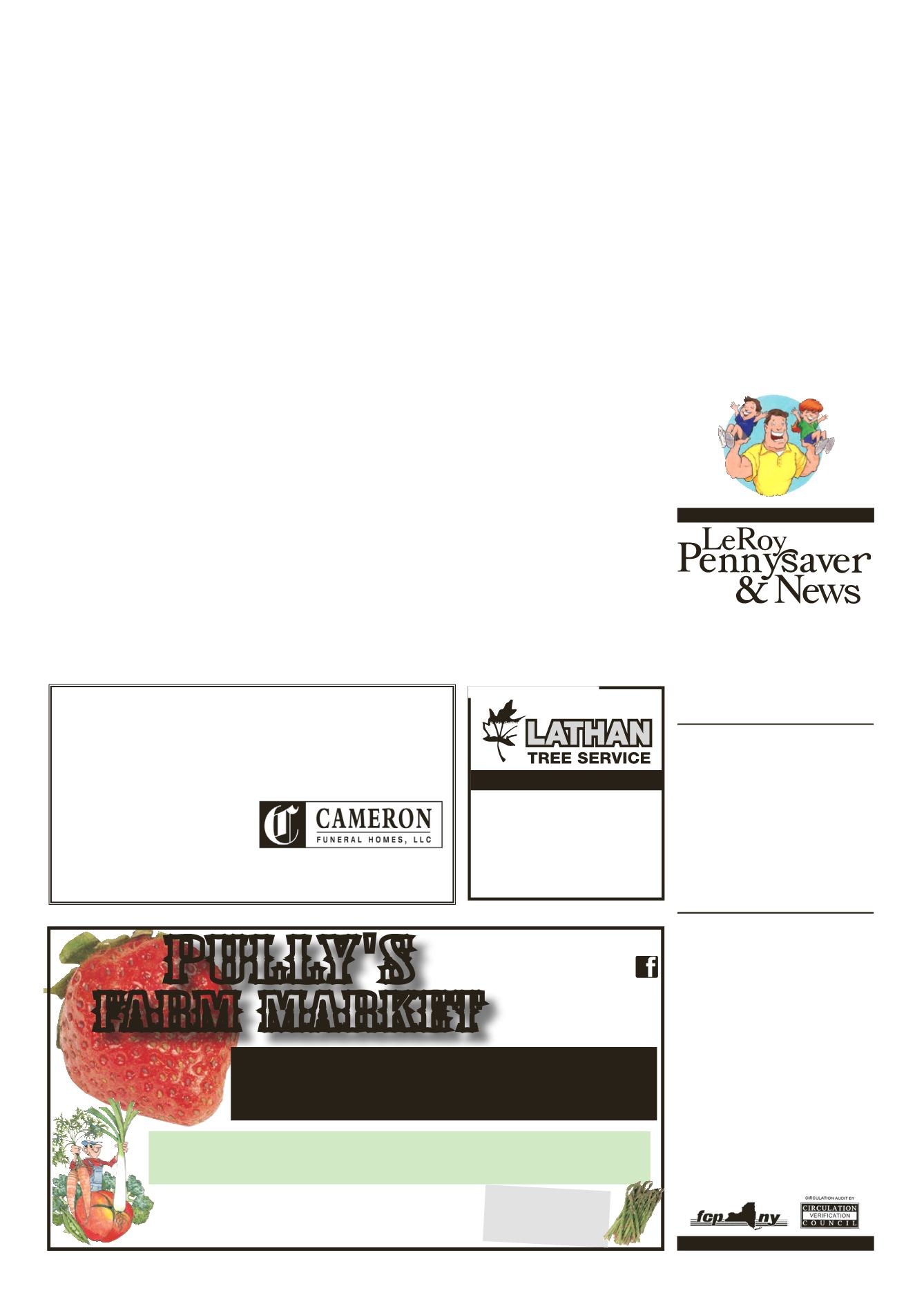 LEROYPENNYSAVER&NEWS - JUNE 19, 2016
HelpingFamiliesCelebrateaLifeLived
"Our FamilyServingYours Since 1907"
Trusted•Honest •Proven
Cameron, Brady&Steuber
FuneralHome
111Wolcott Street
LeRoy,NY14482
(585) 768-6800 •
Likeus onFacebook
Annuals • Perennials •VegetablePlants •HangingBaskets
ComboPlanters •Herbs • PottingSoil&TopSoil
8160LakeRd. (Rt. 19)
LeRoy, NY
1/2mile southof Thruway
768-2280 • 704-1157
Hours:Mon.-Sat. 9-6, Sunday 9-5
pullysfarmmarket.com
FreshAsparagus
PickedDaily
FromOur Farm
Jams • Jelly • Seeds •Honey • Syrup
Gift CertificatesAvailable!
FreshPickedDaily • FreshProduce!
bySenatorRanzenhofer
June 2016
Communities all acrossWest-
ern NewYork are now fighting
one of the most challenging
public health crises in genera-
tionswith the rise in heroin and
opioid abuse. The impact of
this crisis has been devastating.
It has been felt in every corner
of our community, leaving too
many individuals and families
According toa recent reportby
the State Comptroller, overdose
deaths related to heroin and
opioid abuse increased faster in
NewYork than any other state,
and Erie County has one of the
highest opioid overdose death
rates in the entire state.
Earlier this year, I helped to
secure $166million in funding,
as part of the State Budget, to
strengthenprevention, treatment,
recoveryandeducationservices.
This new funding will provide
powerful tools to help health
careprofessionals,mentalhealth
experts and law enforcement.
Morerecently, Ihostedaspecial
communityforumasamemberof
the Joint Senate Task Force on
Heroin and Opioid Addiction at
WilliamsvilleSouthHighSchool.
I leda two-hourdiscussionabout
addressing this problem with
educators, addiction specialists,
health care professionals, law
enforcement and residents. The
Task Force has released a report
summarizing findings resulting
from forums all across the state.
The State Senate has also
passed 22 bills aimed at stem-
ming thegrowthof theheroinand
opioid crisis, while supporting
those battling their addiction on
the journey to recovery. Specif-
ically, two of these bills focus
on prevention by deterring the
abuse of prescription drugs and
SenatebillS6091Bwould limit
initialprescriptionsofcontrolled
substances to treat acute pain to
afive-daysupply, keepingexcess
pills off the street. Another
bill, S4348A, would create a
continuing medical education
program for practitioners to
review appropriate prescribing,
painmanagement, and addiction
Other bills approved by the
State Senate create more tools
for law enforcement to disrupt
the supplyof heroin and stop the
diversion of prescription medi-
cations within the state. Senate
bills S100 and S4177 would aid
in convicting drug dealers and
expanding crimes for major
Lastly, I have introduced new
legislation to requireprescription
bottlesofcontrolledsubstances to
contain stronger warning labels.
The bill requires a newwarning
foropioiddrugs: "Warning.This
drug is highly addictive. Please
consult your pharmacist or phy-
Ifenacted, thisstrongerprecau-
tionwouldbettereducate thepub-
lic of the inherent risks involved
inusingprescriptionopioids and
facilitateaconversationbetween
a patient and their pharmacist or
Eachoneof these initiatives isa
first step tosolving thisserious is-
sue. All of us share thecommon
goal of overcoming this crisis,
and we have to work together
to find solutions. As your State
Senator, I will continue to work
to end this public health crisis.
NewFunding, LegislationToHelpOvercome
Heroin&OpioidCrisis
LATHANTREESERVICE
TreeSurgery • TreeRemoval
StumpRemoval • Planting
FreeEstimates Fully Insured
LeRoy's BestAdvertisingMedium
Le Roy Pennysaver
will not knowingly accept or
publish advertising which is fraudulent or misleading
in nature. The publisher reserves the right to reject or
cancel anyadvertising.The
LeRoyPennysaver
no financial responsibility for typographical errors in
advertisements, but if at fault, will reprint the portion of
the ad in which the error appears. Style, size of type
and locationof advertisement are left to thediscretionof
the publisher. The opinions expressed in this publication
are not necessarily those of the publisher. We cannot
guarantee the return of photographs.
LeRoyPennysaver