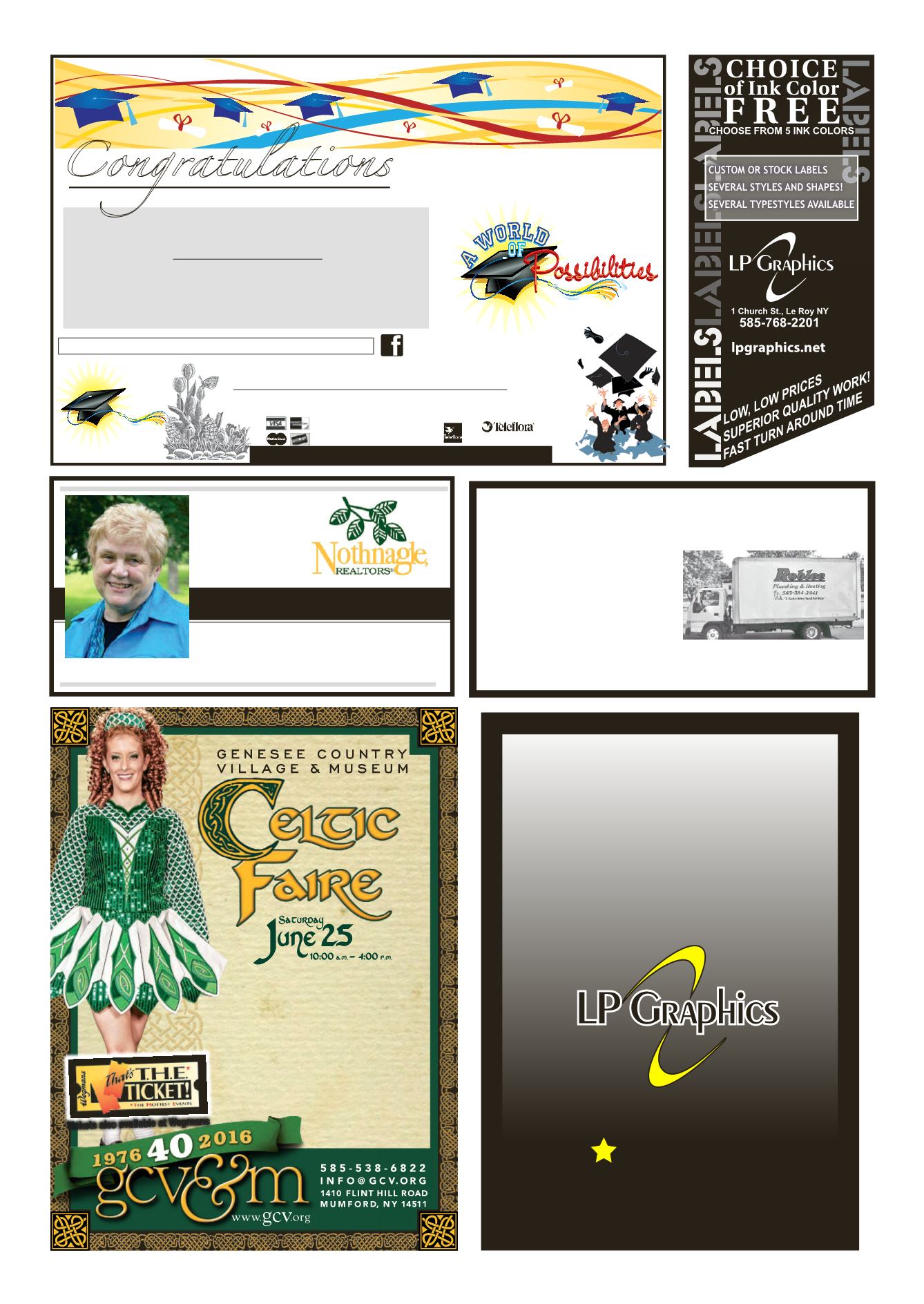 LEROYPENNYSAVER&NEWS - JUNE 19, 2016
LookatourWEBSITE for lotsof ideas!
LikeUsOnFacebook - Lakestreet Florist
Lakestreet Florist&Gift Shoppe
WeDeliver To: LEROY, Byron, Bergen, Caledonia,Mumford, Pavilion,Wyoming, Stafford&Batavia
TelefloraWireServiceForFamily&FriendsOut of Town
768-7720
110LakeSt., LeRoy
HOURS:
M-T 9-5:30
F9-6:00
Sat. 9-4:00
COOK'S LANDSCAPING - 330-3819
Vase of FreshFlowers&GraduationBalloon
(plus delivery& tax)
Cut FlowerPresentationBouquet
Startingat
Corsages&Boutonnaires
Tickets alsoavailable atWegmans
GoodwinAcademy of IrishDance
TheMcMahonSchool of IrishDance
IrishRochesterMusician'sAssociation
gcvm leroy pennysaver celtic fair 2016 quartr.indd 1
ROBLEE
Plumbing&Heating, LLC
10991LakeRd., Pavilion • (585) 584-3841
Full Insured
LUXAIRE
GOULD
NYSCertifiedBackflowTester
Water&Sewer Lines •Water Treatment&ConditioningSystems
1CHURCHST, • LEROY, NY • lpgraphics.net
WEHANDLEALLASPECTSOFPRINTING...
PROGRAMS
LETTERHEADS
BILLHEADS
FLYERS
BROCHURES
POSTERS
CARBONLESSFORMS
ENVELOPES
RAFFLETICKETS
NEWSLETTERS
RESUMES
TYPESETTING
RUBBERSTAMPS
ENGRAVEDSIGNS
NAMETAGS
COPIES
LAMINATION
COMMUNITYFAX
NEWSANDPICTURES
ADVERTISING
BUSINESSCARDS
HOURS: Monday thruFriday8:00 to 5:00
NANCYCROCKER
LicensedReal EstateSalesperson
570EastMainStreet •Batavia, NewYork 14020
Cell: 585.314.7982 • Fax 585.343.8502
Multi-MillionDollar
Producer