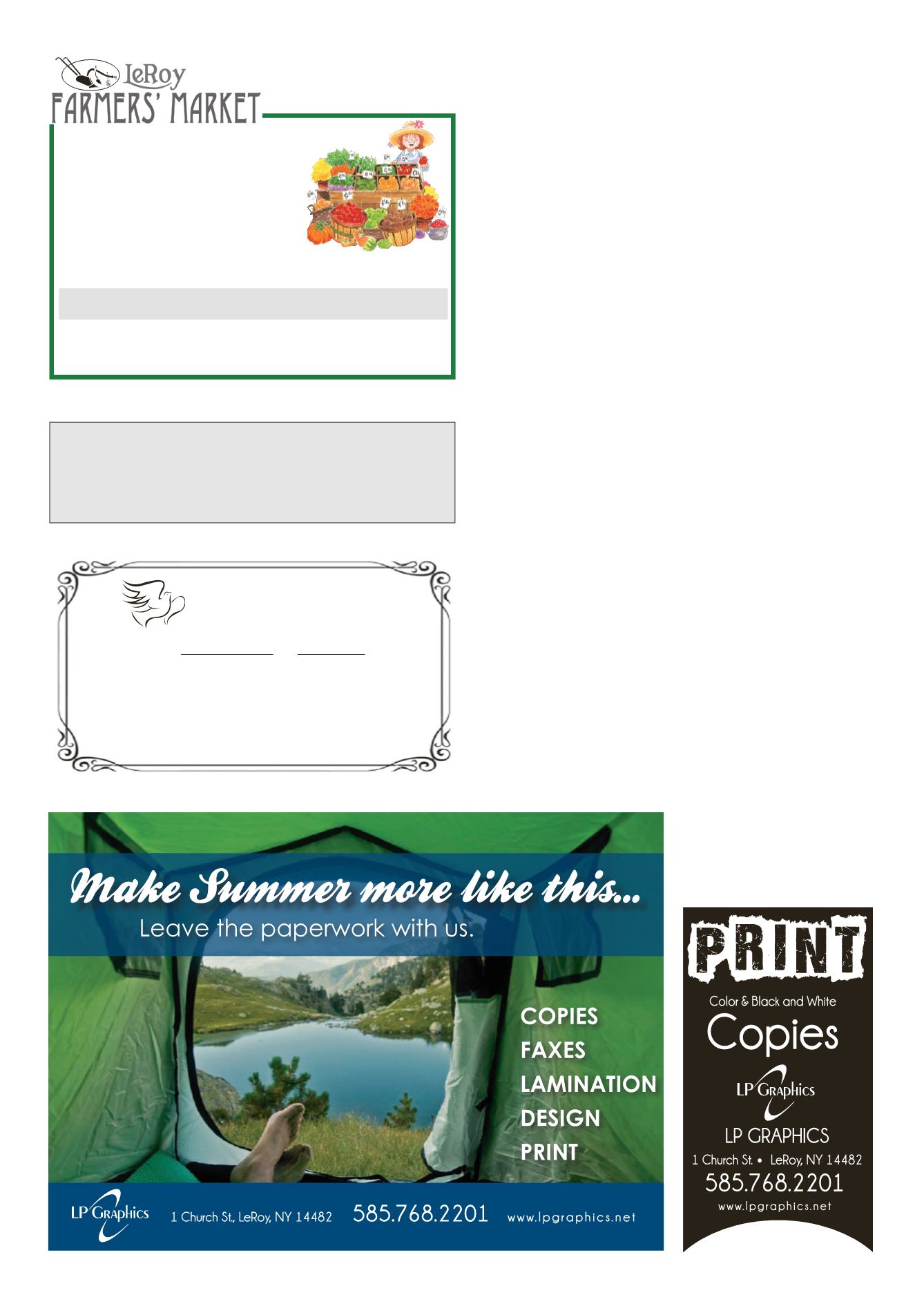 LEROYPENNYSAVER&NEWS - JUNE 19, 2016
Director /Owner
FuneralDirector
F
ALCONE
F
AMILY
Funeral&Cremation Service, Inc.
Director/Owner
"ALOCALFAMILY
CARINGFORLOCALFAMILIES"
SUPPORTYOUR LOCALADVERTISERS!
They help sponsor the local news section of the Le Roy Pennysaver.
THANKS FORYOUR SUPPORT!
eRoyFarmer'sMarket onFacebook
TRIGON PARK
Saturday, June 25th
9:00 am-12:30 pm
Seasonal Fruits andVegetablesWill BeArrivingWeekly!
June 25th -
R.E.A.L. Rotary book giveaway
WoodwardMemorial Library promoting summer reading program.
ALWAYSLOOKINGFORNEWVENDORS&VOLUNTEERS
ContactMaryMargaret Ripley - 297-2441
TheGeneseeCountyEmergen-
cy Dispatch Center now offers
text to 9-1-1 services. Below are
a few guidelines for the use of
text to 9-1-1.
1. Call 9-1-1 when you can,
textwhen you can't.
a. Calling 9-1-1 is always your
best option as our dispatchers
have a better chance of locating
you and recording background
noises or conversations that can
be used as evidence if you are a
b. Text to 9-1-1 provides better
access for individuals who are
deaf, hard of hearing, or may
have trouble speaking especially
c. Text to 9-1-1 is appropriate
forvictimswhosehiding location
may be revealed by speaking on
2. How to text 9-1-1 in an
emergency:
a. Enter the numbers "911" in
b.Thefirst textmessage to9-1-1
should be brief and contain the
location of the emergency and
c. Push the "Send" button (if
hiding, ensure phone and text
d.Beprepared to answer ques-
tionsandfollow instructionsfrom
e.Text insimplewords–donot
use abbreviations or emoticons.
f.Keep textmessagesbrief and
3. Below are a few things to
know if youneed to text 9-1-1:
a. Text location information
is not equal to current location
b. As with all text messages,
9-1-1 messages can take longer
to receive, canget out of order or
maynotbereceived; thismaysig-
nificantly delay response times.
c. Text-to-9-1-1 is not available
d.A textordataplan is required
to place a text-to-9-1-1.
e. If texting to 9-1-1 is not
available in your area, or is tem-
porarily unavailable, you will
receiveamessage indicating that
texting9-1-1 is not available and
to contact 9-1-1 by othermeans.
f. Photos and videos cannot be
sent to 9-1-1 at this time.
g. Text-to-9-1-1 cannot include
more than one person. Do not
send your emergency text to
4. Donot text anddrive!
5. Prank calling or texting
9-1-1 canbe considered falsely
reportingan incidentoraggra-
vatedharassment; youmaybe
arrested and prosecuted for
abusing the 9-1-1 system.
6. Additional information
regarding text to 9-1-1 can be
found at the web address im-
mediatelybelow:
Text to 9-1-1