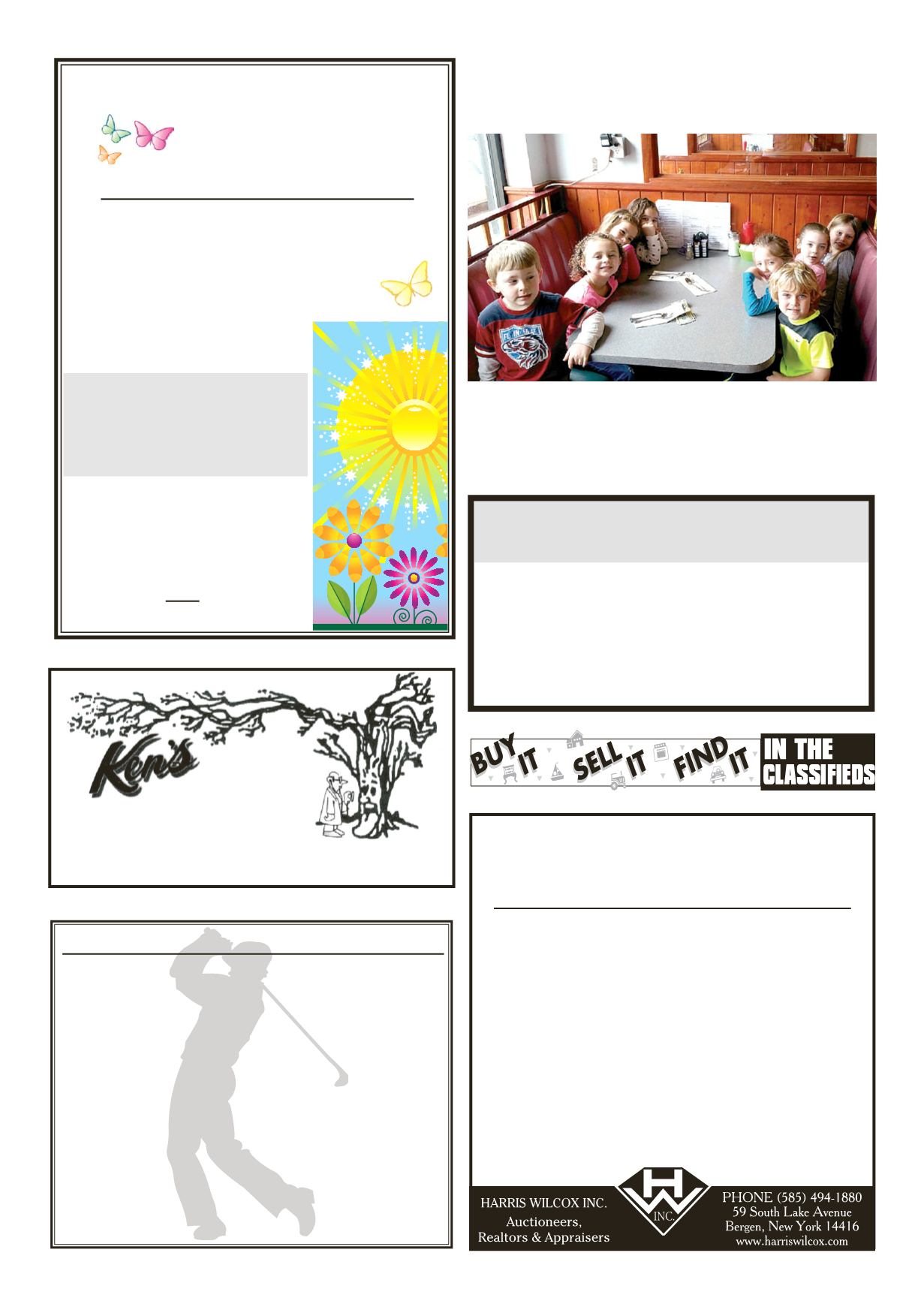 LEROYPENNYSAVER&NEWS -APRIL 17, 2016
ALLWORKMANSHIP GUARANTEED • INSURED
297-9097 • 768-7737
• InteriorPainting
• Plaster/LathRestoration
•Drywall&Drywall Repair
•TextureRemoval
• Floors Stripped
&Refinished
•OldCeilings&Walls
MadeLikeNew!
MikeDarby'sPatch&Paint
Warsaw, New York
(585) 786-5600
Tues., April 26, 2016 • 5:00pm •LeRoy, NY
Auction tobeheldat thehouseat 7MunsonStreet invillage
of LeRoy, offRt. 19, south ofRt. 5. Selling:
TOOLS:
Generac Powerboss 5500 generator; Craftsman 10" ta-
ble saw; Task Force 2000 PSI electric pressure washer; Homelite
weedwacker; DeltaModel 10 contractor's table saw; wood lathew/
tools; Craftsman planer jointer; Craftsman 12" band saw;
POWER
WHEELCHAIR:
EverestandJenningspowerwheelchair,nearlynew.
ANTIQUES:
cradle; banquet lamp; chairs; lots of china and glass;
HOUSEHOLD:
cherry drop leaf coffee table; Queen Anne arm
chair; lift chair; needlepoint footstool; walnut sofa table; 2 small
Century safes; porch furniture;HamiltonBeachmicrowave; normal
household items; lots of box lots. TERMS: 10%Buyer's Premium.
Cash, NYState check, Visa/MC.
SunshineNurserySchool'sExtendedPre-KClasshadawonder-
ful timevisiting theNoFinerDiner!Thechildrenateadelicious
snack while practicing proper restaurant etiquette. They were
given a tour and got to seewhat goes on in the kitchen. A huge
thank you toLeRoy'sNoFinerDiner!
LeRoy'sNoFinerDiner
Welcomes SNS
NewMembersNeeded
LeRoyCountryClub
EastMainRoad
All interestedmen 55 years or older that have not previously
signedup&would like to be a full time player
or a substitute, please callDavid Jeary at 768-7586
and leave amessage beforeApril 26th.
TheOrganizationalMeetingwill beheld
Wednesday,April 27th
at 9:00 am
Leagueplaywill beginWed.,May 4th
LorenWetzel
Senior Golf League
Saturday
,
April 23, 2016
LeRoyUnitedMethodistChurch
10TrigonPark, LeRoy, NewYork
Seating: 3:30-7:00p.m.
TakeOuts: 4-6p.m.
Tickets available
at thedoor
Forhomedeliveries
call: 768-8980
MENU
Roast Beef, Gravy,
RealMashedPotatoes,
SaladBar, Peas, Breads,
Beverage&Dessert