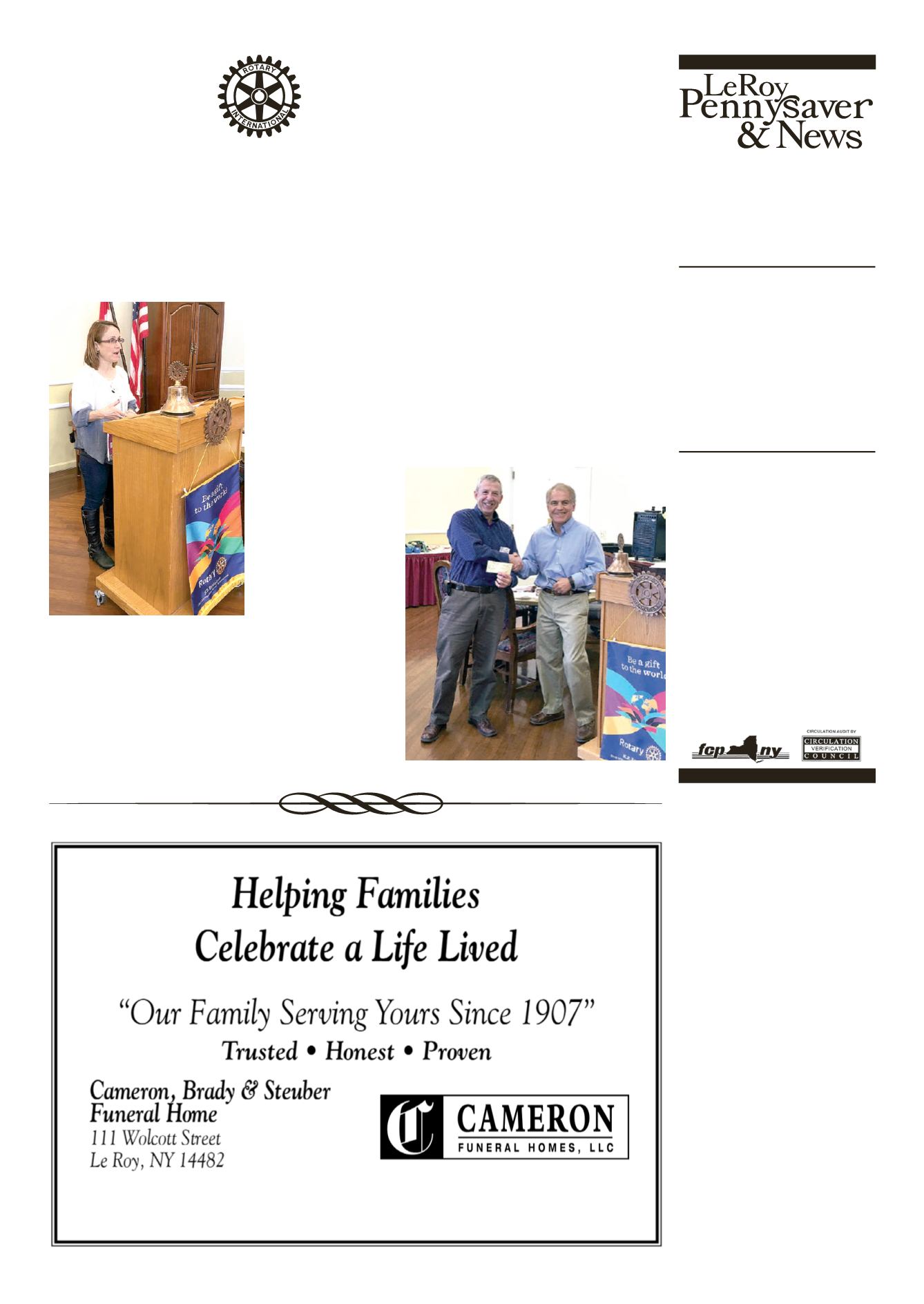 LEROYPENNYSAVER&NEWS -APRIL 17, 2016
LeRotary
Notes
(585) 768-6800 •
Likeus onFacebook
LeRoy's BestAdvertisingMedium
Le Roy Pennysaver
will not knowingly accept or
publish advertising which is fraudulent or misleading
in nature. The publisher reserves the right to reject or
cancel anyadvertising.The
LeRoyPennysaver
no financial responsibility for typographical errors in
advertisements, but if at fault, will reprint the portion of
the ad in which the error appears. Style, size of type
and locationof advertisement are left to thediscretionof
the publisher. The opinions expressed in this publication
are not necessarily those of the publisher. We cannot
guarantee the returnof photographs.
LeRoyPennysaver
PresidentGugino rang thebell
to begin the weekly meeting at
the Greens of LeRoy. We had
HeidiAustin fromLeRoyYouth
Soccer join us as a guest. Heidi
accepted a check from Rotary
to help fund the Le Roy Youth
Therewere several announce-
ments. There were updates on
Rent A Rotarian and Rotary
Leadership Conference sched-
uled forMay7,2016.TheRotary
EarlyactClub is raisingmoney to
help theBataviaAnimalShelter.
Thebigevent,Graze toRaisehas
received a lot of great attention.
The Graze will be held onMay
There were many fines for
missedmeetingsand thoseRotar-
ians either hadmakeupmeetings
orgreencards!Thefiningsession
didn't end there.MaryMargaret
wasfined forspendingadaywith
her son, Nanette was fined for
going on vacation and Lauren
and Samantha were fined for
celebrating 3 years as friends on
Facebook. It was a very positive
JimEllison did a fabulous job
with the program. Jim accepted
leaderwhohasbeenable topart-
nerwithphilanthropic organiza-
tions to help provide equipment
to the clinics. The Foundation is
also sponsoring 460 children so
theyareable toattendschool.For
more informationon theFounda-
Le Roy Rotary is proud to
support various programs and
activities in our community.
As a reminder all funding ap-
plications are now due for next
year's budget. Apply online at
leroyrotary.org. Please follow us
WelcomeLiberty
Partnerships!
LeRoyCentralSchoolDistrict
is happy to welcome a program
entitled NYS Liberty Partner-
ships. This program is a NYS
DepartmentofEducation funded
initiative that operates at no cost
LibertyPartnershipshavebeen
servingschools throughoutNYS
for over twenty-five years. The
program supports students who
maybe at riskof not completing
their high school education.
Liberty Partnerships strives to
provideanother levelofacademic
support, assistwithsocial issues,
andprovidementoring forselect-
edLibertyScholar Students.
This service also boasts after
school and summer programs
that give students a variety of
positive experiences andmento-