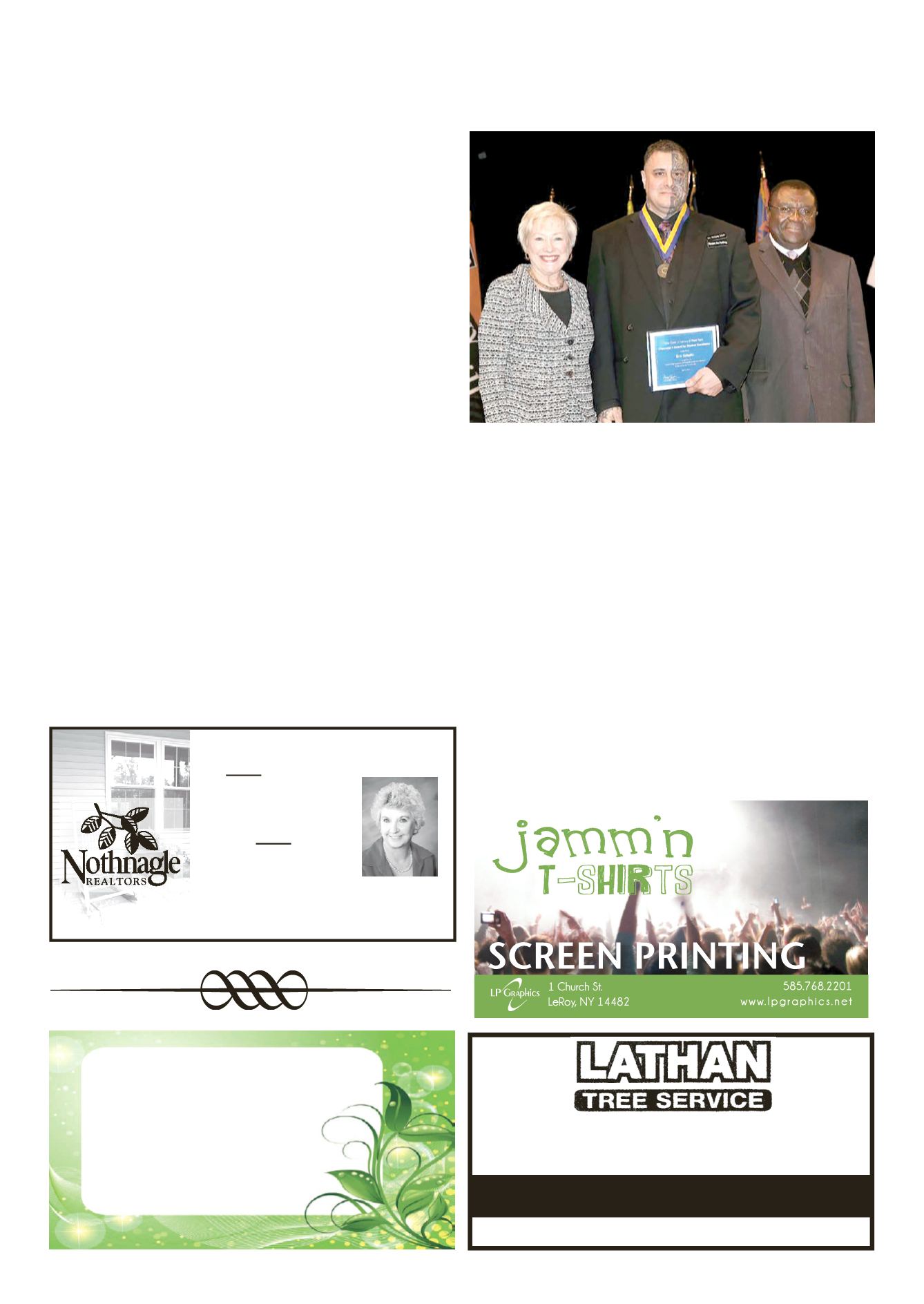 LEROYPENNYSAVER&NEWS -APRIL 17, 2016
Batavia
585-343-6750
NOW is theBEST time
toBUYwith the interest rates
at their lowest!
Don't wait
toBUY -
call
LindaBeaumont
for all your real
estateneeds.
LindaBeaumont
Home (585) 768-6315
LicensedReal Estate
Salesperson
Multi-MillionDollar Producer
585-768-2278
LeRoy, NY
Since 1971 .... ExperienceCounts
PROFESSIONALTREESERVICE
TREETRIMMING • TREEREMOVAL • STUMPREMOVAL
FreeEstimates • Fully Insured
AcceptingAll Major Credit Cards
The 2016 Scottsville Spring
Hockey League got under way
lastweek.TheScottsvilleSpring
League has 4 teams at the Pee
Wee level made up of youth
hockey players from Genesee,
LivingstonandMonroeCounties.
OnThursday,April 7th "Team
Red" played their opening game
against "Team Yellow". It was
the first time all of the Team
Red players were together as a
team and they struggled through
thefirst periodof play, givingup
two goals to Team Yellow and
nettingnoneof theirown.Things
turned around in the 2nd period
as TeamRed quickly gelled and
pulled ahead to skate awaywith
a 5-3 victory over TeamYellow!
Scoring forTeamRedwasBrian
Valyear ofAlexander assistedby
Alex Johnson of Batavia, Colin
Kratz unassisted, Nick Call of
Stafford,unassisted,AustinHunt
unassisted and Nick Call again
with an assist from Zack Esch-
On Saturday, April 9th Team
Red took on Team Blue and
dominated throughout thegame,
notching a 5-1 victory. Will
Eschberger of LeRoy skated
away with a hat trick --- his 3
goals assisted by Levi Grimm
of Batavia, Jacob Marcello of
LeRoy andAlex JohnsonofBat-
avia. LeviGrimm alsonetted an
unassistedgoal andMattFreiday
wasassistedbyAustinHunt fora
Team Red is coached by Joe
Eschberger ofLeRoyandassisted
by Chad Valyear of Alexander,
JonMarcelloof LeRoy, andGary
Schum of Bethany. Team Red is
made upof players fromGenesee
& Monroe Counties – LeRoy,
Stafford, Alexander, Batavia and
Brockport. Team Red is Colin
Kratz, Nick Call, Brenna Munn,
Austin Hunt, Levi Grimm, Matt
Frieday, Ryan Hamilton, Jacob
Marcello,ZackEschberger,Brian
Valyear,LandinPizzi, JustinValy-
ear,AlexJohnson,WillEschberg-
er and goalieCourtneySchum.
Games are played Thursday
evenings at 6.30or 7.30 andSat-
urdayafternoonsat1pmor2pm.
ComecheeronTeamRedas they
play through themonth of April
and into thefirstweek ofMay!
YouthHockey
SpringLeague
Five SUNY Empire State Col-
lege students have been selected
to receiveTheChancellor'sAward
for Student Excellence, SUNY's
most prestigious student honor.
The chancellor's award recog-
nizesacademicexcellenceand the
qualityof a student's community
service, accomplishments in the
creative and performing arts,
leadership, campus involvement
and/or inseveralothercategories.
Eric Schultz, a disabled vet-
eran from upstate Le Roy, NY,
whoserved in theSUNYStudent
Assembly as a college represen-
tative, is a research associate at
theUniversity at BuffaloArche-
ological Survey, SpauldingLake
dig site in Clarence, NY, and is
licensedby theStateDepartment
of Environmental Conservation
as part of his role as a founder
of theWesternNewYorkOsteo-
logicalSurvey.HehasaBachelor
of Science inSocial Science and
Schultz was severely injured
during a training mission while
serving in theU.S.Army and, as
a result, suffers fromasignificant
Chancellor Nancy Zimpher, at left, with Eric Schultz, a 2016
Chancellor'sAward forStudentExcellencerecipient,andSUNY
Empire StateCollege Provost AlfredNtoko at the presentation
ceremony, whichwas held inAlbany.
SUNYChancellor'sAward
ForStudentExcellence
7:00 pm •Wednesday,April 20, 2016
atMorganvilleUnitedChurch ofChrist
8466MorganvilleRd., Stafford, NY
MorganvilleCemeteryAssociation