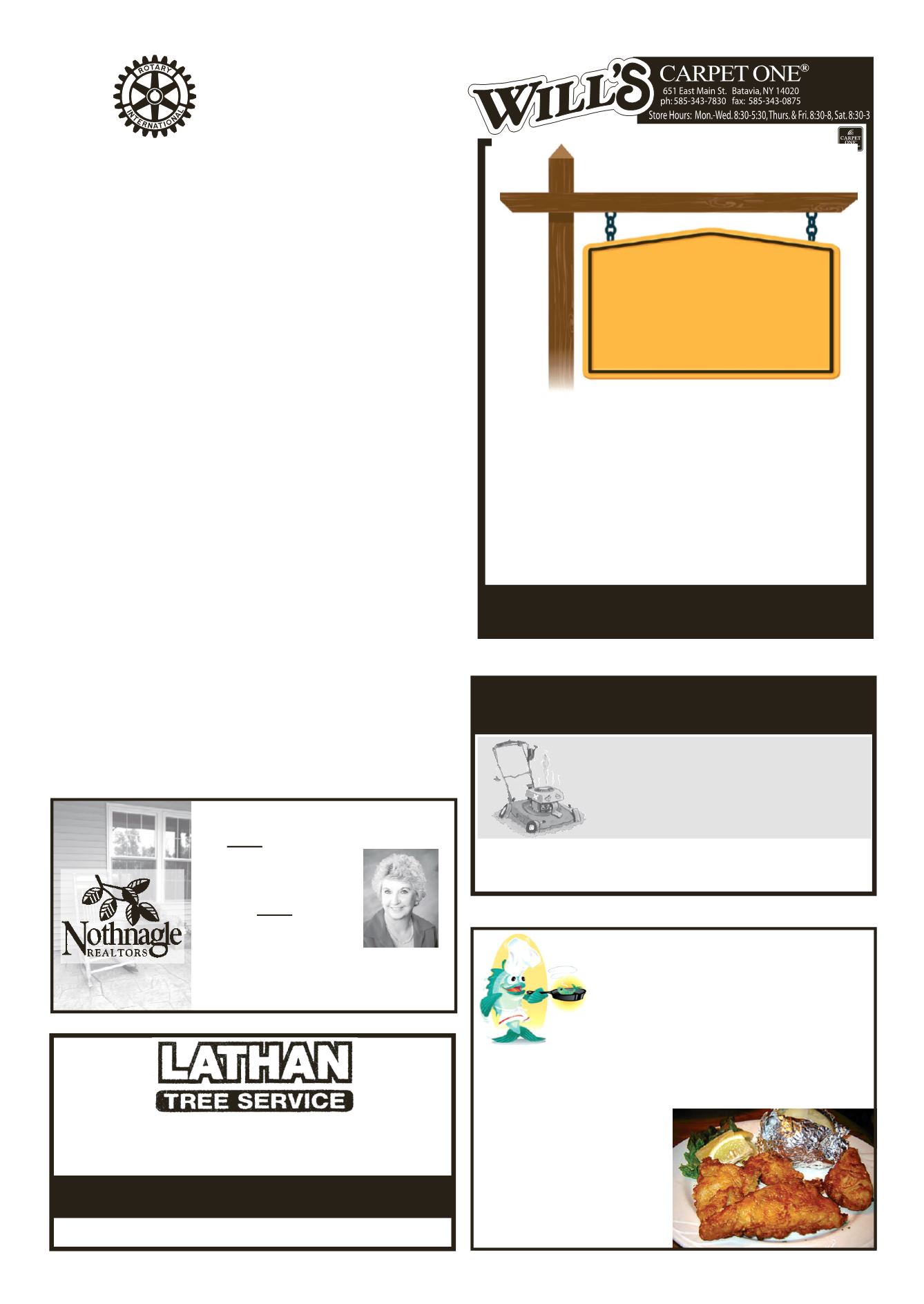 LE ROY PENNYSAVER & NEWS - MARCH 20, 2016
LeRotary
Notes
• Free Estimates
• Professional Installation Available
• Financing Available To
Qualified Buyers
Visit Our S
howroom at 651 E. Main Or On
The Web:
www.willscarpetonebatavia.com
The ONE store for your perfect floor.
FLOOR
& HOME
Joe's
5/1
Small Engine Repair
Call (585) 815-3959
• Service and Repairs
• Engine and Transmission Rebuilds
• Lawn and Garden Equipment
• ATV's, Dirt Bikes • Light Equipment
• Pick Up and Delivery Available
• Generators
8525 Rt. 237, Stafford, NY
Batavia
585-343-6750
NOW is the BEST time
to BUY with the interest rates
at their lowest!
Don't wait
to BUY -
call
Linda Beaumont
for all your real
estate needs.
Linda Beaumont
Home (585) 768-6315
Licensed Real Estate
Salesperson
Multi-Million Dollar Producer
The weekly meeting of the Ro-
tary Club of Le Roy was called to
order on an unseasonably warm
day for March 9th.
Announcements included:
3/12 – Easter Egg Stuffing for
the Business Council's Easter
Egg Hunt
3/19 – Rotary Leadership In-
stitute
3/23 - Rotary Board of Direc-
tors Meeting
3/26 – Le Roy Business Council
Easter Egg Hunt
5/18 – United Way Day of
Caring
5/20 – Rotary Graze to Raise
Fundraiser
8/6 – Relay for Life
Responsible for upcoming pro-
grams are:
3/16 – TomCox – TimMcArdle
– Le Roy Central Junior Senior
High School Principal
3/23 – Martha Bailey
3/30 – Chris Biviano
Called on for missed meetings
were: Bob Bennett, Christine Ge-
phart, Scott McCumiskey, Marcia
McKenzie and Phil Weise.
The fining session included:
SamVagg paid for a photo of Bob
Bennett and Scott McCumiskey
for an upcoming trip.
Our program today was pre-
sented by our own Kim Cox, the
Superintendent of Le Roy Central
School and Brian Foeller, the
Business Administrator at Le Roy
Central School. Their topic was
in regard to the R.I.T.E. Project,
the district's $12.7 million cam-
pus modernization plan. R.I.T.E.
stands for Renovation, Innova-
tion, Tradition and Education.
These factors were kept in mind
during development and design
of the project. It's expected that
bids will be awarded in May,
with the bulk of construction
completed by December. Much
of the work involves major up-
grades to the Wolcott Street
School, with it's campus dating
back about 100 years. A Library
Media Center will be installed
on the first floor replacing the
traditionally used space at the
Woodward Memorial Library.
The building's small gymnasium
will be replaced and now will be
located on the first floor, while
traffic flow will be improved in
the parking lot. Some additional
work is planned for Hartwood
Park and at the Junior Senior
High School. We enjoyed Kim
and Brian's presentation and look
forward to the improvements that
will be evident at the completion
of the R.I.T.E. Project.
Please save the date for our
Graze to Raise Fundraiser on
May 20th.
585-768-2278
LeRoy, NY
Since 1971 .... Experience Counts
PROFESSIONAL TREE SERVICE
TREE TRIMMING • TREE REMOVAL • STUMP REMOVAL
Free Estimates • Fully Insured
Accepting All Major Credit Cards
MASONIC
Community Center
12 Bank Street
FISH FRY
Fridays During Lent
4:30 pm til Sold Out
Eat In Or Take Out
(585-502-5155)
Desserts Available by
The Eastern Star
3/20
Featuring Lee's Carpet
•25 Year Texture Retention Warranty
•Lifetime Stain and Soil Warranty
•All Styles on Sale!
Sale
(Don't Do It Yourself)
D.D.I.Y.