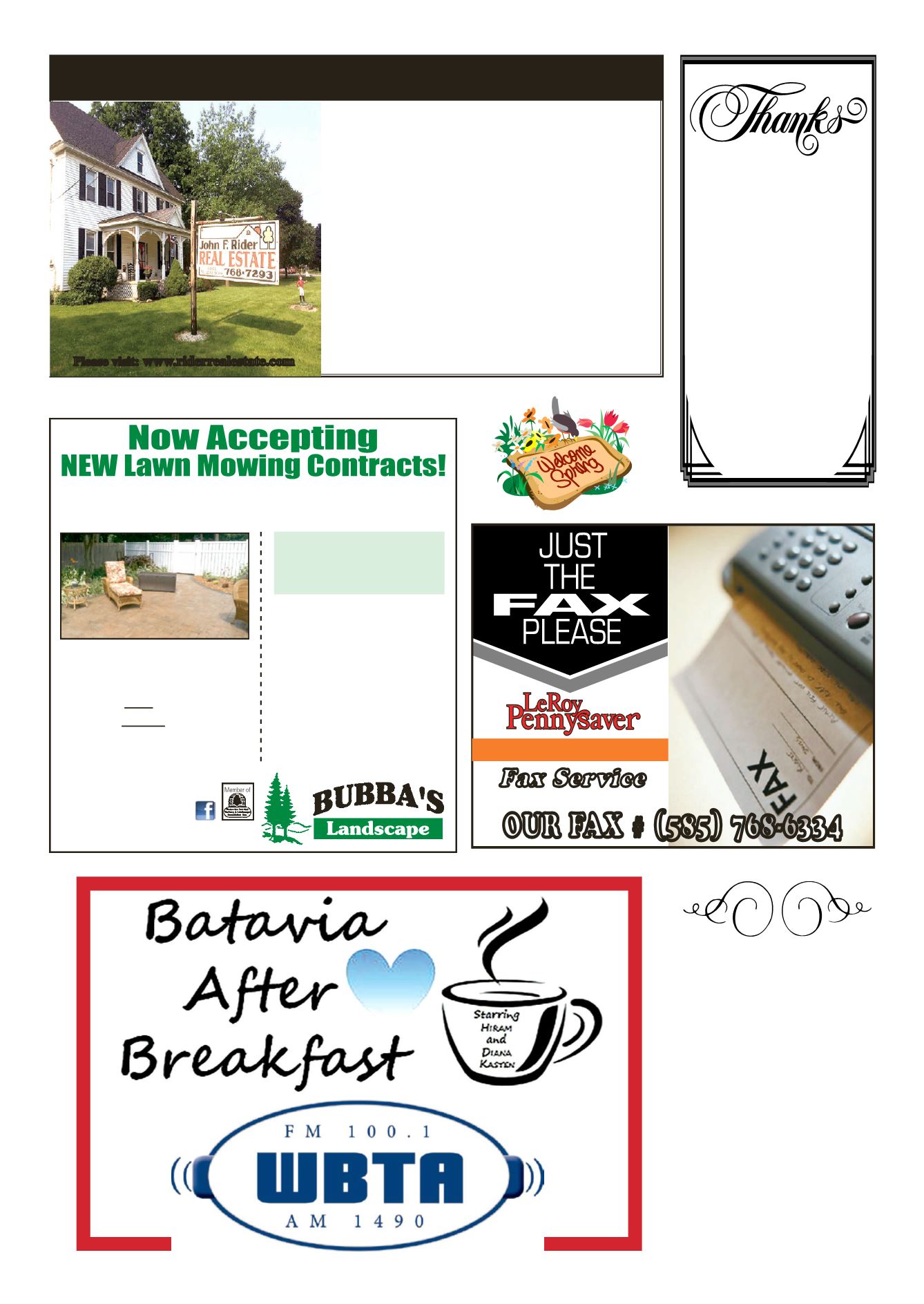 LE ROY PENNYSAVER & NEWS - MARCH 20, 2016
Fax Service
1 Church St., Le Roy, NY • (585) 768-2201
OUR FAX # (585) 768-6334
Fax Service
1 Church St., Le Roy, NY • (585) 768-2201
OUR FAX # (585) 768-6334
COMMUNITY
COMMUNITY
John F. Rider Real Estate
Not the biggest, just the best.
ATTENTION, ATTENTION!
WE ARE IN NEED OF YOUR LISTINGS!
"We have many clients looking for their perfect home,
call us today!"
Steve F. Rider
Licensed Real Estate Broker
585-490-4564
Srider@riderrealestate.com
www.riderrealestate.com
8130 E. Main Street Road, LeRoy
768-7293
Please visit:
www.riderrealestate.com
Enjoy your yard all summer long. We offer complete lawn care and landscaping
services, including patios, walkways & retaining walls. Lawn rolling, fencing,
hydroseeding & rock hounding also available.
Fully Insured • Free Estimates
81 Lake St., LeRoy
768-6578
Early Spring Hrs.: Mon.-Fri. 9am-2pm
BULK MULCH
Call now to set up
your Spring delivery
& beat the rush.
Accepting
Applications
from self-motivated individuals
with lawn mowing (zero turn),
landscape & hardscape
installation experience.
Mail resumes to:
81 Lake St.
LeRoy, NY 14482
or apply now online at:
bubbaslandscape.net
NO PHONE CALLS PLEASE
Police
Report
On March 13, 2016, the follow-
ing investigation of a harassment
complaint on Lake Street Road
in the Town of LeRoy, Thomas
A. Alexander was arrested for
harassment 2nd. Alexander al-
legedly slammed a female into
a wall causing physcial injury.
Alexander was issued an ap-
pearance ticket to LeRoy Town
Court and is to appear on March
28, 2016, at 1:00 pm.
Many thanks to my
family and friends
for joining me in
celebrating my
birthday.
Your cards and
various expressions
of joy were greatly
appreciated.
Gratefully,
Paul Lapp