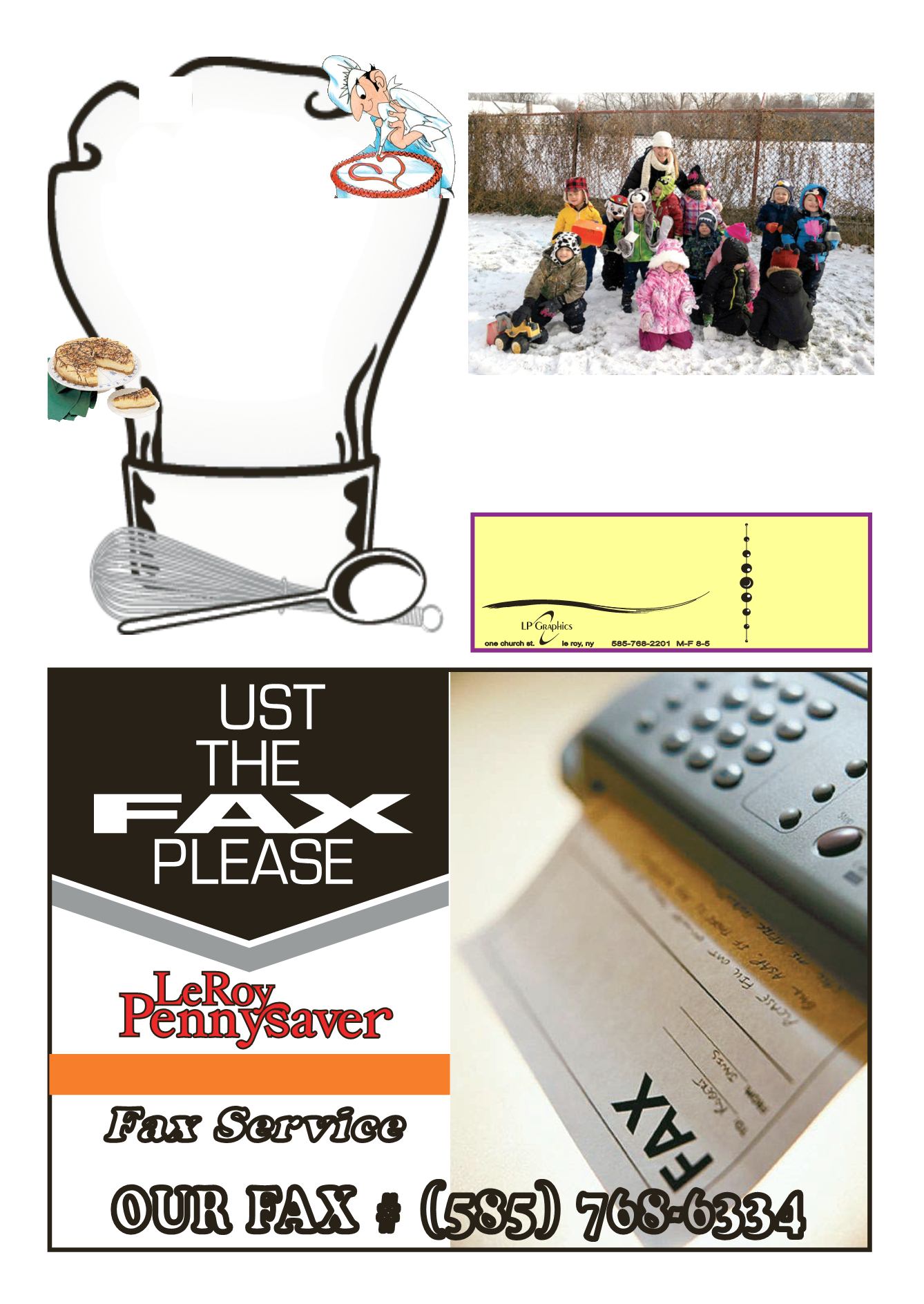 LEROYPENNYSAVER&NEWS - JANUARY 31, 2016
1ChurchSt., LeRoy, NY • (585) 768-2201
Call 768-8300
for information
Dessert
InTheStacks
WoodwardMemorial Library
Friday, Feb. 5th
- 7:00 - 8:30p.m.
Sample desserts from restaurants,
bakeries and caterers!
These are just a few of thedelicious treats to sample:
BourbonBreadPudding, LemonCurdTart, BlackHounds
(caramelizednuts and chocolate), RicePudding,
AssortedChocolateCandies, a varietyofCupcakes,
CherryRaspberry andPumpkinPies,
ChocolateChipScones, Cherry and
AppleCrumbPies, and a varietyof cakes
including: chocolate tortewith
raspberryfilling, double chocolate,
coconut, carrot, andwhite!
Tickets available at theLibrary!
$7.00 each - PresaleOnly!
20thAnniversary
The Nursery children at Love Bugs Preschool had a day of fun
in the snow!Theyall bundledupandwent outside to explore all
thewonderful things theycoulddo in the snow. Theymade snow
angles and snow castles. Found footprints and icicles.They even
played a little game of snow soccer. When theywere done, they
all went inside to enjoy some warm hot chocolate. What a fun
winter's day!
SnowDay!
one church st. le roy, ny
one church st. le roy, ny