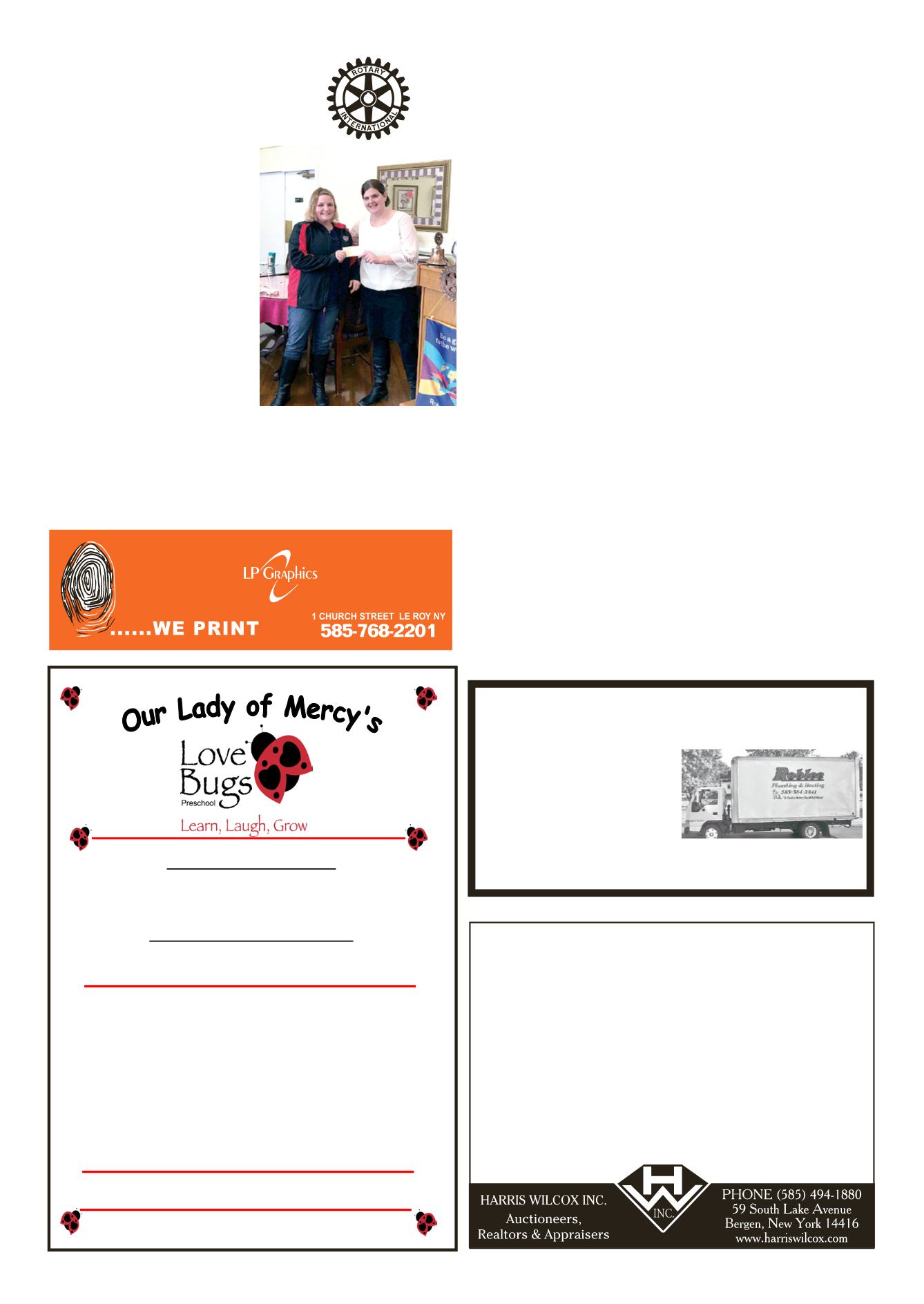 LEROYPENNYSAVER&NEWS - JANUARY 31, 2016
LeRotary
Notes
ROBLEE
Plumbing&Heating, LLC
10991LakeRd., Pavilion • (585) 584-3841
Full Insured
LUXAIRE
GOULD
NYSCertifiedBackflowTester
Water&Sewer Lines •Water Treatment&ConditioningSystems
FRI., FEB. 12, 2016
•10:00AM• LEROY, NY
Auction to be held at 52 Clay Street in the Village of
LeRoy, just southof theOatkaCreekBridge. Sellingwill
be a 3 bedroom, 2 bath housewith first floor laundry,
updatedelectricandplumbing. Next toOatkaCreek.
Assessed for$52,300, sells for$38,000orabove.A$5,000
deposit is required tobid.
OPENHOUSES: SAT., FEB. 6 from10-11am
andWED., FEB. 10 from10-11am.
call Shelly Falconeat 585-683-0995.
It was a sunny winter day
at The Greens of Le Roy for
our weekly meeting. After the
Pledge, Prayer, and Four Way
Test, Past President Sam Vagg
called the meeting to order in
Our guests today included
John Seville from the Batavia
Rotary, and Kate Flint from
LeRoy Youth Wrestling. An-
nouncements included: Graze to
Raise will be May 20th (there
will be a CommitteeMeeting on
February 8th) and Rotary Lead-
ership Institute will be March
19th - please see Martha Bailey
if you are interested in attending.
OurBIGGameTVRaffle iswell
underway, please seeTracyFord
Kate Flint fromLe RoyYouth
Wrestling accepted a donation
from Le Roy Rotary. Kate re-
ported there are approximate-
ly 45 kids in the program. The
program teaches basic wrestling
techniques toyouth andprovides
physical activity during thewin-
ter. The donationhelps offset the
Martha Bailey, Lynne Bellus-
cio,KimCox, BenDeragon, Jim
Ellison, Jerry McCullough, and
TomMcGinnis all answered for
missed meetings. KimCox paid
up for her 5th Rotary Anniver-
sary and Jim Ellison for his 6th
Rotary Anniversary. Christine
Gephart & Lynne Belluscio
gave the Club a sneak preview
regarding their family's adven-
tures.The channelwill star some
In celebration of the upcoming
President's Day holiday, Carol
Wolfe did a Presidential Trivia
game with the group. Questions
included how many electoral
votes total dowe have (538), and
how many needed for majority
(270). Other fun facts: JamesBu-
chananwas the only nonmarried
president, Grover Cleveland was
the only President to serve 2 non
consecutive terms, and JohnTyler
was theonlypresident togetmar-
riedwhile in theWhiteHouse.
Our Town Historian& LeRoy
RotarianLynne joined the funby
asking thegroup: "WhichUnited
States President owed Herman
was Thomas Jefferson. The LeRoy
House has letters exchanged
between the two discussing the
debt. Past President/President
Elect David Grayson also asked
"What 2 Presidents, were also
best friends, died on the exact
sameday"?Theanswer isThom-
as Jefferson& JohnAdams died
on July 4th, 1826. After many
chocolate prizes, it appears that
Erik Fix & Jim Ellison are the
presidential fact kings. After the
raffle, themeeting adjourned.
Please like the Rotary Club of
We are registering children for the
2016-2017
and are excited to be offering the following classes:
3 Day Pre-K:
Mon/Wed/Fri: 9:00-11:45am
5 Day Pre-K:
Nursery:
Tues/Thurs: 9:00-11:30am or 12:15-2:45pm
Little Bugs Playgroup:
For more information, please call Love Bugs Preschool at 615-3138.
Email:
Like us on Facebook
Love Bugs Preschool / 44 Lake Street / Le Roy, New York 14482 / (585) 615-3138
ALUMNI REGISTRATION
We invite all Love Bugs Preschool alumni families with school aged-children to
Saturday, February 13
th
from 10:00-10:30am.
OPEN HOUSE/REGISTRATION
We invite the community to bring your child, meet the teachers and tour our school
Saturday, February 13th from 10:30-11:30am.
$35Registration Fee/Family
lpgraphics.net