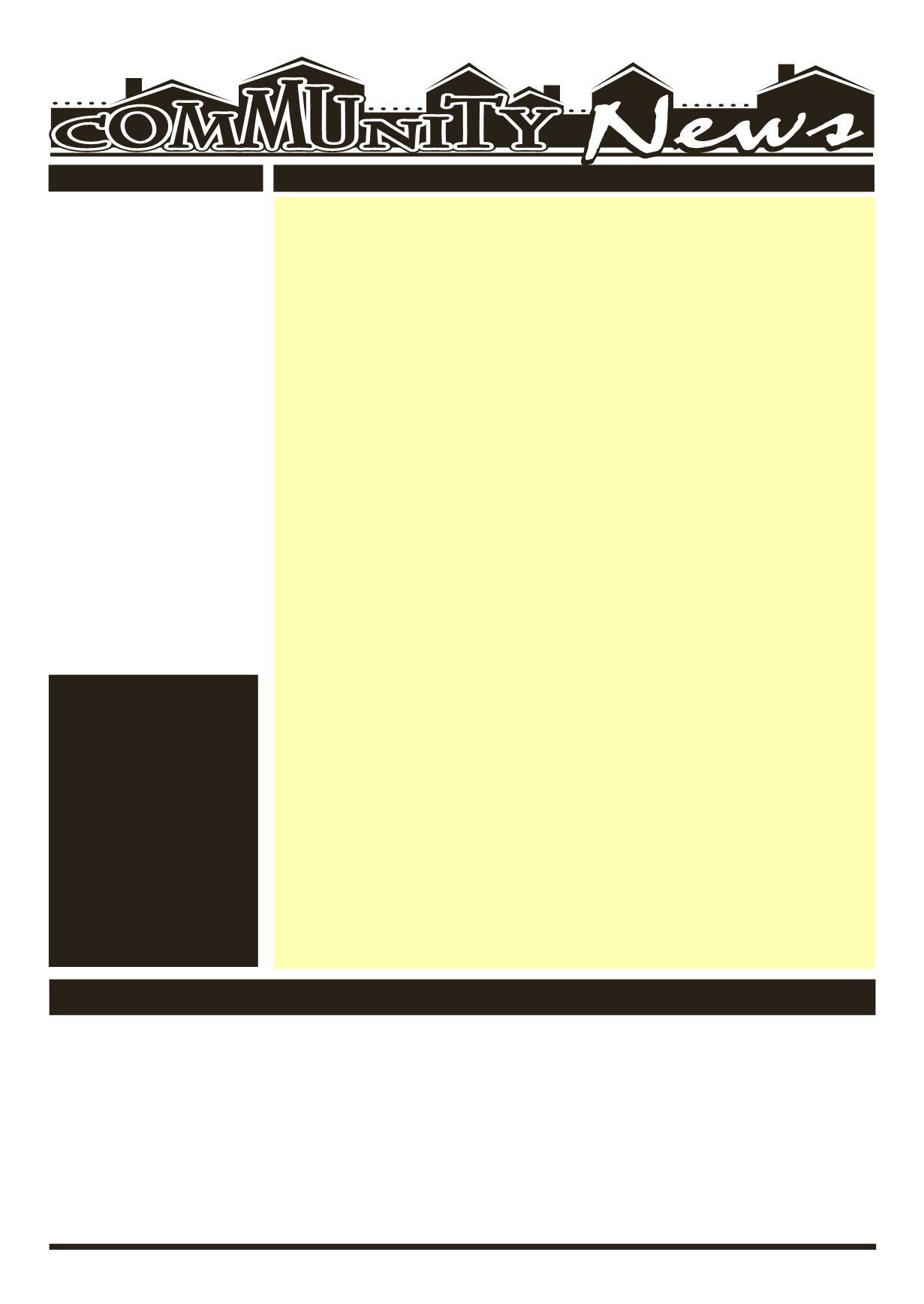 LEROYPENNYSAVER&NEWS - JANUARY 31, 2016
All GeneseeCounty residents, 60andolder, can takepart in thisweek'sactivitiesat theBataviaSenior Center, 2BankSt., Batavia. Formore information, call 343-1611.
SENIORCITIZENSACTIVITIES (February 1st - February 5th)
WEEKLYEVENTS
OBITUARIES
TaxPreparationAvailable
byAppointmentOnly9:00a.m. to3:00p.m.;
ArthritisExercise
isscheduled tobeginat9:30a.m.;
Bridge
RTSMeeting
is scheduled tobeginat 10:00a.m.;
Meet&GreetwithDailyNews
is scheduled tobeginat 11:00a.m. ;
Cribbage
TaxPreparationAvailable
byAppointmentOnly9:00a.m. to3:00p.m.;
Alzheimer'sAssociationMeeting
isscheduled tobeginat9:00a.m.;
Quilter'sGroup
is scheduled tobeginat 9:00a.m.;
Euchre
is scheduled tobeginat 1:00p.m.;
OFAAdvisoryBoardMeeting
TaiChi
isscheduled tobeginat9:30a.m. ;
GentleFitness
isscheduled tobeginat10:30a.m.;
Cribbage
isscheduled tobeginat1:00p.m.;
Bridge
isscheduled tobeginat1:00p.m.
ArtClass
is scheduled tobeginat10:00a.m.;
LineDancing
is scheduled tobeginat10:00a.m.;
Euchre
is scheduled tobeginat1:00p.m.
SUNDAY, JANUARY31
KonnectYouthGroupat LivingWaters Church,
Sundays from6:30 to8:30pm forages12-18. "BringDownall theWalls!
Connect with God and Connect with others." For more information,
checkusoutonlineat: livingwatersleroy.org/konnect-youth-ministry/
MONDAY, FEBRUARY1
TOPS (TakeOffPoundsSensibly)
meetsMondayevenings at theLe-
Roy Presbyterian Church, corner of Clay &Main Streets. Doors open at
6:00pmandmeeting is from6:30-7:15pm.Visitorsarealwayswelcome.
Call 585-768-7103 formore information.
TUESDAY, FEBRUARY2
Preschool Storytime:
EveryTuesday at 11 am featuring stories, craft
and songs at PavilionPublic Library, 5WoodrowDr., Pavilion. For info:
LCCP'sGRACE'SKITCHEN:
AFREEdinnereveryTuesdayevening,5-6:30
pmat theMasonicCommunityCenteron12BankSt. Plentyofparking.
Takeout & delivery are available. Formore info. contact Selby Davis at
GRACE'SCLOSET:Aclothinggiveawayprogram
UnitedMethodist Church, 10 Trigon Park, Le Roy, 9:30 am to 11:30 am
everyThursday.Wehaveclothingforallages.Weneedbeddingofallkinds
especiallyblankets.Donationscanbedroppedoffatthehousenexttothe
church. Pleaseput all bags INSIDE on thebackporch. NO ELECTRONICS,
OpenTuesdays5-6:30pm.
AXISStudentMinistryatLivingWatersChurch
Tuesdaysfrom6:30to8:30p.m.for7thto12thgrade.Ourgoal isforteens'
livestobe impacted,andradicallychanged. Formore information,check
WEDNESDAY, FEBRUARY3
Wednesdaysfrom6:30pmuntil8:00pm-
behavingtheiryouthprogram. titled"JOYCLUB". It isopentochildren in
thePre-schoolageupto6thgrade. Itwillbeheldatthechurch10956S.
LakeRoad, Rte. 19. It is a fun timeof Bible stories, game time, refresh-
mentsandmemorywork.Callforfurther information585-584-3179ext.
12. Leaveyournameandnumber and the secretarywill call youback.
Goosebumps - Movie Showing at theWoodwardMemorial
Library
for children ingradesK-6 from3:15–5:00p.m. Registration
TechHelpfromtheLeRoyKnights'TechDeskattheWoodward
MemorialLibrary
from6:30–7:30p.m.LeRoyhighschoolstudents
willgiveageneral technologyoverviewandanswerquestions. Learn
about computers andother technology. Feel free tobring adevice.
Registration Required! Call 768-8300 or register online at
THURSDAY, FEBRUARY4
FRIDAY, FEBRUARY5
PenuelChristianFellowship,
OneSteptoFreedomaddictionsminis-
try,aChristCenteredAddictionsprogram,aweeklymeetingeveryFriday
at7pm.Call theChurch formore informationat768-6901or594-9575.
Penuel ChristianFellowship
isorganizingayoungadult fellowship
andBiblestudy.Ages:12andup,Time:Fridays from7-9pm,Study: the
bookof Romans (a16week course), taught by JosiahGariboldi.Place:
Dessert intheStacksattheWoodwardMemorialLibrary
7to8:30p.m. Pre-saleticketsareneededtoattend. Sampledesserts
from area restaurant, caterers, and bakeries. This is an adult-only
SATURDAY, FEBRUARY6
UPCOMINGEVENTS
The LeRoy Town& Country Garden Club
meetingonTuesday, February9that 6:00pmat LeRoyPresbyterian
Church. This isourannualPotLuckDinnermeetingsomembersneed
tobringadish topassandplace setting. Also comewith some ideas
for 2016-2017programs.Visitors arewelcome. Contact AnnWalters
at737-9481or768-8130 formore information.
SAVE THE DATE!
12th Annual Oatka Hose Co.
Chicken Barbecue,
LeRoy United Methodist Youth Group
Spaghetti Supper
on Saturday, Feb 20 at 10TrigonPark. Seating
is from 3:30 till 7 pm. Tickets available at the door. Handicapped
accessible (use theparking in the lotbehind thechurch toaccess the
handicappedramp). ProceedstobenefitLUMCYouthCampprogram.
CommunityCalendarSubmissions shouldbe sent to:
Le Roy
Pennysaver
LE ROY - Mrs. Linda Joy Hume, 67, of
Las Vegas, formerly of LeRoy, a retired
Nurse for LeRoy Village Green Nursing
Home, and later retired fromamanager's
position at GeneseeCountry Village and
Museum inMumford, NY, diedWednes-
day, (1/20/16) at ahospital inLasVegas.
Memorialsmay bemade to the family.
SOUTH BYRON – Vincent T. "Vinny"
O'Reilly, 80, of South Byron, a retired
Metal LatherwithLocal 46, inManhattan,
passedawayFriday, (January22,2016)at
GeneseeCountyNursingHome. In lieuof
flowers,memorialsmaybemade toNotre
DameSports Boosters, 73UnionStreet,
Batavia, or GeneseeCancerAssistance,
Inc.,16BankStreet,Batavia,orGenesee
County Nursing Home - Activities Fund,
278BankStreet, Batavia, NY14020.
CALEDONIA - Sharyn L. Ganzhorn, age
71, passed away on Saturday morning
(January 23, 2016) at Strong Memorial
Hospital in the loving presence of her
family. The courtesy of no flowers is
requested with memorials suggested to
Mackay Wildlife Preserve, c/o Village of
Caledonia, 3095MainStreet, Caledonia,