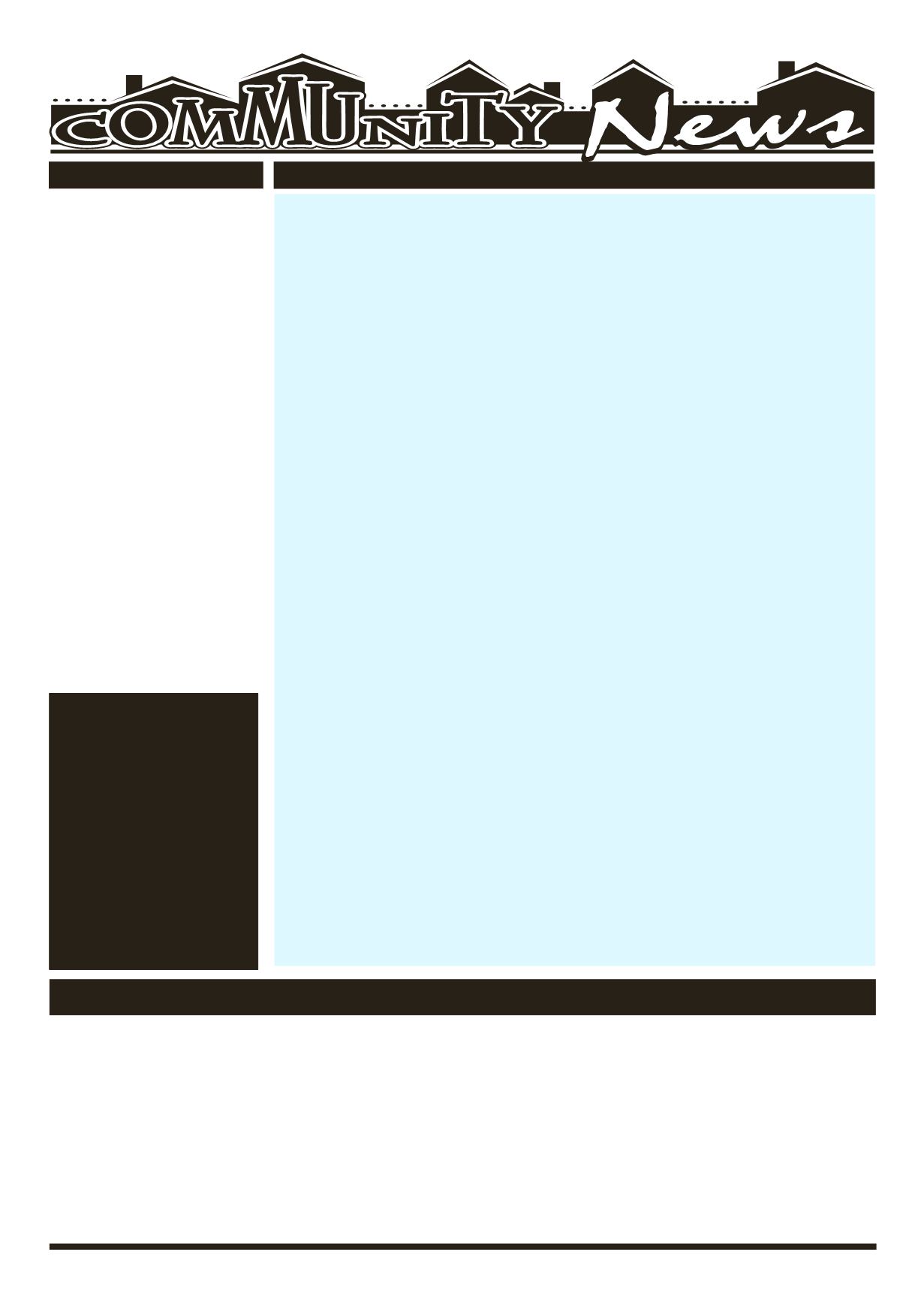 LEROYPENNYSAVER&NEWS - JANUARY 10, 2016
All GeneseeCounty residents, 60andolder, can takepart in thisweek'sactivitiesat theBataviaSenior Center, 2BankSt., Batavia. Formore information, call 343-1611.
SENIORCITIZENSACTIVITIES (January 11th - January 15th)
WEEKLYEVENTS
OBITUARIES
IncomeTaxTraining
is scheduled tobegin at 8:30 a.m.;
ArthritisExercise
is scheduled tobegin at 9:30 a.m.;
Bridge
IncomeTaxTraining
isscheduled tobeginat8:30a.m.;
AlzheimerCareConsultsSeminar
isscheduled tobeginat8:30a.m.;
LineDancing
Cribbage
is scheduled tobeginat 1:00p.m.
IncomeTaxTraining
is scheduled tobeginat 8:30a.m.;
OmbudsmanMeeting
is scheduled tobeginat 9:00a.m.;
Euchre
IncomeTaxTraining
is scheduled tobeginat 8:30a.m.;
Cribbage
isscheduled tobeginat1:00p.m.;
Bridge
isscheduled tobeginat1:00p.m.
IncomeTaxTraining
is scheduled tobeginat8:30a.m.;
ArtClass
is scheduled tobeginat10:00a.m.;
Euchre
is scheduled tobeginat1:00p.m.
SUNDAY, JANUARY10
KonnectYouthGroupatLivingWatersChurch,
Sundays from6:30to8:30pm forages12-18. "BringDownall theWalls!
Connect with God and Connect with others." For more information,
checkusoutonlineat: livingwatersleroy.org/konnect-youth-ministry/
MONDAY, JANUARY11
TOPS (TakeOffPounds Sensibly)
meetsMonday evenings at the
LeRoyPresbyterianChurch, corner of Clay&MainStreets.Doorsopen
at 6:00 pm and meeting is from 6:30-7:15 pm. Visitors are always
welcome. Call 585-768-7103 formore information.
ToddlerTimeforTwosandThrees
beginsonMondayattheWoodward
Memorial Library. Program runseachMonday from January11 through
February29 from10:30 -10:50am (except Jan.18andFeb.15).Toddler
Time is a storytime for childrenwho are2 and3 years old and a caring
adult. Rhymes, stories, music, flannel boards, coloring, and bubbles!
Call768-8300orregisteronlineat
TUESDAY, JANUARY12
Preschool Storytime:
EveryTuesday at 11 am featuring stories, craft
and songs at Pavilion Public Library, 5WoodrowDr., Pavilion. For info:
LCCP'sGRACE'SKITCHEN:
AFREEdinnereveryTuesdayevening,5-6:30
pmat theMasonicCommunityCenter on12BankSt. Plentyof parking.
Takeout & delivery are available. Formore info. contact Selby Davis at
GRACE'S CLOSET: A clothing giveaway program
RoyUnitedMethodist Church, 10TrigonPark, Le Roy, 9:30 am to 11:30
am everyThursday.We have clothing for all ages. We needbedding of
all kinds especiallyblankets. Donations canbedroppedoffat thehouse
next to the church. Please put all bags INSIDE on the back porch. NO
ELECTRONICS, COMPUTERS,DISHES, etc.
Open Tuesdays 5-6:30 pm.
Anyquestions call theoffice768-8980.
AXISStudentMinistryatLivingWatersChurch
Tuesdaysfrom6:30to8:30p.m.for7thto12thgrade.Ourgoal isforteens'
livestobe impacted,andradicallychanged. Formore information,check
Preschool Storytime
begins onTuesday for childrenages 3, 4, 5and
6at theWoodwardMemorial Library. Program runs eachTuesday from
January12–March1 from6:30–7:00p.m.Stories,music,flannelboard
stories,fingerplays,nurseryrhymes,coloring,sign language,gamesand
bubbles!Childrenmustbe3bythestartingdate.Call768-8300orregister
WEDNESDAY, JANUARY13
Village of LeRoy BoardMeeting,
7 pm at the Village Hall, 3West
Wednesdaysfrom6:30pmuntil8:00pm-
behavingtheiryouthprogram. titled"JOYCLUB". It isopentochildren in
thepre-schoolageupto6thgrade. Itwillbeheldatthechurch10956S.
LakeRoad, Rte. 19. It isa fun timeof Bible stories, game time, refresh-
mentsandmemorywork.Callforfurther information585-584-3179ext.
12. Leaveyournameandnumber and the secretarywill call youback.
TheseniorcitizensofLeRoyandStafford
of eachmonth for apot luckdinner andaplannedprogram. Wemeet
at the Knights of Columbus Hall located behind Save-A-Lot onWest
Main Street. Eachperson attendingbrings a generous dish to pass or
contributes $4.00 For anicebuffetmeal and social. Pleasebring your
ownplacesettingandbeverage. Coffeeand teaareprovided.Dinner is
servedat6:00pmandaprogram follows.Please joinus foranenjoyable
evening. Any questions, please contact Judy Ridley at 768-2001 or
Hotel Transylvania 2 -
Movie Showing at theWoodwardMemorial
Library for children ingrades K-6, from3:15–4:45p.m. Registration
TheWoodwardMemorial Library Board of Trustees
Wednesday, January13at4:30p.m.
THURSDAY, JANUARY14
TownofLeRoyBoardMeeting,
7pmat theTownHall BoardRoom,
FRIDAY, JANUARY15
PenuelChristianFellowship,
OneSteptoFreedomaddictionsminis-
try,aChristCenteredAddictionsprogram,aweeklymeetingeveryFriday
at7pm.Call theChurch formore informationat768-6901or594-9575.
Penuel ChristianFellowship
is organizingayoungadult fellowship
andBiblestudy.Ages:12andup,Time: Fridays from7-9pm,Study: the
book of Romans (a 16week course), taught by JosiahGariboldi.Place:
SATURDAY, JANUARY16
FreeFoodoutreachbrought toyoubyFoodlink
parking lot. Every 3rd Saturday of themonth. 11-1pm. Call Penuel
ChristianFellowshipat585-768-6901withanyquestions.
UPCOMINGEVENTS
CommunityCalendar Submissions shouldbe sent to:
Le Roy
Pennysaver
BYRON -KarenL.Sharp, 70, ofByron,
a Registered Nurse at Attica Prison,
prior to her retirement in 2012, died
Saturday, January2, 2016at her home
in Byron. In lieu of flowers, memorials
maybemade toByronRescueSquad,
POBox 210, Byron, NY14422.
BERGEN - After a long battle with
cancer, Denis A. Converse passed
on Dec. 30, 2015 at the age of 60. He
remained brave and iron-willed, even
throughout his final months. In lieu of
flowers, donations be made to
Stafford -NinaMarlenePaladinoVicary,
belovedwife,motherandgrandmother,
was calledhomeat age68on January
6, 2016, after a long and courageous
battlewithMultipleMyeloma.Memorials
are suggested to either GeneseeCan-
cer Assistance, 16 Bank St., Batavia,
N.Y., 14020, Crossroads House, P.O.
Box 403, Batavia, NY14021 orWilmot
CancerCenter,P.O.Box278996,Roch-