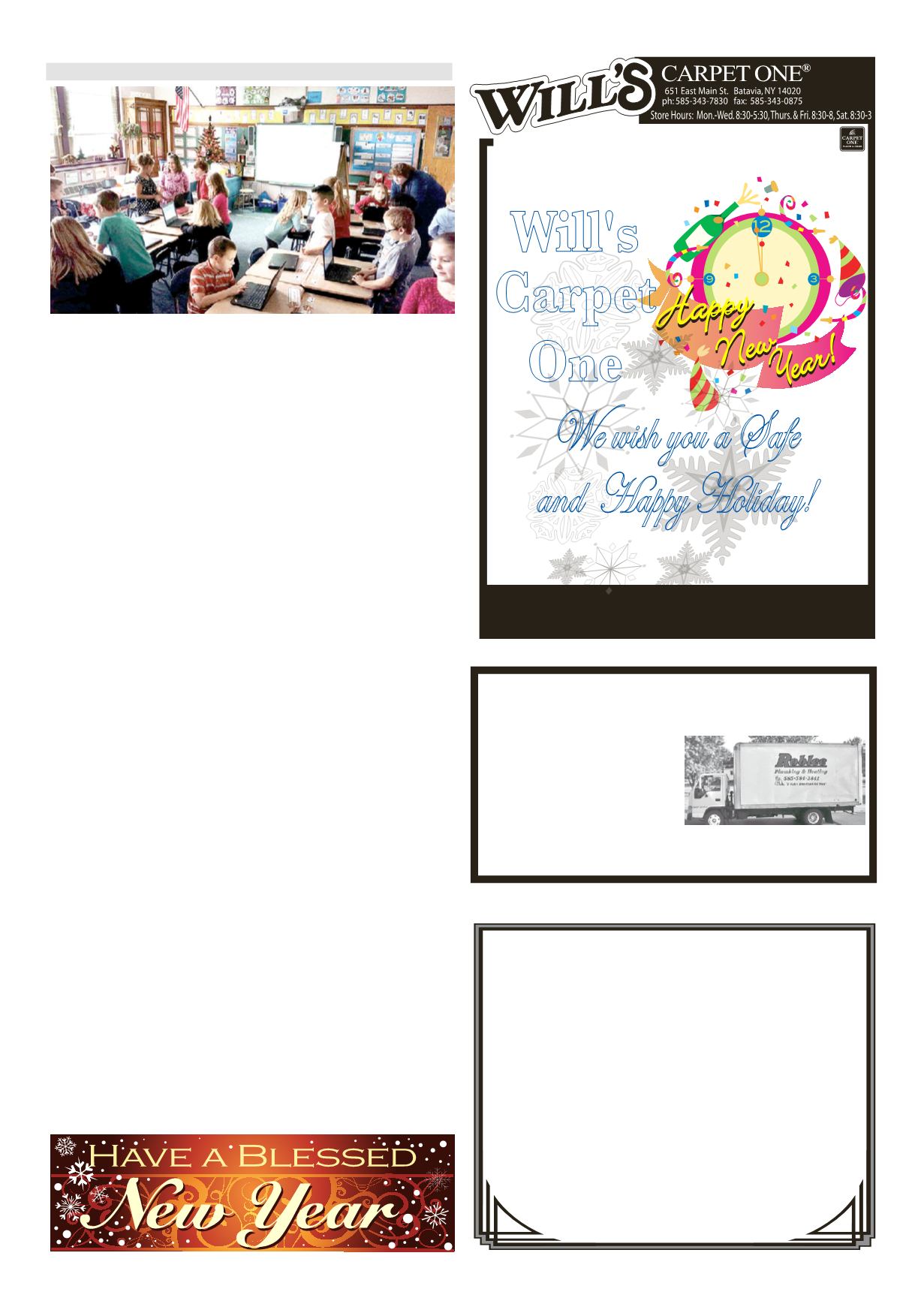 LEROYPENNYSAVER&NEWS -DECEMBER 27, 2015
TheONE store for your perfect floor.
FLOOR
&HOME
ROBLEE
Plumbing&Heating, LLC
10991LakeRd., Pavilion • (585) 584-3841
Full Insured
LUXAIRE
GOULD
NYSCertifiedBackflowTester
Water&Sewer Lines •Water Treatment&ConditioningSystems
Will's
Carpet
One
ClosingNewYear'sEve,Thursday, Dec. 31st at 2pm
ClosedFriday, January 1st
Wewould like to thank all our family, friends and co-work-
ers who sent cards, flowers and food and for being there for
us during the loss of our father BusterDillon.
Wewouldalso like to thank theFalconeFuneralHome, you
did a great job helping us through it. We would also like to
thankPastorDanTurber for doing the services, youdid fan-
tastic job.We know our father was smiling down on us when
Elvis sang "AmazingGrace".
Alsoabig thankyougoes out to JudyMills and theWomen
of theMoose for doing the luncheon after the services, you
byKimM. Cox
Superintendent of Schools
The last couple of days, I had
the privilege of visiting sever-
al classrooms and seeing many
examples of how the fun and
excitement of this special time
of year perpetuates the learning
process. Thiswas evident inone
second grade classroom where
students researched the holiday
customs of a varietyof countries
around theworld. While this ac-
tivity in itself isnot unique,what
these students did to share their
These young students were
utilizing the latest technology,
Google Chromebooks and slide
development, to research, share,
and publish their findings. The
excitement was evident when I
entered the room to engage in
a "museum walk" as a way to
share their work. As students
read and shared their presenta-
tions, other students, and a va-
riety of adults, were encouraged
to ask thought-provoking ques-
tions about the topic being pre-
sented. The questions provided
the students with an opportunity
to think and respond critically.
They had to support their choice
of interesting facts, why they
were important, as well as how
they selectedvisual prompts that
accurately matched their text.
While the research aspect of the
project was clear, themechanics
of actually creating a Google
slideshowwasanother important
learning goal. In the end, they
createdbeautiful slideshows that
captured their new understand-
ings. To say these studentswere
proud of their work is an under-
statement.Every studentwasen-
gaged and anxious to show their
This same type of work can
also be seen at the Jr.-Sr. High
School. Inone case, students re-
searched the causes of the Civil
War and then were able to cap-
ture this learning, edit and save
digital notes for future presenta-
tions. They can collaborate and
comment on each other's work
from across the room, their study
hall room, or even from home.
Revising work is no longer
lookedat asachore, but anatural
part of the writing and creation
process. As one student put it,
"Becauseof others' input, I don't
have towait until I'm all done to
knowwhat I need tofix up."
The power of technology is
not about thegadgetsor the slick
graphics or games, but the crit-
ical thinking, decision-making,
evaluating, and analyzing that
is necessary to create something
novel from somethingknown. It
is truly an exciting time to be an
educator and evenmore exciting
Asweapproach theChristmas
holiday and welcome in 2016,
rest assured that our students
are eagerly preparing to tackle
the challenges of theworkplace,
Agalaxy far,
far away!
May the force be with you!
Happy Holidays and see you in