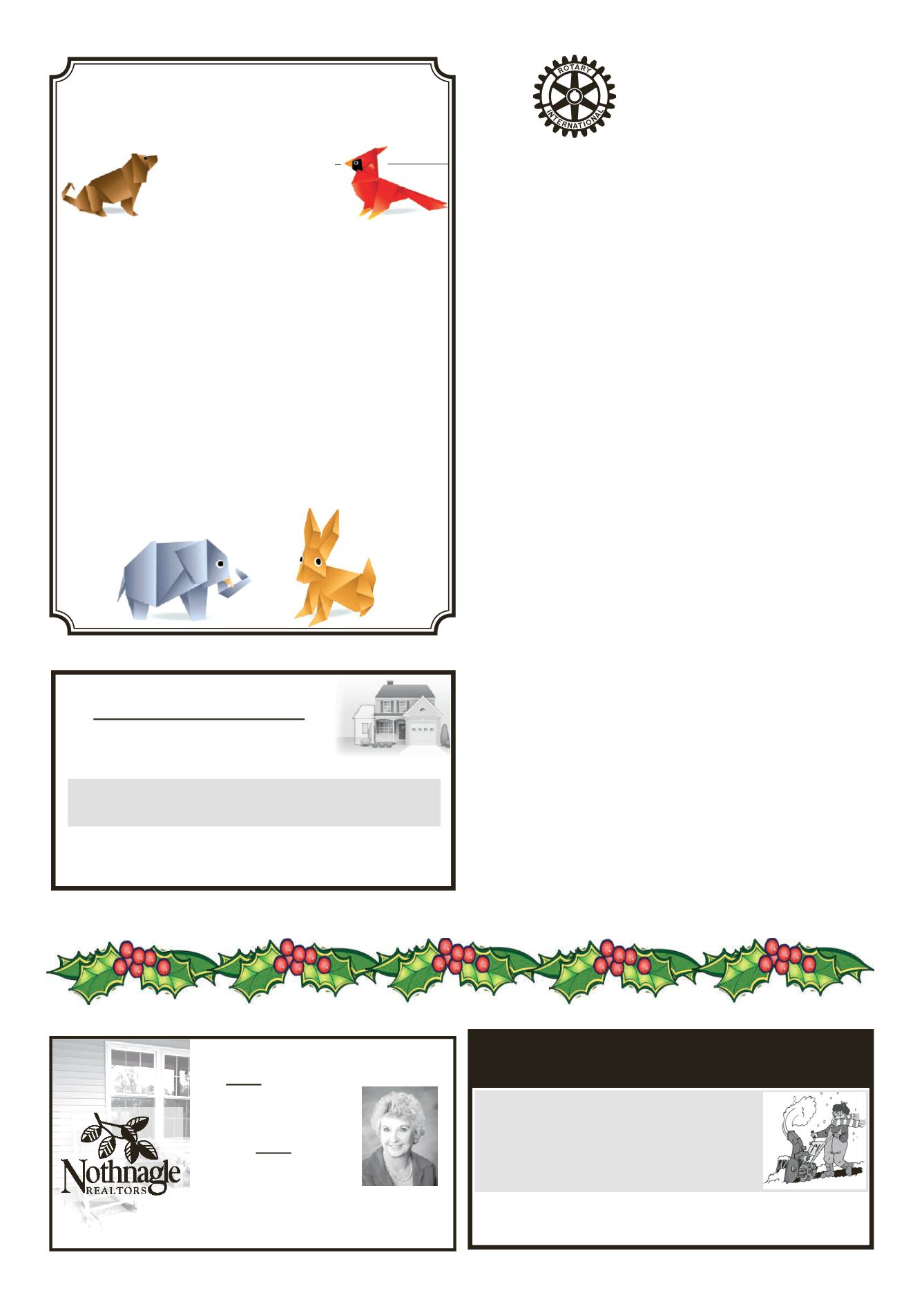 LEROYPENNYSAVER&NEWS -DECEMBER 27, 2015
• Engine andTransmissionRebuilds
• Lawn andGardenEquipment
•ATV's, Dirt Bikes • Light Equipment
• PickUp andDeliveryAvailable
• Snowblowers • Snowmobiles •Generators
8525Rt. 237, Stafford, NY
"CompleteCarpentry Service"
M
ILLER
B
ROTHERS
B
UILDERS
CustomHomes •Remodeling•Additions
Roofing• Siding
DANIEL
MICHAEL
Batavia
585-343-6750
NOW is theBEST time
toBUYwith the interest rates
at their lowest!
Don't wait
toBUY -
call
LindaBeaumont
for all your real
estateneeds.
LindaBeaumont
Home (585) 768-6315
LicensedReal Estate
Salesperson
Multi-MillionDollar Producer
Woodward
Memorial Library
Origami
Julie Lambert Coleman
Tuesday, December 29
Learn theart of origami fromMrs. Coleman!
Makedogs, cats, rocket ships andmore!
Registration is required.
Call 768-8300or register onlineat
This Program ismadepossibleby theNewYork StateCouncil on theArtswith
support fromGovernor AndrewCuomoand theNewYork State Legislature.
Notes forDecember 16th
Itwasa littledingyoutside, but
PresidentTonyGugino liftedour
spirits and encouraged us to be
gifts to the world as he opened
the meeting at about 12:15 pm
PledgeofAllegiance
theGraceand theFour-WayTest,
our guests were introduced: Ri-
leyChester (LHS Senior), Mark
Zoccali (Lauren Humphrey's
brother), LaurenSherwood (David
Grayson's daughter) and Rotary
Juniors of Lauren Humphrey,
Christine Gephardt, Chris Bivi-
ano, David Grayson, and Tom
McGinnis. And our Special
Announcements:
Tony noted that donations were
still open for the Le Roy Food
Pantry and Grace's Kitchen.
The Nominating Committee has
been meeting and hope to have
a 2016-2017 slate of Officers
and Board Members soon. Bob
Bennett remindedus about raffle
tickets for First Night (Le Roy
Business Council). Jim Ellison
summarized the annual Carol-
ing event as a "small butmighty
group"whobrought cheer to lots
of our seniors around town and
thanked his beautiful wife Joan
for a very elegant repast follow-
Several folks "donated to the
cause" for missing meetings.
Those missing included: David
Grayson, JimEllison, JerryMc-
Cullough, Scott McCumiskey
(who told some an interesting
"fish story"),MarciaMcKenzie,
Carol Wolfe, and Rob Murray.
Others garnered some "spe-
cial recognition" in the form
of modest fines including Mary
Margaret Ripley who blogged
about What 20-year-old MMR
would think of 40-year-old
MMR; Lauren Humphrey for a
great pictureofher toddler "sort-
ing" her purse; LarryBoylan for
hiswedding anniversary and trip
Claus came in, the real fun be-
gan. The looks on the faces of
the kidswere trulywonderful!
Don't forget theRotaryChrist-
mas Party at President Tony's
House on January 2nd and the
Area14ChristmasPartyatTerry
Le Roy Rotary asks you to
consider becoming part of an
organization that is about to
eradicate polio from the earth,
contributes to numerous as-
sistance projects in over 100
foreign countries, and offers a
chance for everyone togiveback
to their community. Locally, we
provide over 30 scholarships to
local students annually, clean
up the West Main trestle, pro-
vide engaging Appliance Raffle
and Graze to Raise events as
well as many other fun activ-
ities. Why don't you help us
make our community a better
place? Remember to "Like" us
on Facebook at "RotaryClub of
LeRotary
Notes