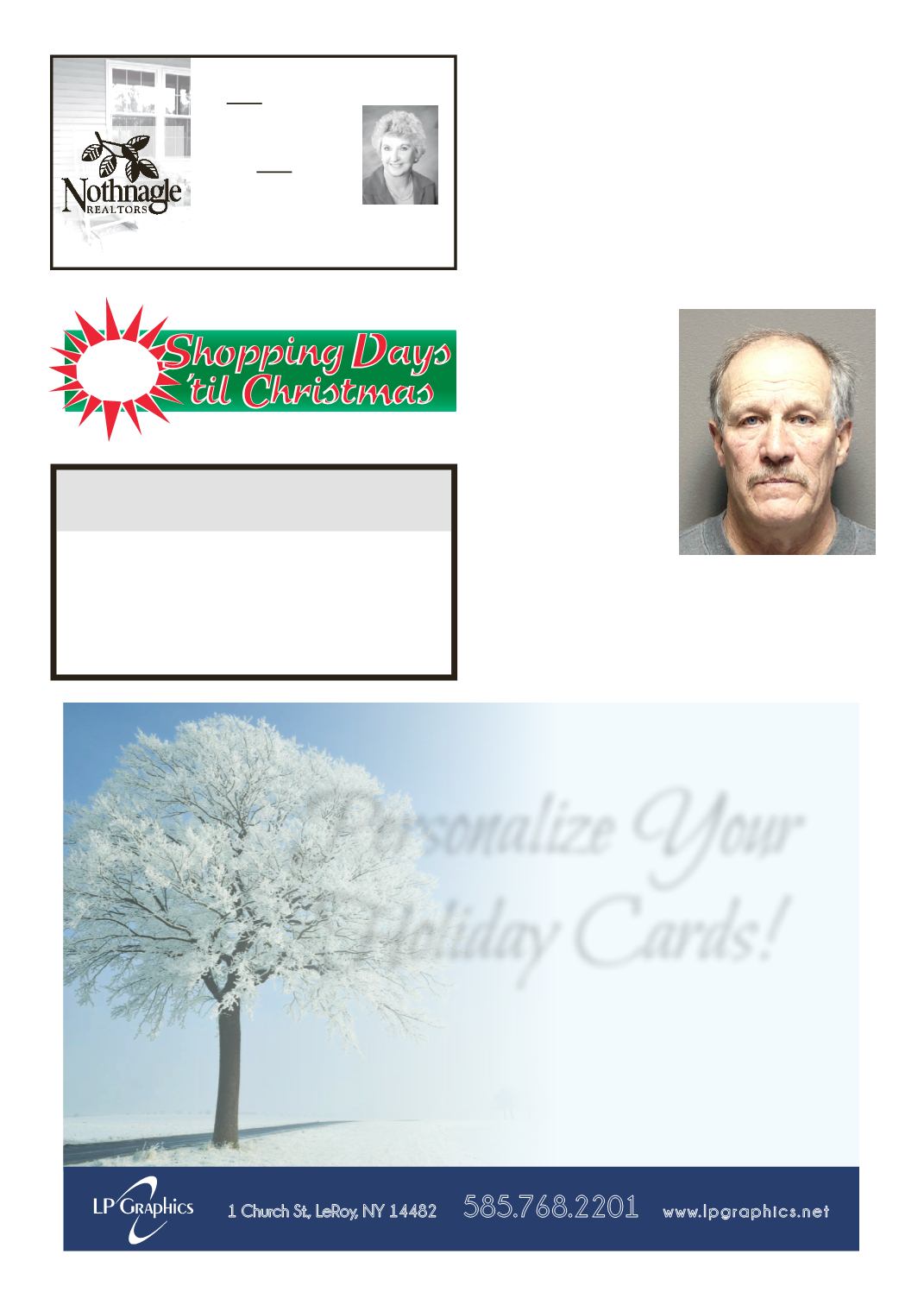 LEROYPENNYSAVER&NEWS -DECEMBER 13, 2015
ALLWORKMANSHIP GUARANTEED • INSURED
297-9097 • 768-7737
• InteriorPainting
• Plaster/LathRestoration
•Drywall&DrywallRepair
•TextureRemoval
• Floors Stripped
&Refinished
•OldCeilings&Walls
MadeLikeNew!
MikeDarby'sPatch&Paint
Batavia
585-343-6750
NOW is theBEST time
toBUYwith the interest rates
at their lowest!
Don't wait
toBUY -
call
LindaBeaumont
for all your real
estateneeds.
LindaBeaumont
Home (585) 768-6315
LicensedReal Estate
Salesperson
Multi-MillionDollar Producer
1ChurchSt., LeRoy, NY14482
585.768.2201
raphics.net
holiday cardswithpersonal
photos andmeaningfulwishes
12/5/2015 - A 27-year-old LeRoy resident was chargedwithDWI
following a traffic stop on Friday, December 5th, 2015 at about 1:40
am. JosephyR. Dux of LinwoodRoadwas stopped after he allegedly
failed tomaintain lane onWolcott Street in theVillage. After a brief
investigation, Dux was found to be allegedly intoxicated and was
charged. In addition to the DWI charge, Dux was also charged with
DrivingWhile Intoxicated while having a BAC of .18% or more, a
Misdemeanor, andFailure toKeepRight, aViolation.
Duxwas issueduniform traffic ticketsand is toappear in theTownof
LeRoyCourtonDecember28,2015at1:00PM toanswer to thecharges.
12/07/2015 - 58 year old LawrenceD. Liles of 4400 Sage Road,
Warsaw NY was arrested on
12/03/2015by theLeRoyPolice
Departmentandchargedwithone
count of the B-Misdemeanor of
Stalking in theFourthDegree. It
is alleged that betweenApril 18,
2014 and December 1st, 2015,
Liles intentionally and for no
legitimate purpose engaged in
a course of conduct directed at
the victim(s) while knowing or
reasonably should have known
that such conduct would cause
material harm to the mental or
emotional health of the victims and where the conduct constituted
following, telephoning or initiating communication or contact with
thevictim(s), their familyor thirdparty.The latest incident involved
the allegation that on 12/01/2015 at about 6:30 a.m., Liles placed a
crosson the lawnof thevictimsstating"RIP"and then left thescene.
Liles was arraigned before the HonorableMichaelWelsh of the
LeRoy Town Court and committed to the Genesee County Jail in
11