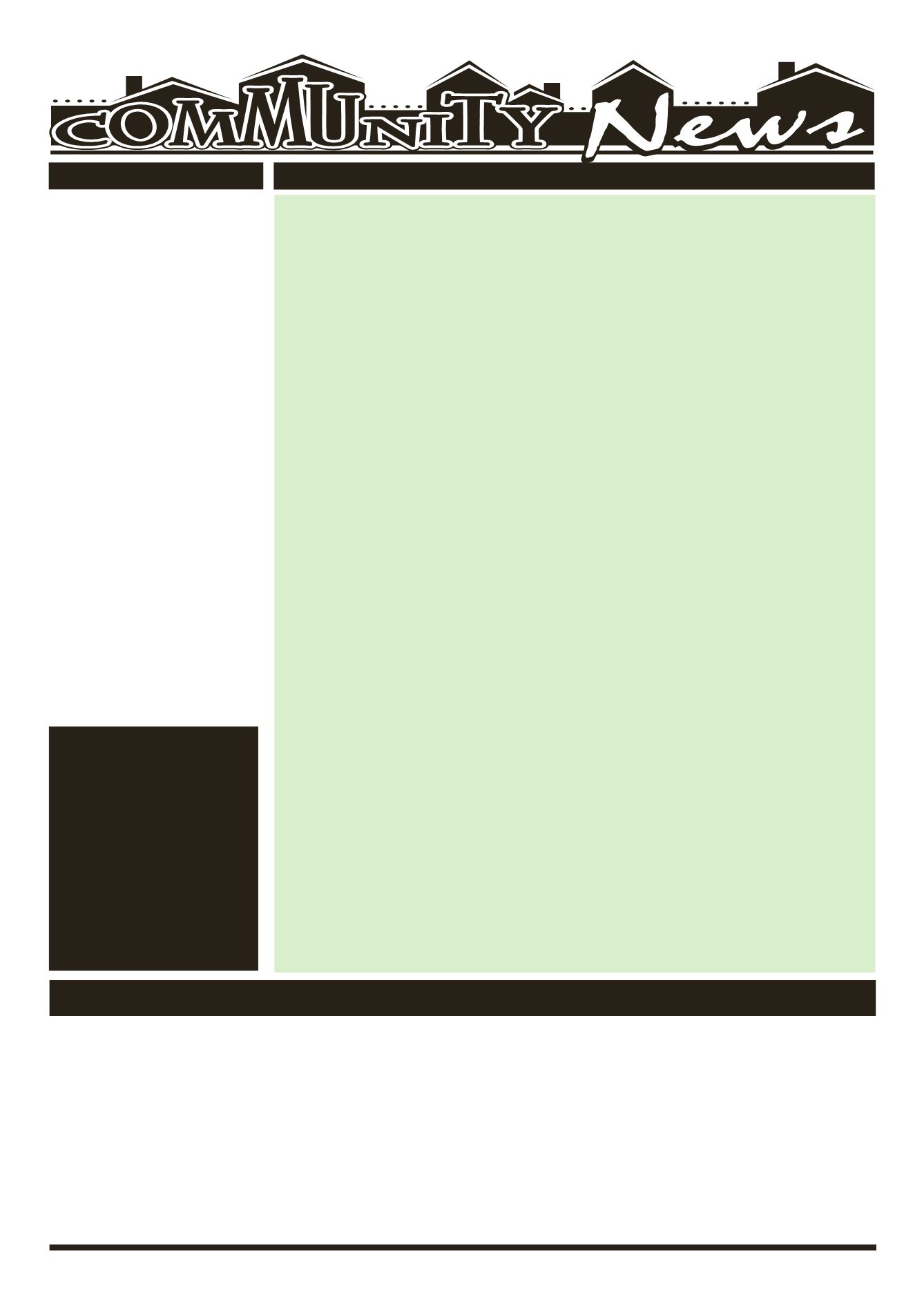 LEROYPENNYSAVER&NEWS -DECEMBER 13, 2015
All GeneseeCounty residents, 60andolder, can takepart in thisweek'sactivitiesat theBataviaSenior Center, 2BankSt., Batavia. Formore information, call 343-1611.
SENIORCITIZENSACTIVITIES (December 14th -December 18th)
WEEKLYEVENTS
OBITUARIES
ArthritisExercise
is scheduled tobeginat 9:30a.m.;
Bridge
is scheduled tobeginat 11:00a.m.
NewsletterAssembly
isscheduled tobeginat8:45a.m.;
ARepresentativefromUnivera Insurance
available from10:00a.m. to12:00p.m.;
Cribbage
is scheduled tobeginat 1:00p.m.
Quilters
is scheduled tobeginat 9:00a.m.;
Euchre
is scheduled tobeginat 1:00p.m.
Tai Chi
is scheduled tobegin at 9:30 a.m.;
GentleFitness
is scheduled tobegin at 10:30 a.m.;
Cribbage
Bridge
isscheduled tobeginat1:00p.m.
ArtClassandLineDancing
is scheduled tobeginat 10:00a.m.;
Euchre
is scheduled tobeginat 1:00p.m.
SUNDAY,DECEMBER13
Konnect Youth Group at Living Waters Church,
LeRoy. Sundays from 6:30 to 8:30 pm for ages 12-18. "BringDown
all theWalls! ConnectwithGodandConnectwithothers." Formore
information, check us out online at: livingwatersleroy.org/kon-
MONDAY,DECEMBER14
TOPS (Take Off Pounds Sensibly)
theLeRoyPresbyterianChurch, cornerofClay&MainStreets.Doors
openat6:00pmandmeeting is from6:30-7:15pm.Visitorsareal-
wayswelcome. Call 585-768-7103 formore information.
TUESDAY,DECEMBER15
Preschool Storytime:
Every Tuesday at 11 am featuring stories,
craft and songs at Pavilion Public Library, 5Woodrow Dr., Pavilion.
LCCP's GRACE'S KITCHEN:
A FREE dinner every Tuesday evening,
5-6:30pmat theMasonicCommunityCenteron12BankSt.Plentyof
parking.Takeout&deliveryareavailable. Formore info. contactSelby
GRACE'SCLOSET: A clothinggiveawayprogram
RoyUnitedMethodistChurch,10TrigonPark, LeRoy,9:30am to11:30
ameveryThursday.Wehaveclothing forall ages. Weneedbeddingof
allkindsespeciallyblankets.Donationscanbedroppedoffatthehouse
next to the church. Pleaseput all bags INSIDEon thebackporch. NO
ELECTRONICS, COMPUTERS,DISHES, etc.
OpenTuesdays5-6:30pm.
Anyquestions call theoffice768-8980.
AXIS Student Ministry at LivingWaters Church
LeRoy. Tuesdays from 6:30 to 8:30 p.m. for 7th to 12th grade. Our
goal is for teens' lives to be impacted, and radically changed. For
more information, check us out at:
TownofLeRoyPlanningBoardMeeting
at theTown Hall,48MainSt. For further info. call768-6910, Ext.223.
WEDNESDAY,DECEMBER16
Wednesdays from6:30pmuntil 8:00pm -
will be having their youth program. titled "JOY CLUB". It is open to
children in thepre-school ageup to6thgrade. Itwill beheldat the
church 10956 S. Lake Road, Rte. 19. It is a fun time of Bible stories,
game time, refreshments andmemory work. Call for further infor-
mation585-584-3179ext. 12. Leaveyournameandnumber and the
secretarywill call youback.
LEGO & Game Club at theWoodwardMemorial Library
children in grades K-6 from 3:15 - 4:15 p.m. Buildwith Legos, play
board games with your friends, or jam out on Guitar Hero. There is
something for everyone. Registration isNOT required.
Adults:
kick back, relax, and color at the
WoodwardMemorial
Library
onbetween6and8p.m.! It'snosecret that teensandadults
lovetocolorasmuchaskids. Havea funtimesocializingandcoloring!
Intricatecolor sheetswillbeprovidedalongwithcoloredpencilsand
markers. RegistrationRequired! Call 768-8300 or register online at
TheseniorcitizensofLeRoyandStafford
dayof eachmonth for apot luckdinner andaplannedprogram. We
meet at theKnights of ColumbusHall locatedbehindSave-A-Lot on
WestMain Street. Eachperson attendingbrings agenerous dish to
passorcontributes$4.00Foranicebuffetmealandsocial. Pleasebring
your ownplace setting andbeverage. Coffee and tea are provided.
Dinner is servedat6:00pmandaprogram follows. Please joinus for
an enjoyable evening. Anyquestions, please contact JudyRidley at
768-2001or Sharon frost at768-6846.
Village of LeRoy BoardMeeting,
7 pm at the Town Hall Board
THURSDAY,DECEMBER17
FRIDAY,DECEMBER18
Penuel Christian Fellowship,
One Step to Freedom addictions
ministry, a Christ Centered Addictions program, a weeklymeeting
every Friday at 7 pm. Call the Church formore information at 768-
SATURDAY,DECEMBER19
FreeFoodoutreachbroughttoyoubyFoodlink
parking lot. Every3rdSaturdayof themonth. 11-1pm. Call Penuel
ChristianFellowshipat585-768-6901withanyquestions.
UPCOMINGEVENTS
CommunityCalendar Submissions shouldbe sent to:
Le Roy
Pennysaver
LEROY~WayneCheeseman, age 86, formerly
of SouthStreet Road, passed awayWednesday
afternoon (Dec. 2, 2015) at the New York State
Veterans Home in Batavia. Memorials are
suggested to either theAmerican Legion, 53W.
MainSt., LeRoyor theNYSVeteransHome, 220
LE ROY - Jay Roe passed away December 3,
LE ROY - Harold E. "Buster" Dillon, age 75, of
Myrtle Street, passed away at home on Friday,
December 4, 2015. In lieu of flowers, memorials
aresuggested toeither LakePlainsDialysis, 587
E. Main St., Batavia or Volunteers for Animals,
3841W. MainSt. Rd., Batavia.
PAVILION - Marie E. Holmes- Age 80, of
Pavilion-Warsaw Rd., Pavilion, formerly of
Warsaw, died December 5, 2015 at the Wyo.
Co. Community Hospital in Warsaw. Memorials
may be made to First United Methodist Church
of Warsaw, 6 W. Court St., Warsaw, NY 14569
or American Arthritis Foundation, 2423 Monroe
Ave., Rochester, NY14618.
LEROY -JaniceE.BaronepassedonDecember
5, 2015 at age 83. In lieu of flowers, memorials
maybemade toHomeCare&Hospice,29Liberty
Street, Batavia, NY14020.
BYRON - Mr. Randy L. Boyce, Sr., age 58, of
Byron, passed away on Monday, December
7, 2015 at United Memorial Medical Center in
Batavia. Arrangements are being completed by
the H.E. Turner & Co. Funeral Home, 51 South