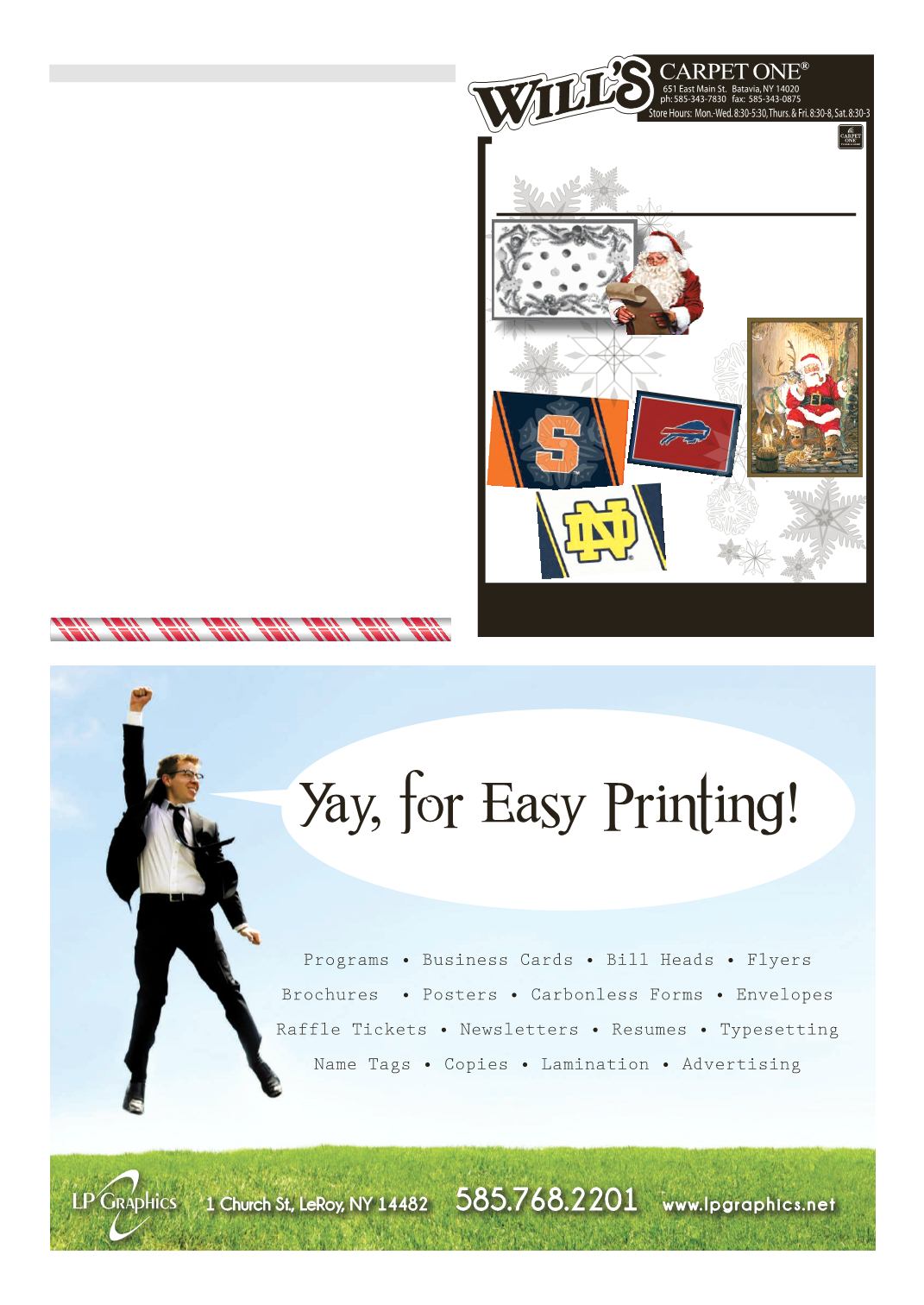 LEROYPENNYSAVER&NEWS -DECEMBER 13, 2015
TheONE store for your perfect floor.
FLOOR
&HOME
byGreg:"Porp"Rogers
Mayor
At our next board meeting on
December 16th we will be pre-
sentingOfficerRyanYoungwith
a Service Award for his part in
the event that took place on Sel-
donRoad lastweek.We are very
lucky that more peoplewere not
hurt or killed. Thank you to the
LeRoyFireDept.who responded
to thefire and alsoput their lives
in danger, for our community.
Themajorityof the leaveshave
been picked up becauseMother
Nature has givenus an extended
fall and ithashelpedBobLathan
and his crews stay ahead of the
As you can see the Village is
decorated for Christmas. Thank
you to Andrew Lathan for his
donationof timeandaChristmas
tree for thewholeTownand those
whopass through toenjoy.What
a great impression it must make
for someone driving through to
see that tree and all the decora-
The Village's 14 year agree-
ment withWe Care Organics is
coming to a close soon. In short
they handled the Sewer Plant
sludge in lieu of paying rent on
our compost facility.At this time
under the current contract and
economic conditions, it is not
beneficial for We Care to con-
tinue, which forces the Village
to look to other solutions. These
were issues that I as a Board
Memberknew loomedandsome-
daywewould have to deal with.
Rest assuredwe have a plan and
BusinessCouncilwillagainspon-
sor FirstNight andFireworks.
Onbehalfof theVillageBoard
andouremployees,haveaMerry
Christmas andHappyNewYear.
"A lie gets half way around
theworld, before the truthgets a
chance to put its pants on".
Notes From TheMayor's Office
Professional Teams
& College Rugs
$
49
00
$
69
95