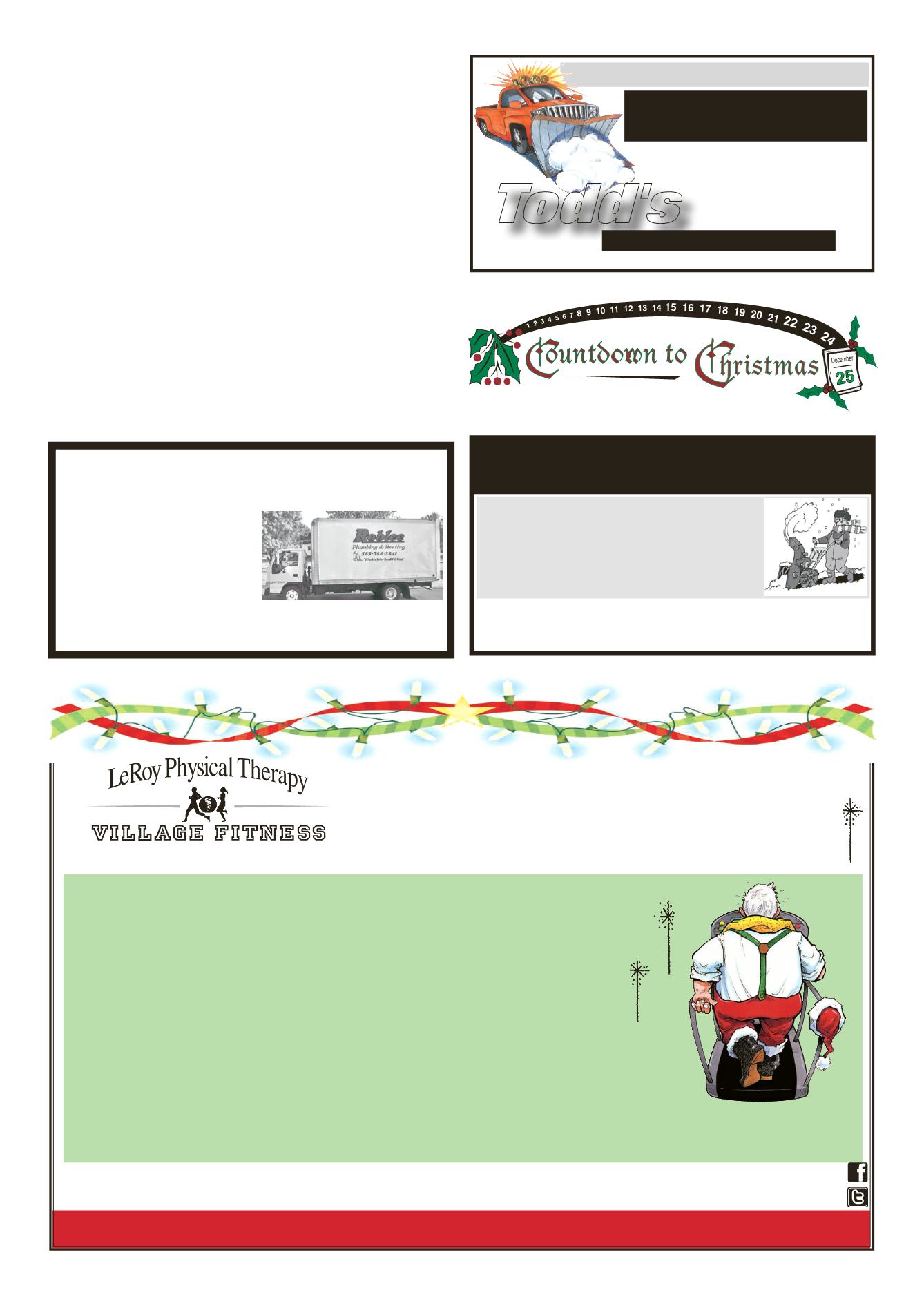 LEROYPENNYSAVER&NEWS -DECEMBER 13, 2015
ROBLEE
Plumbing&Heating, LLC
10991LakeRd., Pavilion • (585) 584-3841
Full Insured
LUXAIRE
GOULD
NYSCertifiedBackflowTester
Water&Sewer Lines •Water Treatment&ConditioningSystems
Thefirstweekend inDecember
proved tobe fastpacedand rivet-
ing for area youth hockey!
The Batavia Ramparts Squirt
A Team played at home against
MCYHwithWillEschbergerand
TylerMcClurg of LeRoy pulling
out all the stops in a gritty, head
toheadmatch.TheFalletiMotors
Ramparts were in the lead with
just 1 minute left on the clock
which led to thegame tyinggoal.
Thefinal score ended at 2-2.
Wee ATeam took to the road to
playanotherMCYH teatm–The
Amerks at Bill Gray's IcePlex
in Henrietta. Zack Eschberger,
Morabito of LeRoy worked in
tandemwith the restof theirBaltz
Concrete Ramparts teammates
to ensure edgeof the seat excite-
ment throughout the3periods of
play.Thegameended ina2-2 tie.
BTeam also took to the road on
Sunday to play theWebster Cy-
clones.CourtneySchumguarded
the net with ease and control
while JacobMarcello of LeRoy
dominated center ice! Will Es-
chberger (pulled up from Squirt
A to cover for absent JasonEck)
commanded his winger position
to lead the team to a 7-1 victory.
YouthHockey
All offers are available fromNow until Christmas!
1. Purchase a $25 gift certificate and receive aFreeWaterBottle!
2. Purchase a $50 gift certificate and receive aFreeT-Shirt!
3. Purchase a $100 gift certificate and receive aFreeSweatshirt!
4. Give it 110%!Add 10% bonus value to any gift certificate over $100!
5. Buy one 3monthmembership, Get one Free—Sharewith a friend!
6. Save 25% on allVillageFitness apparel!
7. Tanningmembership only $14.99/monthwhen you join for the year!
8. Buy 1DayPassBooklets, Get a 2nd 50% off!A great gift for college students!
9. Save up to $150 on an annual familymembership!
10. Youth basketball program (gradesK-2, begins January 5th) starting at $45
11. Save $100 onANY 12month individualmembership
12. Save $50 onANY 6monthmembership
GETTINGBETTER •STAYINGBETTER •LIVINGBETTER
Give the gift of Fitness thisHolidaySeason
with our 12Days of Fitness Specials!
Stop intoVillageFitness to choose from any one of these great gift ideas!
Hurry these offers end on 12/24!
Just in the
NICKofTime!
3WestAve., Phone 768-4550
•website
dFindUsOnFacebook/Twitter
• These offersmay not be combinedwith any other promotions. Savings off regular retail price.
•Certain restrictions apply—contact our staff for details. •Age and other restrictions apply to tanning services. Contact our staff for details.
• Engine andTransmissionRebuilds
• Lawn andGardenEquipment
•ATV's, Dirt Bikes • Light Equipment
• PickUp andDeliveryAvailable
• Snowblowers • Snowmobiles •Generators
8525Rt. 237, Stafford, NY
NewHomes •Additions •Garages •PoleBarns
ToddCarli • Phone 703-0964
Decks •Windows •Doors
Kitchens •Baths•CeramicTile
Basement Finishing
CustomShelves/Built-Ins
Siding •Remodeling •Roofing
FULLY INSURED
Todd's
Residential • Commercial
Salting • Shoveling