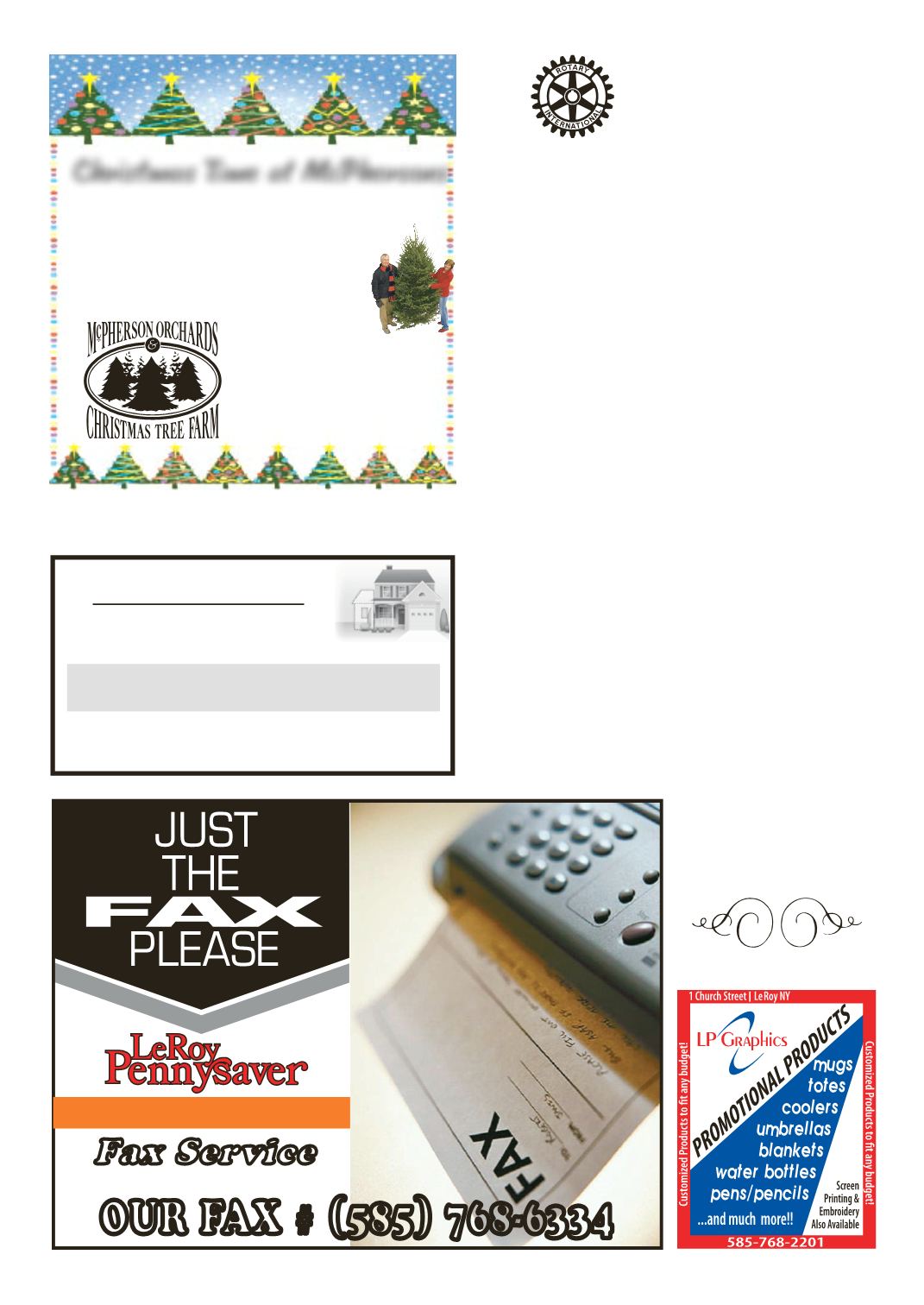 LE ROY PENNYSAVER & NEWS - NOVEMBER 29, 2015
Fax Service
1 Church St., Le Roy, NY • (585) 768-2201
OUR FAX # (585) 768-6334
COMMUNITY
Christmas Time at McPhersons
Oatka Trail
Le Roy, NY
Phone 768-7094
Open 9 am-6 pm
HONEY • MAPLE SYRUP
Trees &Wreaths From Here On The Farm!
Douglas Fir • Fraser • Balsam • Concolor • Canaan
FREE Bailing & Drilling
Some Cut Your Owns
"Complete Carpentry Service"
M
ILLER
B
ROTHERS
B
UILDERS
Custom Homes • Remodeling • Additions
Roofing • Siding
DANIEL
MICHAEL
1-585-409-3193
1-716-474-0759
tfn
As President Tony was out
of town, Past President Martha
Bailey opened the meeting with
the
Pledge, Prayer
, and the
Four
Way Test.
Our guests introduced
themselves as Le Roy Central
School Seniors Reed Kacur and
Allison Uberty. Reed will be
attending college in Ohio to be-
come a diesel mechanic. Allison
is planing on college in NYC and
will be a Pre-Med major.
Buckets of Hope are packed
and ready for shipment to flood
victims in South Carolina. As
a reminder, our December 2nd
meeting will be held at the Le Roy
Country Club and our December
9th meeting (and Cookie Auc-
tion) will be held at the American
Legion. The Le Roy Business
Council is selling tickets to help
fund the costs for the First Night
fireworks. Randy Vink informed
us that Rotary Night at the Bata-
via Downs was a success with 83
people attending.
Scott McCumisky let us know
that on December 11th, Rotary
will be Ringing the Bell at Tops
and all are welcome to help out.
Mary Margaret Ripley stated that
75 people attended the Pancake
Breakfast and thanked all that
helped out. Bob Bennett, Tom
McGinnis, Anil Sawhney, and
Mary Young were all called upon
for missed meetings.
Past President Martha had
an extensive fining session that
included Lauren Humphrey,
Ben Deragon, Bruce Baker,
Mary Young, Randy Vink, and
Tracy Ford.
The Program today was pre-
sented by Rotarian Lauren Hum-
phrey on behalf of LCCP. LCCP
is an ecumenical organization
in Le Roy that has 8 programs
under its umbrella. They in-
clude the After School Program,
Grace's Kitchen, the Backpack
Club, Ladie's Prayer, Caregiv-
ers Connection, Mommy and
Me Playgroup, Summer Day
Camp and Teen Night. The
After School Program is the
largest program, and while free
to participants, is the most costly
to the organization, costing ap-
proximately $100/month/child.
Recently, LCCP lost a grant due
to a change in the foundation's
funding requirements. This foun-
dation is now focusing solely on
the City of Rochester rather than
the, "Greater Rochester Area."
To make up for lost funding, a
$75,000 capital campaign, "Lift
LCCP" will run through March
of 2016. To donate you can visit
www.leroychristiancommuni-
typroject.org, see any staff or
board member, or send to 7 East
Main Street, Le Roy, NY 14482.
LeRotary
Notes
lpgraphics.net