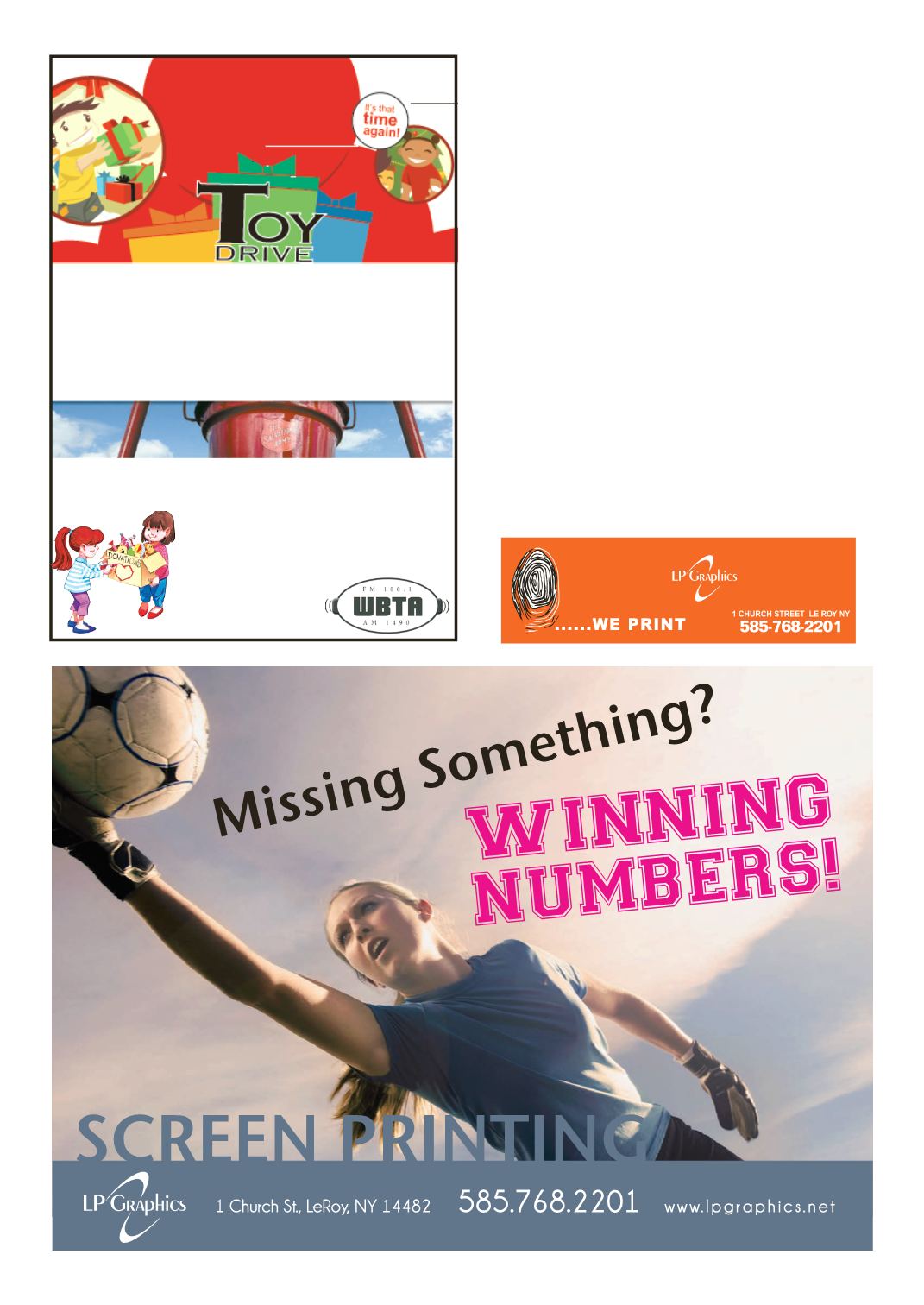 LE ROY PENNYSAVER & NEWS - NOVEMBER 29, 2015
On Sunday, November 15,
2015, The Falleti Motors Batavia
Ramparts Squirt A team coached
by LeRoy resident, Joe Eschberg-
er, lost a fast-paced, goal-filled
game at Paul Lewis Ice Arena in
Rochester vs the Perinton Blades.
For almost two periods, the teams
traded goals as the score was tied
5-5 until the Blades broke it open
with five unanswered goals in the
final three minutes of the second
period. The teams each scored a
goal in the final period and the
Ramparts lost the game 11-6.
Goal scorers for the Ramparts
included Will Eschberger &
Tyler McClurg of LeRoy along
with, Anna Stevens, Matt Rogers,
Brennan Pedersen, and Tyler Kid-
der. Robert McCarthy was busy
in the net as he faces 31 shots in
this exciting game.
On Saturday, November 21,
2015, The Falleti Motors Batavia
Ramparts Squirt A team visited
the Monroe County Youth Hock-
ey Eagles at Scottsville Ice Arena.
The Ramparts started the scoring
midway through the first period
as defenseman Brennan Perders-
en rifled a shot from the point that
found the net. The Rampartsde-
fensemen Will Eschberger and
Tyler McClurg of LeRoy helped
hold the lead while the offense
continued to apply pressure until
late in the second period when the
Eagles were able to get an equal-
izing goal. The Eagles broke the
tie late in the third and went on
to defeat the Ramparts 3-1. While
the ramparts lost this game, they
were in control of the puck for
much of the play, but met a stingy
goaltender, as they outshot the
Eagles 24-14 in the game.
Youth Hockey - Squirt A
lpgraphics.net
9am to 4pm
Ken Barrett Chevrolet Showroom
Main Street, Batavia
Bring a NEW unwrapped toy and help make
Christmas brighter for kids in Genesee County.
It's the annual
WBTA
Ken Barrett Chevrolet,
Salvation Army
2015
If you can not make it down during the event
Friday, December 11,
drop off your item at the
WBTA Studios
113 Main Street, Batavia,
during
business hours
NOW thru December 14.