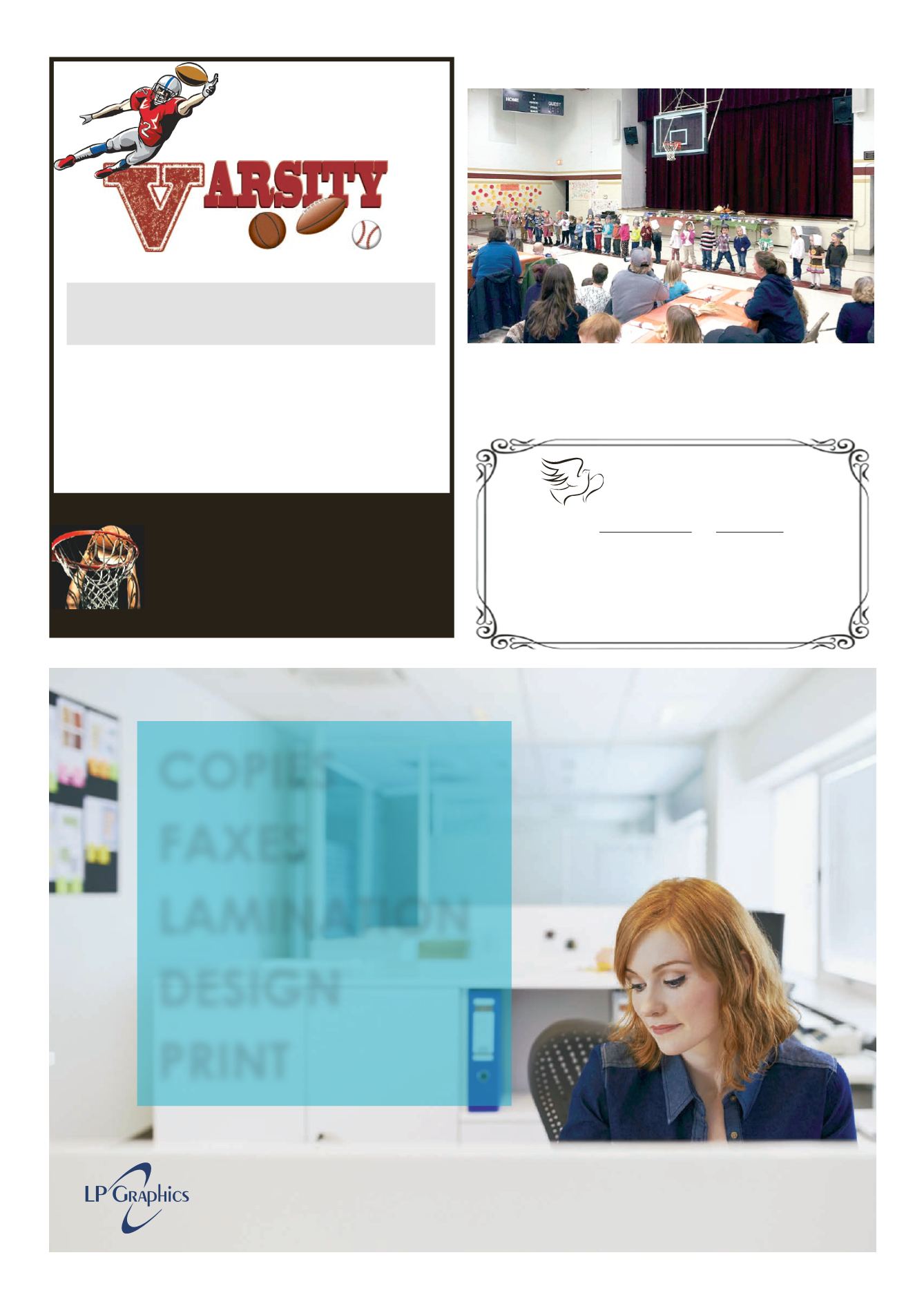 LE ROY PENNYSAVER & NEWS - NOVEMBER 29, 2015
8700 Lake Rd.
LeRoy, NY 14482
(585) 768-2400
www.falconefuneralhome.com
Vern C. Falcone
Jenna M. Falcone
Director / Owner
Funeral Director
F
ALCONE
F
AMILY
Funeral & Cremation Service, Inc.
Vern C. Falcone
Director/Owner
PO Box 187
8700 Lake Road
LeRoy, NY 14482
(585) 768-2400
vern.fffcs@yahoo.com
"A LOCAL FAMILY
CARING FOR LOCAL FAMILIES"
1 Church St., LeRoy, NY 14482
585.768.2201
www. l pg r aph i c s . ne t
COPIES
FAXES
LAMINATION
DESIGN
PRINT
All the families at Love Bugs Preschool gathered together to cele-
brate their very own Thanksgiving! At their "Feast of Favorites",
the Pre-K and Nursery classes sang special Thanksgiving songs
and then everyone enjoyed a dinner of the children's favorite foods.
What A Feast!
Le Roy Sports Boosters
presents
2015 Fall
BANQUET
Dec. 7th
• 5:00 pm
at Stafford Fire Hall
Everyone is Welcome!
Dinner will be followed by awards presentations.
Tickets for athletes and guests are $10 each and can be purchased
at the high school office. Get tickets early, no tickets sold at the door.
A balance of 1/3-1/2 of each ticket
is paid by Sports Boosters.
Come celebrate with the athletes on an amazing Fall Sports Season.
Thank You
to all of the volunteers who helped out
with our fall concessions and raffle sales!!
Please check out our website for opportunities
to volunteer for winter sports activities
provided by LeRoy Sports Boosters
http://www.leroycsd.org/webpages/sportsboosters/