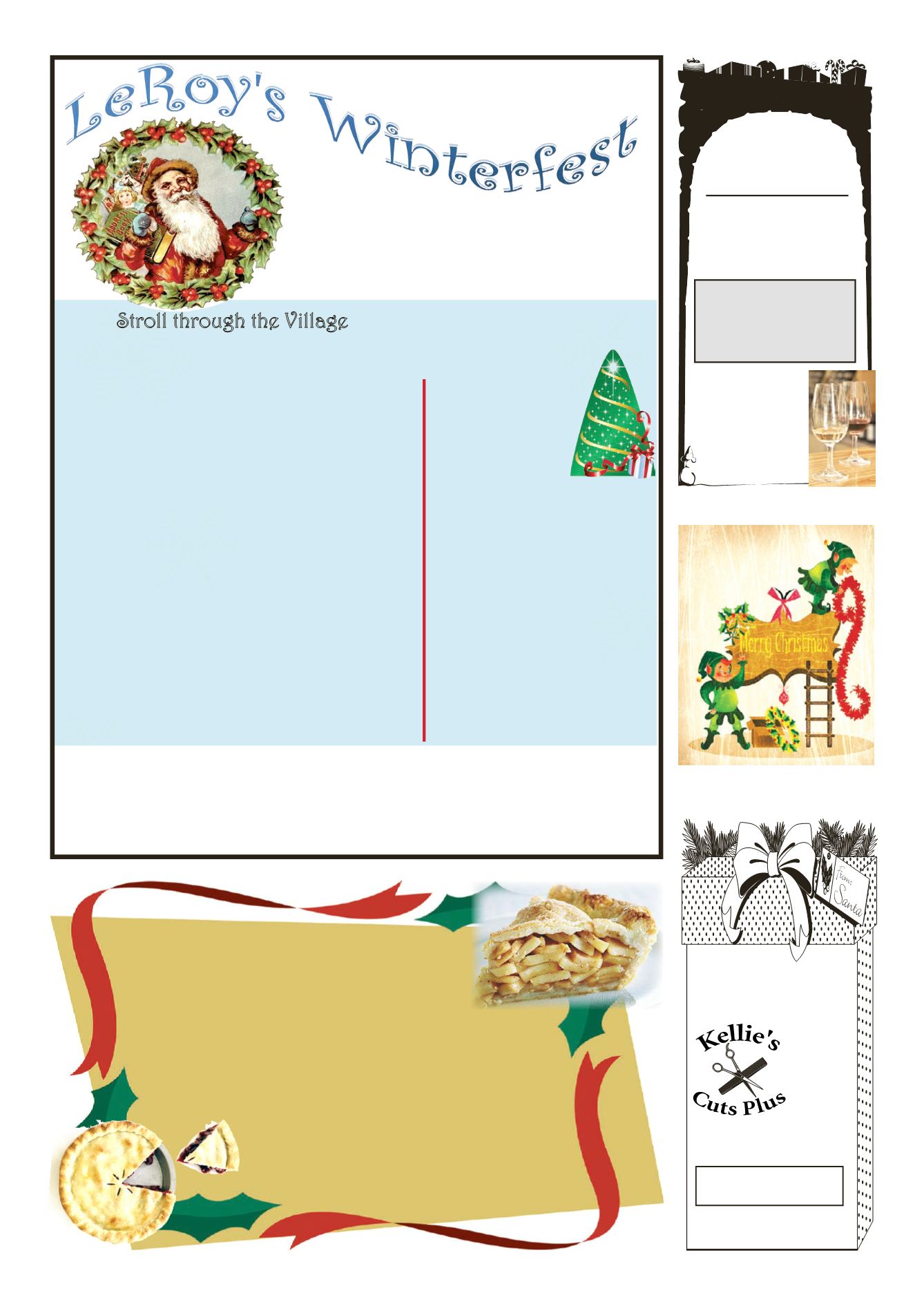 LE ROY PENNYSAVER & NEWS - NOVEMBER 29, 2015
LE ROY
HARDWARE
47 Main St. • 768-4950
3 Bank
Street
Upstairs
Le Roy,
NY 14482
Phone: 768-4450
Kellie Baker
Monday...............9:00 am-7:00 pm
Tuesday................................Closed
Wednesday........9:00 am - 7:00 pm
Thursday...........9:00 am - 5:00 pm
Friday................9:00 am - 5:00 pm
Saturday............9:00 am - 2:00 pm
3 Bank Street • Upstairs
Le Roy, NY 14482
Phone: 768-4450
Kellie Baker
Don't Forget Your Gift
Certificates During
WinterFest!
10% OFF For
First Time Customers!
Monday & Wednesday 9 am-7 pm
Tuesday Closed
Thursday, Friday 9 am-5 pm • Saturday 9 am-2 pm
Sat., December 5th
10 am to 6 pm
Let us come together as a community this holiday season.
Stop in December 5th
to Celebrate Our
5th Anniversary
10 am to 6 pm
GREAT In-Store Specials
NEW Christmas items,
stocking stuffers and
gift certificates available
Wine Tasting
3 pm to 6 pm
Woody's Sam-
pling and
Frost Ridge
Onsite
Stroll through the Village
FULL CARD business bingo 10 am-2 pm
*FULL card must be turned in by 3 pm to be entered into prizes. Bingo sheets available at participating businesses that day.
In-store sales, specials, & open houses throughout businesses.
Don't forget to bring your
$hop, Dine, &Win receipts by 3 pm to 21 Bank St.
to receive entries into drawings.
Community Holiday Bazaar, 21 Bank St. 10-4.
Non-perishables, canned goods, toiletries, diapers, hats,
gloves, and school supplies are being collected at Bazaar .
LCCP BAKE SALE-
10 am - SOLD OUT at Moose
Masonic Temple Breakfast, Lunch & Dinner Specials:
Smokin' Eagle, LeRoy's No Finer Diner, LB Grand,
McDonald's, Mooney's, Moose Family Center,
Scooter's, Woody's and LeRoy Country Club;
Spaghetti Dinner 12-5 American Legion
Boy Scout FRESHWreath Sale
10 am – sold out,
Tompkins Bank of Castile
Basket Raffle & Pie Sale Methodist Church
10 am-2 pm
Chocolate Candy Sale
-
Eastern Star #509/Masonic Lodge 10 am-2 pm
CreateA Craft Station
-First Presbyterian Church 10-2 pm
Stampin' Up Create A Card with Lisa Schicker or
French Knot Pin with Jan Revier. Stop in and try one!
Community
Christmas Tree
Lighting 6 pm
Jingle All the Way
5k, 3 pm
Kid Zone Activities
Fire Hall-Inflatable, 10-12
Woodward Memorial Library
–
paper snow globe, bow tie pasta
wreaths, decorate a cookie, candy
cane and wreath bead ornaments.
Showing Elf.
All Day event.
Moose Family Center-1 pm
SANTA, Santa's Cutest Elf
Contest, 12:30
Penuel Church–
child activity
Town Hall, 10-2
- face painting,
coloring pages, children activities,
Restrooms available
Participating Stroll Through The Village Businesses:
Blood Money Ink, LeRoy's No Finer Diner, LB Grand, Tracy's Tea's/Hollistic Wellness by Tracy, The Personal Preference,
The Divine Tree, Living Waters Church, Joe's Place, Vintage & Vogue Inspirations, Michelle's Hair Care, Smokin' Eagle,
Kelly's Cuts, Barrista's, Batavia Legal Printing, LeRoy Hardware, Mirror Mirror Salon, Ladies First Fitness,
Nanette's Hair & Now, McBride Electronics, Thee Cutting Edge, First Presbyterian Church, Methodist Church,
The Ridge NY, Eastern Star #509 Women, Women of the Moose Ch. 370 and Peneul Church.
Thank you to the LeRoy Business Council for sponsoring this event.
Spend $20 Get A FREE Gift!
L
e
R
oy
U
nited
M
ethodist
C
hURCh
will be selling pie by the slice during the
LeRoy Winter Fest, (December 5th)! - 10 Trigon Park
We will have slices of pie available during the Winterfest for $3.00 a slice!
For just a little bit more, we can serve you pie-a-la-mode!
Join us at 10 Trigon Park on Saturday, December 5th
during the LeRoy Winter Fest
for a yummy piece of pie,
some warm fellowship and a
wonderful time.