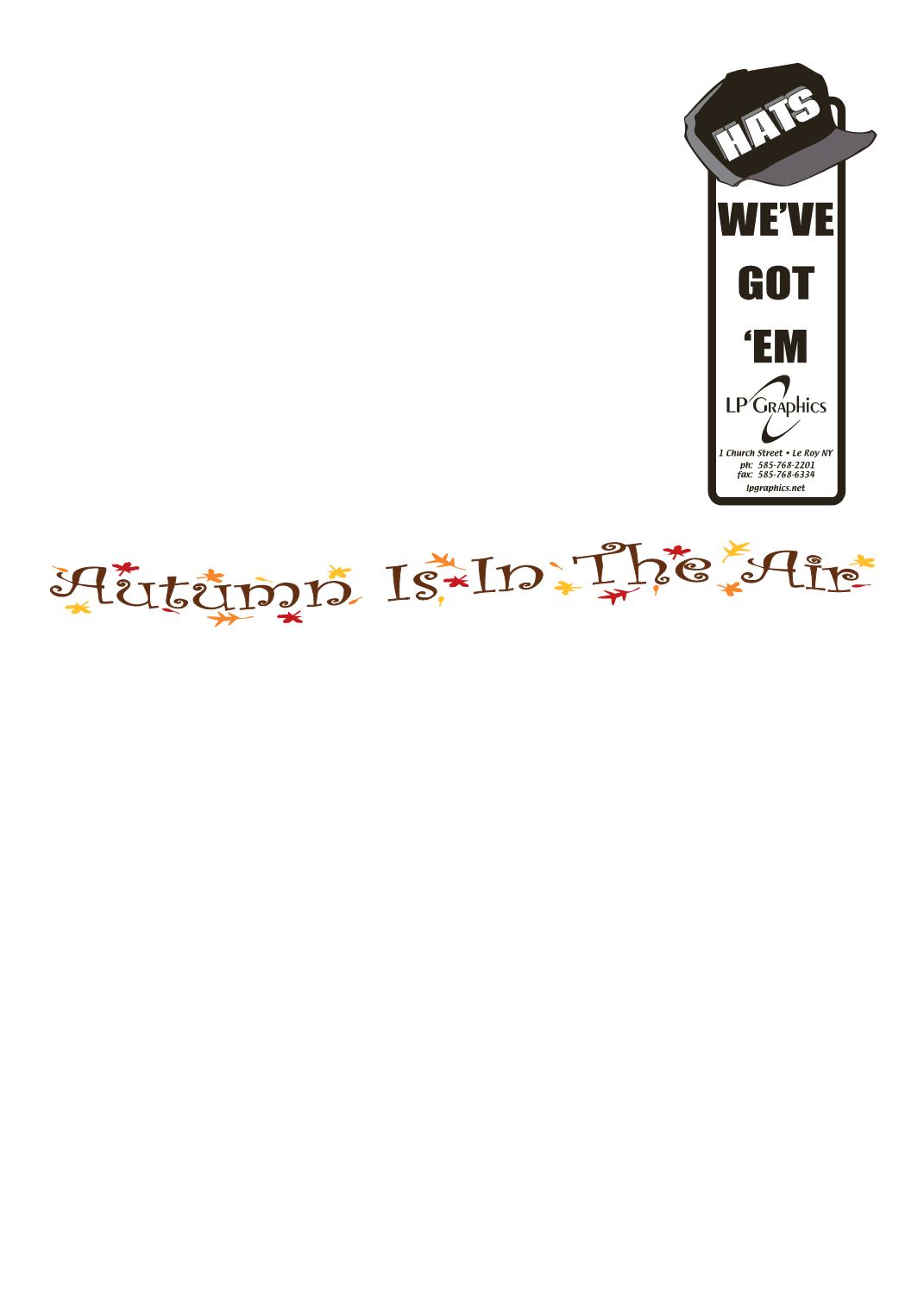 LEROYPENNYSAVER&NEWS -OCTOBER 11, 2015
LeRoyYouthFootball Seniors
LeRoy 6 -Cal-Mum 12
LeRoy JuniorFootball -LeRoy 22 -Cal-Mum 0
In a matchup of undefeated
squads, theLeRoyJuniorKnights
controlled the game from begin-
ning toend, notchingahugewin
by securing their 2nd shutout in
as many weeks, defeating the
JuniorRaidersbyascoreof22-0.
Facingquite possibly the best
defense they have seen to date,
theKnightsbegan thegamewith
the football. Facing10men in the
box, the Knights faced an early
4thand8. DrewStrollowasable
to break through with a 12 yard
gain to keep the ball. Jackson
Fix followedwitha12yardgain,
thenTommyCondidoriowith10
more, and the offensewasmov-
ing at its usual pace. After a 26
yard scamper byStrollo to the1,
Condidorio snuck in untouched
to give theKnights the early 6-0
The defense forced a punt
after 3 plays, however a fumble
byLeRoyon theirnextplaygave
the ball back to Cal-Mum. The
swarmingLeRoydefense forced
a turnover on downs without
allowing afirst down. Biggains
byFixandStrolloput theLeRoy
offense back in scoringposition,
however a false start penalty and
some big plays by the Cal-Mum
defense forced a turnover on
hungryasever, asCal-Mum took
over inside theirown5withonly
a few minutes left in the half.
Cal-Mumwasunable tomove the
chains, andwere forced to punt.
DrewStrollo returned thepunt13
yards to theRaiders24yard line.
AquickpassfromTommyCondi-
dorio toStrollogained7, putting
theRaiderdefenseon theirheels.
Threeplays later,Strollodarted in
from10yardsout to score. After
a LeRoy false start, Condidorio
took the ball around the left end
for 8yards to convert the2point
play, extending theKnights lead
Cal-Mum began the 2nd half
with the football, however were
forced to punt again after 3
straight tackles from defensive
Knightsoffense tookover, atfirst
moving theballwith some small
gains. Drawing in the defense,
quarterback Tommy Condidorio
then threw a perfect pass down
field, hittingAdrian Stephens in
stride for a 26 yard gain. One
play later, Tony Piazza bulled in
from4yardsout fora touchdown.
Piazzawould thendeliver on the
conversionattempt,extending the
Bothdefensessettled in for the
rest of the 3rd quarter as well as
the4thquarter,withneither team
scoring. LeRoy took the victory
formationat theendof thegame,
kneelingon theball to secure the
LeRoy'sdefensewas fantastic
in the contest, allowing 1 first
down in the game, which came
on Cal-Mum's last possession.
Defensive endConnorHegeman
ran a clinic on how to play the
position, containing Raider run-
ners all day longwhilemaking9
tackles, includingseveral for loss.
Drew Strollo patrolled the field
and added 7 tackles with some
bighits. LinebackersTonyPiazza
and Xavien Walker each added
3 tackles, with disciplined play.
Defensive linemen Aiden Davis
andXavierKing added2 tackles
each, while Adrian Stephens,
Kyle Northrup, Aaric Luce,
Jackson Fix, Jack Egeling, Jake
Higgins, "Friday Night" Danny
Howe, andAdamWoodworthall
contributedwith stops aswell.
DrewStrollo ran for120yards
including a touchdown. He also
had 13 yards in returns and 7
yards receiving. Jackson Fix
added 38 yards on the ground.
Tony Piazza ran for 20 yards,
including a TD and 2-point con-
version. Quarterback Tommy
Condidorio ran for 20 yards as
well, including aTD and2-point
conversion…andwas equallyas
impressive throwing for33yards
without an incompletion. Adrian
Stephens had 26 yards receiving
and Connor Hegeman ran the
The 5-0 Junior Knights con-
tinue their quest to recapture the
CYFL title with a matchup on
Sunday October 11th at noon
against theYorkKnights. Come
on out andwatch this fun group
of boys continue the tradition of
The Le Roy Senior Knights
travelled to Caledonia to take
on the undefeated and unscored
upon Cal-Mum Red Raiders.
Cal-Mum opened the game on
offense and drove down the
field scoring a touchdown. The
2 point conversion attempt was
shut down by a tough Le Roy
defense. Cal-Mum thenattempt-
ed an onside kick but Le Roy's
Ryan Higgins would recover.
TheKnights tookoveronoffense
but were unable to get anything
going. Cal-Mum's offense once
again took thefield andmarched
downfora touchdown. Cal-Mum
would again attempt the onside
kick,however this timeLeRoy's
RileyWilliamswould recover it.
On the very first offensive play
of thisdrive,LeRoy'sBradyFix
tookoff fora48yard touchdown
run. The 2 point attempt was
stopped and the first half ended
with the scorewas 12-6 in favor
ofCaledonia.Cal-Mum'sdefense
proved toomuch for theKnights
to handle, keeping the Knights
fromgaining afirst downduring
the entire contest. LeRoywould
notbackdown in thesecondhalf.
TheKnights defensewas able to
shutdown theCaledoniaoffense,
and late in the forth quarter Le
Roy's Brock Flint blocked a
Caledonia punt giving Le Roy
the ball at the Cal-Mum 3 yard
line. Again theCal-Mumdefense
held strong not allowingLeRoy
to score. The game ended with
Caledonia on top 12-6. For Le
RoyBrock Flint was a dominat-
ing defensive force, recording
9 tackles for loss and blocking
a punt. Zach Vanderhoof had 6
tacklesandalso recovereda fum-
ble. JohnPanepentohad5 tackles
Alsogetting tackles forLeRoy
were Brett Babcock, Bryson
Gentile, Ryan Higgins, Jackson
Locke,AntonioMartinez, Bryce
Lathan, Cory Wallace, Tyler
Strollo, Ethan Robinson, Ayden
Riggi, and Adam Risewick.
Leading the offense for Le Roy,
Brady Fix rushed for 65 yards.
Also rushing for Le Roy was
Brock Flint, Zach Vanderhoof,
RileyWilliams, JohnPanepento,