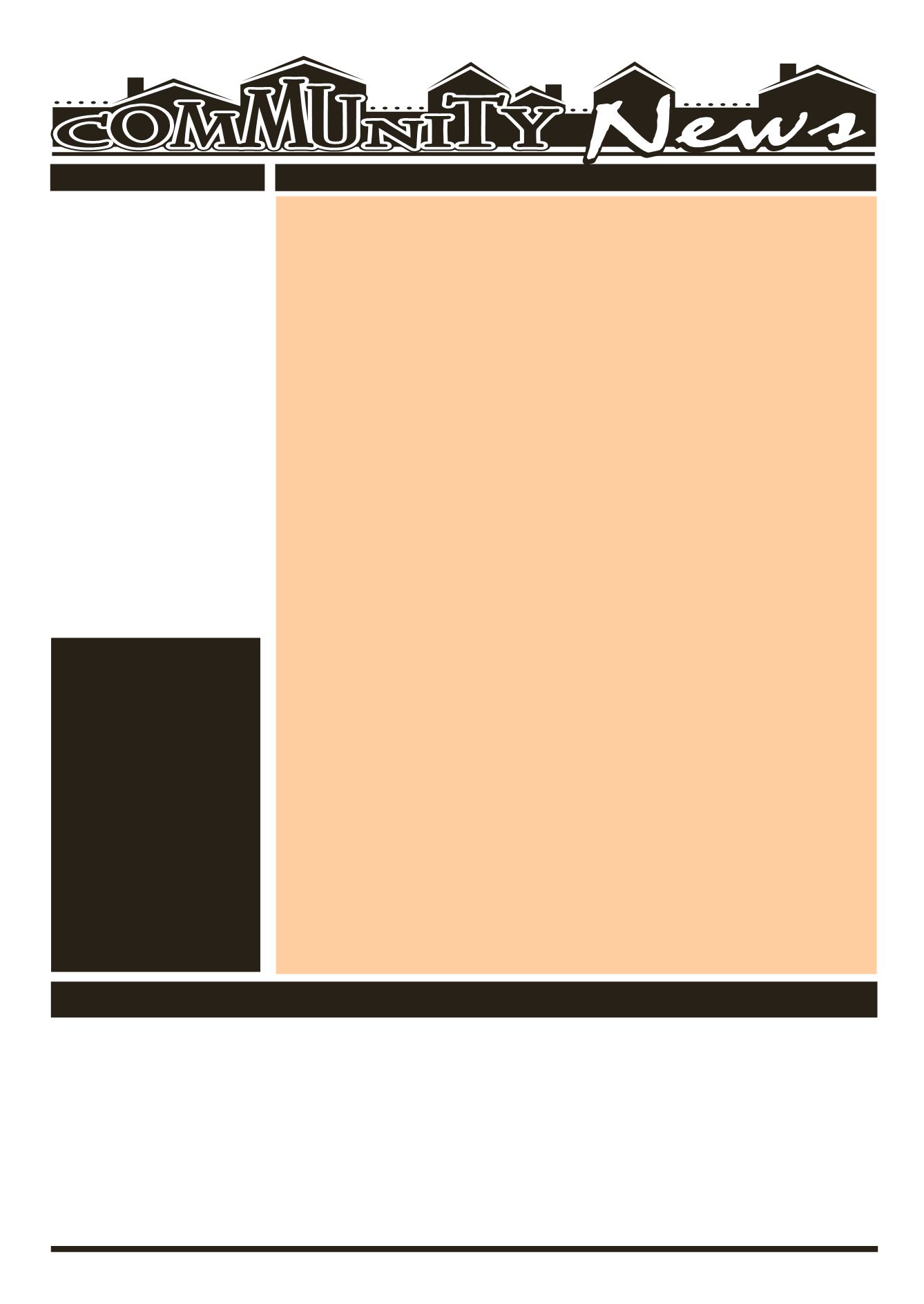 LEROYPENNYSAVER&NEWS -OCTOBER 11, 2015
All GeneseeCounty residents, 60andolder, can takepart in thisweek'sactivitiesat theBataviaSenior Center, 2BankSt., Batavia. Formore information, call 343-1611.
SENIORCITIZENSACTIVITIES (October 12th -October 16th)
WEEKLYEVENTS
OBITUARIES
ColumbusDayHoliday -SeniorCenterClosed.
Alzheimer'sCareMeeting
is scheduled tobeginat 8:30a.m.;
Cribbage
is scheduled tobeginat 1:00p.m.
BHSMakeADifferenceDay
OmbudsmenMeeting
is scheduled tobeginat 9:00a.m.;
QuiltersGroup
scheduled tomeet at 9:00a.m.;
Euchregame
is scheduled tobeginat 1:00p.m.
TaiChi
is scheduled tobeginat 9:30a.m.;
GentleFitness
is scheduled tobeginat 10:30a.m.;
Cribbage&Bridge
GeneseeSeniorFoundationMeeting
isscheduled tobeginat2:00p.m.;
MusicalKeyboardLessons
scheduled tobeginat 2:30p.m.
ArtClassandLineDancing
is scheduled tobeginat 10:00a.m.;
Euchre
is scheduled tobeginat 12:00p.m.
SUNDAY,OCTOBER11
Konnect YouthGroup at LivingWaters Church,
onMain St. LeRoy. Sundays
from6:30 to8:30pm for ages12-18. "BringDownall theWalls! ConnectwithGod
andConnectwithothers." Formore information, checkus out onlineat: livingwa-
tersleroy.org/konnect-youth-ministry/
MONDAY,OCTOBER12
TOPS (TakeOffPoundsSensibly)
meetsMondayevenings at the LeRoyPresby-
terian Church, corner of Clay&Main Streets. Doors open at 6:00 pm andmeeting
is from 6:30-7:15 pm. Visitors are always welcome. Call 585-768-7103 for more
TUESDAY,OCTOBER13
PreschoolStorytime:
EveryTuesdayat11am featuringstories, craftandsongsat
PavilionPublicLibrary, 5WoodrowDr., Pavilion. For info: 584-8843.
LCCP'sGRACE'SKITCHEN:
AFREEdinnereveryTuesdayevening, 5-6:30pmat the
Masonic Community Center on 12 Bank St. Plenty of parking. Takeout & delivery
areavailable. Formore info. contact SelbyDavis at 585-738-8882or selbydavis1@
GRACE'S CLOSET: A clothing giveaway program
sponsored by Le Roy United
Methodist Church, 10TrigonPark, LeRoy, 9:30am to11:30ameveryThursday.We
haveclothingforallages.Weneedbeddingofallkindsespeciallyblankets.Donations
canbe dropped off at the house next to the church. Please put all bags INSIDE on
thebackporch. NOELECTRONICS, COMPUTERS,DISHES,etc.
OpenTuesdays5-6:30
pm.
Anyquestions call theoffice768-8980.
WEDNESDAY,OCTOBER14
Wednesdays from6:30pmuntil 8:00pm, beginningOCTOBER7th -
Baptist Pavilionwill behaving their youthprogram. titled"JOYCLUB". It is open to
children in thepre-school ageup to6thgrade. Itwill beheldat the church10956
S. LakeRoad, Rte. 19. It isa fun timeofBible stories, game time, refreshmentsand
memorywork. Call for further information585-584-3179ext. 12. Leaveyourname
andnumber and the secretarywill call youback.
TheLeRoyTown&CountryGardenClub
willmeet at7:00pmat theFirstPres-
byterian Church of LeRoy.Wewill be painting our cement leaf castings. Contact
AnnWaltersat737-9481or768-8130 formore information.
VillageofLeRoyBoardMeeting
, 7pmat theVillageHall, 3WestMainSt.
WoodwardMemorialLibraryBoardofTrusteesmeet
Teensandadults–socializeandcolorattheWoodwardMemorialLibrary
6:30p.m. Call 768-8300or registeronlineat
THURSDAY,OCTOBER15
Genesee Veterans Support Network
(GVSN) supports the development of
Veterans focusedAAmeetings everyThursday, 6-7pm at the First Baptist Church,
306E.MainSt.,Batavia.Meetings ledbyMikeW.&areopentonon-veteransaswell.
Handicapaccessible. For additional information call 585-302-0825.
Genesee Co. 2015 Anti-Rabies Immunization Clinic,
Garage,58NorthSt.,LeRoy,NY,4:00to7:00pm.Everyanimalmustbeaccompanied
by someonewho can control it.A$5.00voluntarydonation isappreciated.
FRIDAY,OCTOBER16
Flea&Farmer'sMarketFridays
-GeneseeValleyEMS, 3338CaledoniaAvonRd.
(Rte. 5), Caledonia,NY. 11am to6pm -everyFriday,May1st -October 30th. Fresh
fruitandvegetables,etc.Hot foodanddrinkswillbeavailable forpurchase.11'x22'
spaces-$20.To reserveaspaceormore info-call585-698-8244.Allproceedsgoto
GeneseeValleyEMS&CaledoniaAmbulance. Come shopandvisitwithus!
PenuelChristianFellowship,
OneStep toFreedomaddictionsministry, aChrist
CenteredAddictionsprogram,aweeklymeetingeveryFridayat7pm.CalltheChurch
formore informationat768-6901or594-9575.
SATURDAY,OCTOBER17
LeRoyUnitedMethodistChurch
,10TrigonPark in theVillageof LeRoy,hosting
AnnualHarvestRoastBeefDinner
from3:30pm to6:30pm. Eat inor takeout.
Pre-sale ticketsavailableatTheHobbyHorse,Vintage&VogueandTheDivineTree
orby calling the churchoffice@768-8980.
Free Food outreach brought to you by Foodlink
in theMill Street parking
lot. Every3rdSaturdayof themonth. 11-1pm. CallPenuel ChristianFellowshipat
585-768-6901withanyquestions.
Fall Harvest Festival at theWoodwardMemorial Library
and 4 p.m. Crafts for kids; donuts, cider and coffee providedwhile supplies last.
RegistrationNOT required!
UPCOMINGEVENTS
St.Mary'sAnnualChurchAllYouCanEatBreakfast
from8amtilnoonatthePavilionFireHall,Rte.19.Therewillbea$500cashdrawing,
basket auction, 50/50 raffle, bake saleandmuchmore.
TheGeneseeValleyCivilWarRoundtable
presents JoyceThompson - Hovey on
"CivilWar Mascots & Pets"onWednesday, October 21. Themeetingwill take place
at 7pm at LeRoyUnitedMethodist Church, 3rddoor on right end of long sidewalk,
10TrigonPark, LeRoy, NY. Discussionperiodwill followprogram. Newmembers are
Pavilion Clothing Clos
t
Free clothing to Pavilion school students and their
families. October Hours Every Friday evening 6-8 pm Sat. Oct. 10th 9-noonMon.
Oct. 12th 9-noon Pavilion Baptist Church, Rt. 19, Pavilion Contact person: Hope
Oct. 23& 24 - Fall Fest at Pavilion Public Library
Fri., Oct. 23, 1-5pm; BookSaleandBakeSale, Sat., Oct. 24, 10am-12:30pm. For
information call 584-8843.
Theannual businessmeetingof theStoneChurchRural CemeteryAsso-
ciation
will be held at 7 pm, Tuesday, November 10, 2015 at the Stone Church
PresbyterianChurch, Route19, Bergen,NY. Themeeting isopen to thepublic.
Encore! TheatreArtswill beperformingaonenightonlyENCOREFAMILY
CHRISTMAS
onFriday, December 11at BataviaMiddleSchool. Part of that event
isaspecialproductionofACHARLIEBROWNCHRISTMAStocommemoratethe50th
Anniversaryof thebeloved classic. Auditions for CHARLIEBROWNCHRISTMASwill
beheldWednesday,October14at6:30PMatBataviaMiddleSchool and isopen to
childrenaged8-14. Childrendonotneedtoprepareanything!!TheChristmasportion
willbeaconcertofHolidaysongs. Thisportion isopentoANYONEtoperform. Ifyou
are interested inperforming ,
CommunityCalendar Submissions shouldbe sent to:
Le Roy
Pennysaver
LE ROY - Rita Taggart, formerly of Le
Roy, passed into the arms of God on
Saturday (Sept. 26, 2015). Arrange-
ments made by Cameron Brady and
Steuber Funeral Home, 111 Wolcott
St., Le Roy. To share a memory of
Rita or send a condolence visit
CALEDONIA - Thomas J. Sims of
Caledonia passed awayMonday (Oct.
5, 2015) at age 78. Memorialsmay be
made to Livingston County Hospice,
2 County Campus, Mount Morris, NY
BYRON— Mikel A. Anderson, 24, of
Lockport, formerly of Byron, passed
away suddenly on Monday (Oct. 5,
2015) at his mother's home in Byron.
In lieu of flowers, memorials may be
made to Lockport Cares, POBox 586,