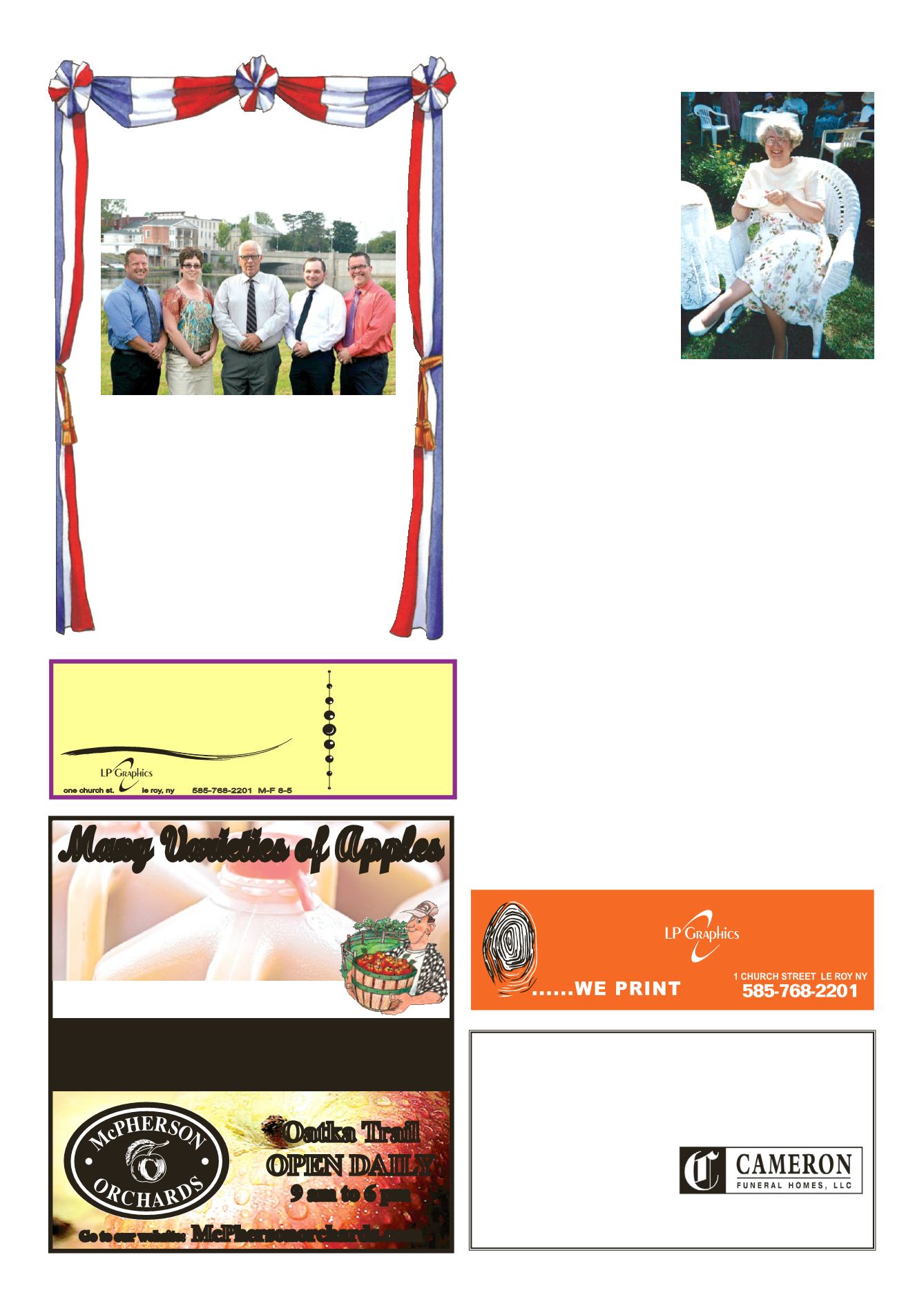 LEROYPENNYSAVER&NEWS -OCTOBER 11, 2015
HelpingFamiliesCelebrateaLifeLived
"Our FamilyServingYours Since 1907"
Trusted•Honest •Proven
Cameron, Brady&Steuber
FuneralHome
111Wolcott Street
LeRoy,NY 14482
(585) 768-6800 •
Likeus onFacebook
Pumpkins •Winter Squash
OatkaTrail
OPENDAILY
9am to6pm
FromOurMill
BakeryOpenWeekendsOnly
ManyVarieties ofApples
THANKYOU
to all that have opened your doors
tomeet and speakwith us so far.
We look forward tomeetingmore of you
in the comingweeks!
EricStauffer, PattyCanfield, BobScott,
JustinCaccamise, JimBarsaloux
Go to ourwebsite:
McPhersonorchards.com
She never met a coffee/tea
shop she didn't like. From
Le Roy to Rochester LeRoyan
Sandra Tompkins Jones knew
them all stopping to share a 'cup
of'withher husband, Bill or her
friends. Havingacupof teawas
one of Sandra's favoriteways to
stop and enjoy a little rest and
Sandra shared her love of tea
and conversation with others
hosting small tea gatherings
in her home complete with tea
cakes, cookies and cream. Over
theyearssheputon teaswithSue
Doemling in the Doemling barn
onAsburyRoad, and once did a
teaparty for youngmotherswho
she knew never took the time
to rest and refresh themselves
while caring for little ones. She
hired some teenage babysitters,
decorated theDoemlingbarnand
invited the young mothers she
knew to come for a spot of tea.
And, on the200thanniversaryof
theFirstPresbyterianChurchshe
and her husband created a High
Tea for thewomenofLeRoyask-
ing them towear hats andgloves
and bring their favorite tea cup.
The afternoon was a smashing
success as all laughed, sipped
tea and admired the many hats
aticcancerher friendsand family
enjoyed tea in the cemetery at
her request the day shewas laid
However, Sandra was about
more than tea. Her love of shar-
ing, helping others and reaching
out became her entre to volun-
teeringwith theAfterSchoolPro-
gram of LCCP. In this program
she didn't serve tea but she did
teachmanners, helpwith home-
work and shared her infectious
smile, laugh and genteel nature
with thechildren. Even themost
rambunctious boys gravitated
to her and looked up to her as a
Because of these two loves –
teaand theAfterSchoolProgram,
a group of her friends spear-
headed by Nancy Leport and
Sue Doemlingwill be holding a
tea in her memory to benefit the
After School Program of LCCP.
Sandra'sTea, thefirstannual,will
be held on Sunday, October 25
from 3-5 at theLeRoyPresbyte-
rian Church complete with hats,
gloves, tea cookies, HATS, mu-
sic, laughter,HATS, auction and
HATS! Tickets are available by
calling768-7540.Menare invited
too as long as theywear aHAT!
Sandra JonesMemorialTea
lpgraphics.net
one church st. le roy, ny
one church st. le roy, ny