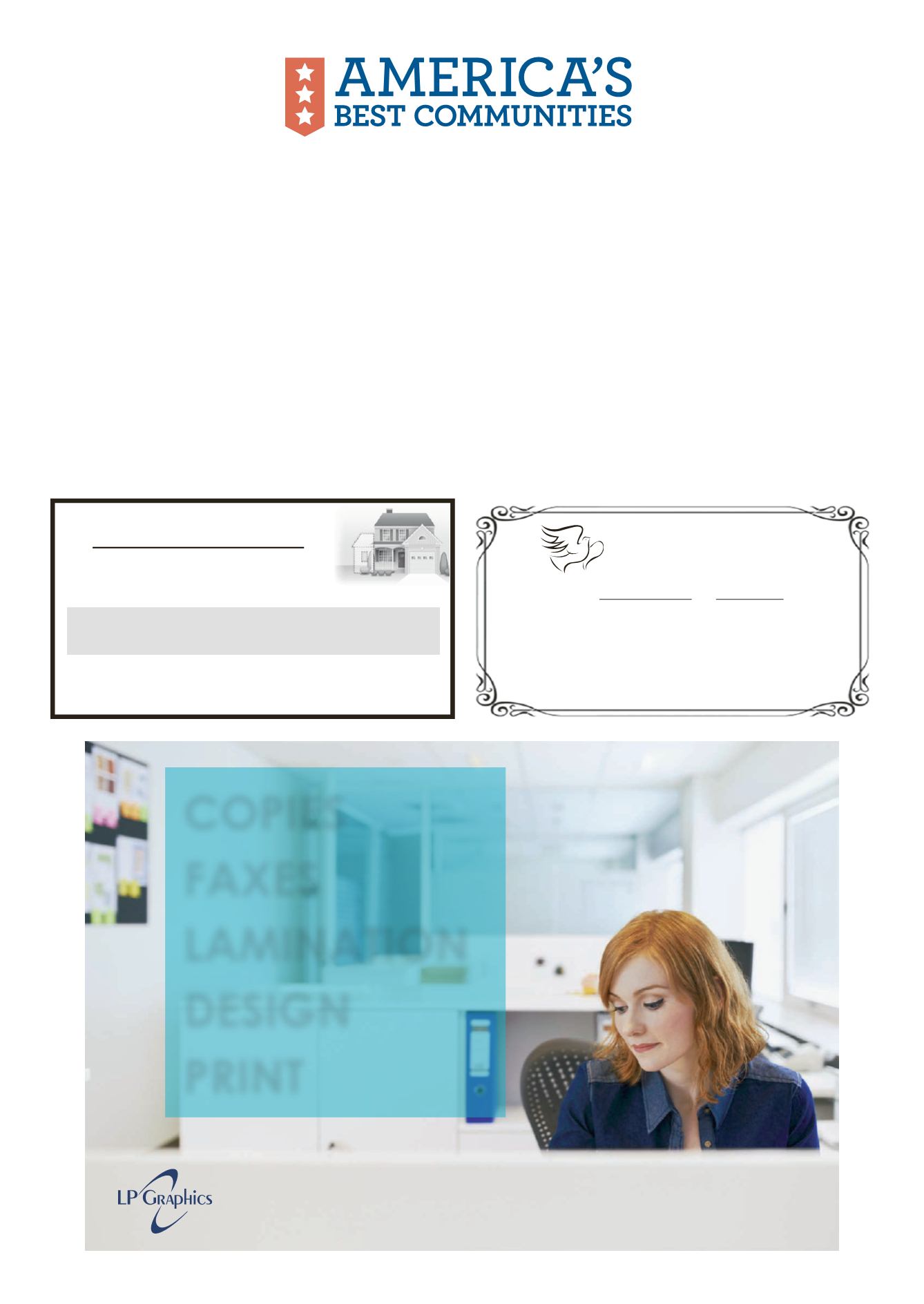 LEROYPENNYSAVER&NEWS -OCTOBER 11, 2015
Director /Owner
FuneralDirector
F
ALCONE
F
AMILY
Funeral&Cremation Service, Inc.
Director/Owner
"ALOCALFAMILY
CARINGFORLOCALFAMILIES"
1ChurchSt., LeRoy, NY14482
585.768.2201
raphics.net
COPIES
FAXES
LAMINATION
DESIGN
PRINT
"CompleteCarpentry Service"
M
ILLER
B
ROTHERS
B
UILDERS
CustomHomes •Remodeling•Additions
Roofing• Siding
DANIEL
MICHAEL
How can we thank everyone
who has helped us raise the
$15,000 match for the ABC
project - - - LeRoy and Bergen
have proven that we are indeed
qualified to become America's
BestCommunityand togetherwe
Throughacommunityeffort,we
have raised$15,000 for thematch
donated by American Express.
This includes $2,000 from the
Town of Bergen and $2,000 from
theVillageofLeRoy,$3,000from
the Invest in theBest Campaign,
and $5,458.19 from the Field to
ForkFeast.And$112which was
raised at theOatka Festival with
the Blinko game. Every penny
counted!! The remainder, will
be contributed from the Town
Therewerehundredsofpeople
who made this possible. One
LeRoyanwroteacheck for$500.
Others helped tofill the Invest in
the Best envelopes. A couple of
people donated herbs from their
gardens for the Field to Fork
Feast. Companies donated their
services. Many people donated
their valuable time.We are very
proud tosay thatourcommunities
have shown their commitment to
creatingabetter future forLeRoy
We are all stakeholders in this
contest. I would bet that none of
theother49communitiesworked
so hard to raise their $15,000
matchand it goeswithout saying
that LeRoy and Bergen have a
very diverse group of stakehold-
ers. Itneeds tobesaid thatweare
wellonourway,because ina few
weekswewill have inourhands,
the Community Revitalization
plan thatCamoinAssociateshave
Camoin, we were told that our
missionstatement is trulyunique.
That it is tailored for Bergen
and LeRoy, and we want to
commend Camoin for listening
to us and making our mission
statement and our revitalization
OnMondayOctober 19, there
will be a community stakehold-
ers meeting at 6:30 pm at the
LeRoy School Auditorium on
Trigon Park. Please feel free to
come and learn about our plans
for the future. Just aswe needed
everypenny tomake the$15,000
match, we need every person,
concerned about the future of
LeRoy and Bergen to come to
this meeting. Plan to meet our
partners from Camoin and the
membersof theABCcommittee.