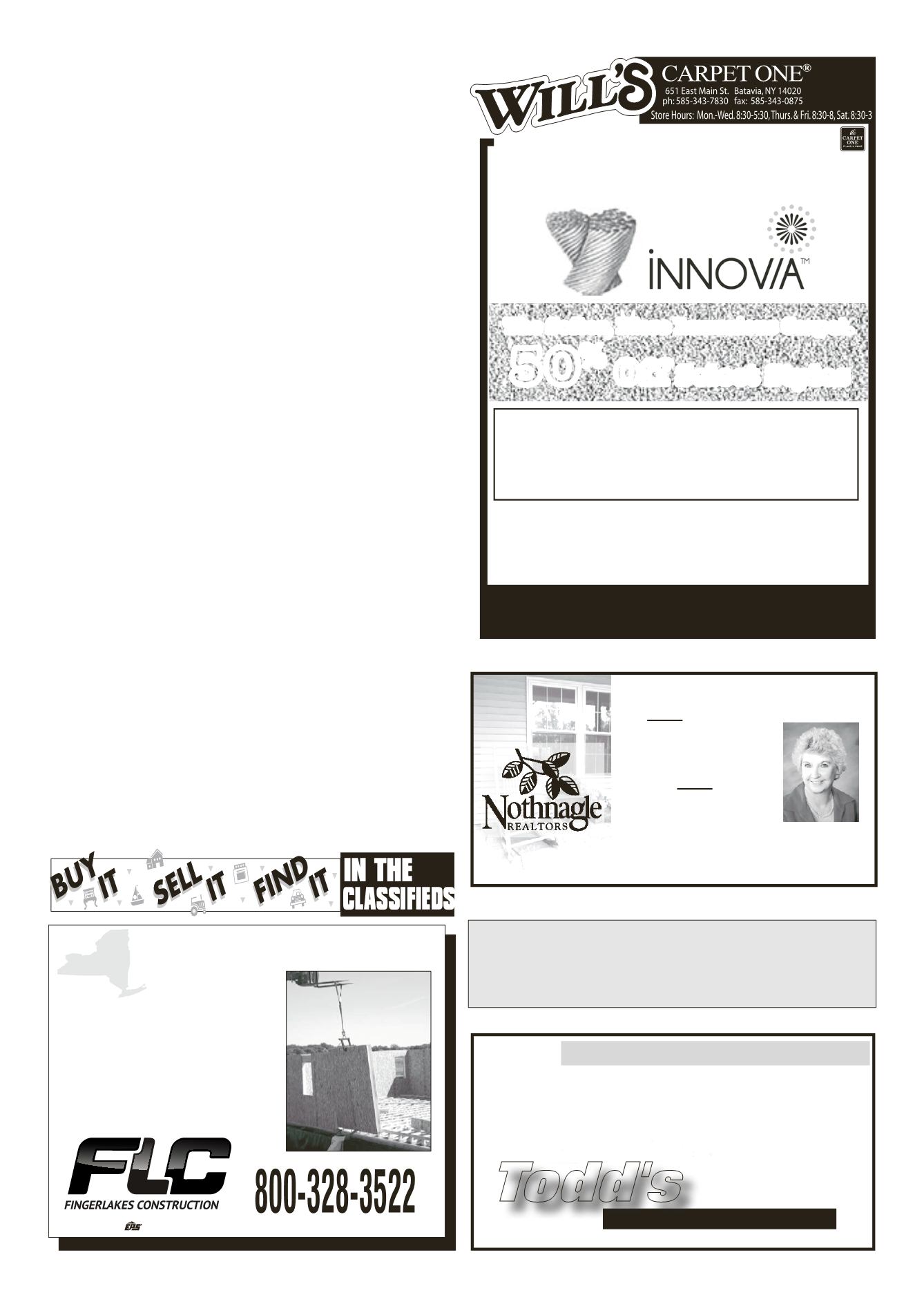 LEROYPENNYSAVER&NEWS - SEPTEMBER 6, 2015
SUPPORTYOUR LOCALADVERTISERS!
They help sponsor the local news section of the Le Roy Pennysaver.
THANKS FORYOUR SUPPORT!
Batavia
585-343-6750
NOW is theBEST time
toBUYwith the interest rates
at their lowest!
Don't wait
toBUY -
call
LindaBeaumont
for all your real
estate needs.
LindaBeaumont
Home (585) 768-6315
LicensedReal Estate
Salesperson
Multi-MillionDollar Producer
NewHomes •Additions •Garages •PoleBarns
ToddCarli • Phone 703-0964
Todd's
Decks •Windows •Doors
Kitchens •Baths
CeramicTile
Basement Finishing
CustomShelves/Built-Ins
Siding •Remodeling
Roofing • SnowPlowing
FULLY INSURED
TheONE store for your perfect floor.
FLOOR
&HOME
Bring ItHome!
FlooringSale!
•Professional InstallationAvailable
•FinancingAvailableToQualifiedCustomers
TheSofter,MoreLuxuriousCarpet.
50
%
Off
SelectStyles
Part of the family of companies
fingerlakesconstruction.com
NewYorkState'sPost FrameLeader . . .
Now also manufactures and
Structural InsulatedPanels provide
high energy-efficiency and a
Ask us for completedetails!
CheckOutOur LargeSelection of ...
WALLPAPERandBORDERS
CARPETREMNANTS
The primary care practice of
Michael J. Magguilli, MD has
joined the family of physician
practices managed by United
Memorial Medical Center and
will continue to see patients at
6966West BergenRoad, inBer-
gen, NY. Dr.Magguilli is now a
provideremployedbyUnitedMe-
morial Medical Center. Patients
can continue with the practice
andbecared forbyDr.Magguilli
at the same office with little to
no disruption in service. Nurse
Practitioner,Amy Ireland,FNP-C
will joinDr.Magguilli inpractice.
Located next door to the Gil-
lam Grant Community Center,
the facilityhas undergone exten-
sive renovations and has nearly
doubled insize.UnitedMemorial
has invested over $800,000 into
the practice through remodeling,
technologyupdatesand improve-
ments to the interiordécorandex-
pansion of the clinical care area.
An electronic medical record
systemwill be implemented and
additional staff have been added
to the practice. During construc-
tion, patients were seen in space
made available inGillamGrant.
On September 1st, it is expected
that the practice will begin to
care for patients in the newly
Dr. Magguilli has practiced
locally for 37years and isBoard
Certifiedby theAmericanBoard
of Family Medicine in Family
Medicine. He is a graduate of
St. John Fisher College and he
received his medical education
at the University of Rochester
Medical Center. His Residency
and Internship were completed
at HighlandHospital inRoches-
Amy Ireland FNP-C has been
a Family Nurse Practitioner for
18 years and has worked with
United Memorial at its Primary
CareCenters,EmergencyDepart-
ment, Urgent Care Centers and
the Tonawanda Seneca Family
Care Center. She is a native of
the Byron area and graduated
from Genesee Community Col-
lege, SUNY Brockport and the
UnitedMemorialMedicalCen-
ter manages a number of physi-
cian specialty and primary care
practices inGeneseeandOrleans
Counties, includingBataviaFam-
ily and Pediatric Care, Tountas
Family Care, Cardiology and In-
ternalMedicine, the PainCenter,
Women's Care, Genesee Ortho-
pedics andSurgicalAssociates.
For the first time in approxi-
mately10years, thepracticewill
open to new patients and almost
all insurances will be accepted.
Tomake an appointment, please
PrimaryCarePractice Joins
UnitedMemorial
Improving access to care in theByronBergen community